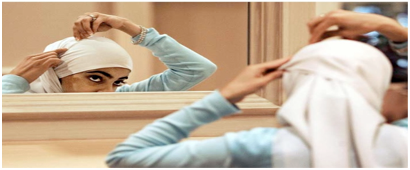 When most people in non-Muslim countries look at a Muslim woman with Hijab their first impression is usually something like "What a miserable or oppressed woman she is 🙁 ". While this can be true in some cases, but in general I believe it is not. Let's talk about ME as I am going to try to explain my personal point of view for Hijab.
First question is, Why?. Well, simply put, it is my choice, I've chosen to believe in my God and follow his orders. I am not saying that I am doing everything right but I am trying really hard to follow the right path in my religion ,and among my God's orders comes Hijab. Of course there are many Muslim women who do not wear Hijab, it is their choice too , and others who do not believe it is an order and this is their own understanding of Quran.
Are you free to choose wheather to wear it or take it off? Well, everything in life is your choice but be aware that there are consequences to your choices, so yes I can take it off and no one will kill me for that – if you are thinking my father or husband will – it is completely my choice.
Do you feel bored or hot sometimes? Honestly yes, sometimes I feel hot in hot summer days, sometimes I feel I am in a hurry and I just want to put on a jeans and a t-shirt and go without all the preparations it takes, but I have never felt ugly or non fashionable. I have a faith that this piece of cloth is another layer I am adding, another barrier between me and hell. So whenever I feel bored or burdened by Hijab, I remember heaven that God promised to those who follow his orders and that the path to eternal heaven is not an easy one,  when I do so I feel content about my choice.
What do you think is the idea behind it? Well some people like to say that Hijab is better so men will not feel excited whenever they see a woman's body. For me I do not think so, if he feels excited then it is his problem not mine. You see Muslims do not live on this earth alone, so if all Muslim women are covered what about non Muslims !!. In my religion a man's duty is to lower his gaze, in another word he should control himself too. I think God ordered women to wear Hijab to liberate them and to make them take control of their bodies. How you ask? let's take a look at our superficial world, everybody is almost first evaluated but the external appearance. Almost every commercial has a sweet half naked woman in it, they cannot sell without a beautiful woman's body in the picture, what kind of liberation is this?. Women are suffering to loose weight so they can look hot when they walk down the street, meanwhile Hijab with its loose outfit makes you loose weight – if you want to- for yourself and your health without being stressed that you will be evaluated by they way you look. Also I strongly  feel that God wanted men to look at the woman's heart and mind before looking at her body, that is to judge her kindness, her way of thinking before judging her attractiveness, and to know that she is equal to him, she is not a toy for his pleasure, to respect her soul before touching her body.
So, me, oppressed?, hell no!!, I enjoy the fact that I give others nothing to look at, I enjoy being judged by only my thoughts and heart, I enjoy feeling totally equal to men, I enjoy that no one can guess my size 🙂 , I enjoy taking control of my body and I enjoy being free after all it is my own choice.