Airy and fluffy cookies, the kind that melts in your mouth, easy and quick and the best part is you can make it from left over sweet potato.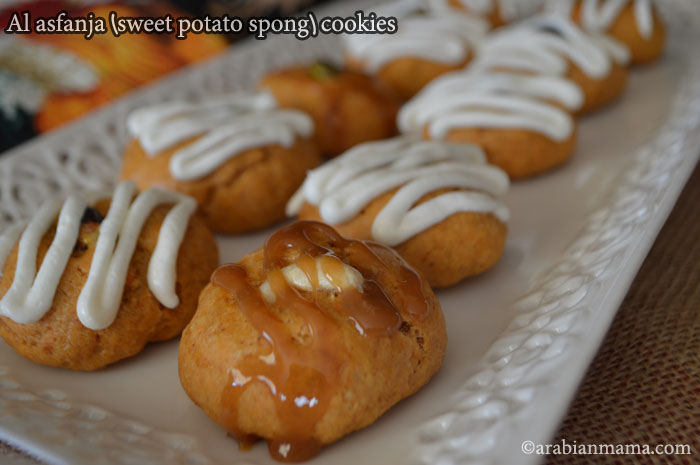 Do you get excited when temperatures drop in your area for soups, hot drinks and probably sweet potato?. In the Middle East we usually think sweet potato only in winter days, when it is cold and gloomy. Street vendors go around selling grilled ones that tastes so so good, with the grilling smell and so sticky to indicate how sweet they are.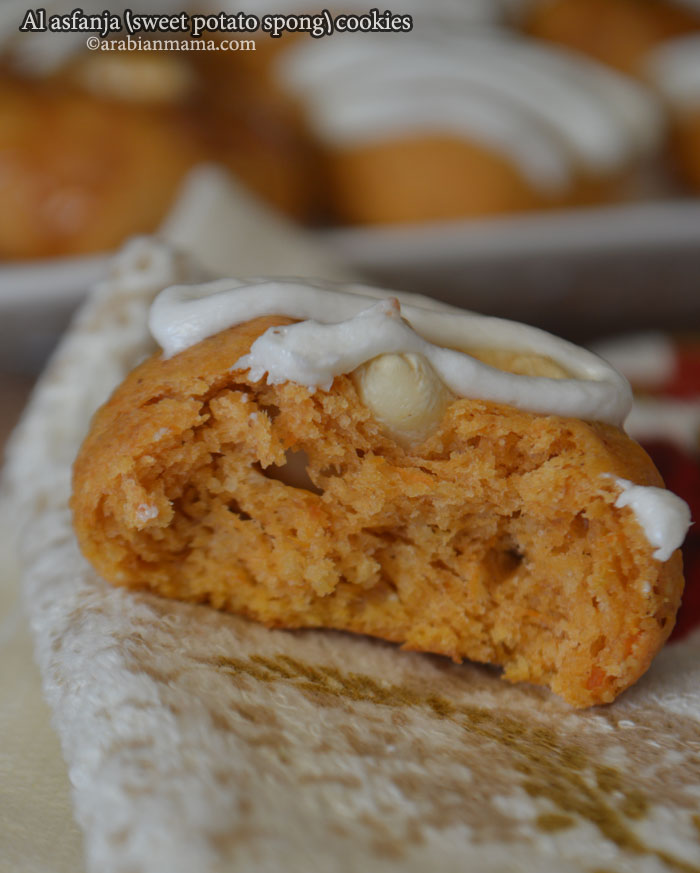 When it starts to get cold in Colorado I usually head to the store to buy sweet potato, making them in the oven brings back the sweet memories of Egypt, but I usually end up with one or more abandoned ones in the fridge.
If this is your case too, stick them in the freezer and when you are ready, give them a new life with these incredibly delicious and fluffy cookies.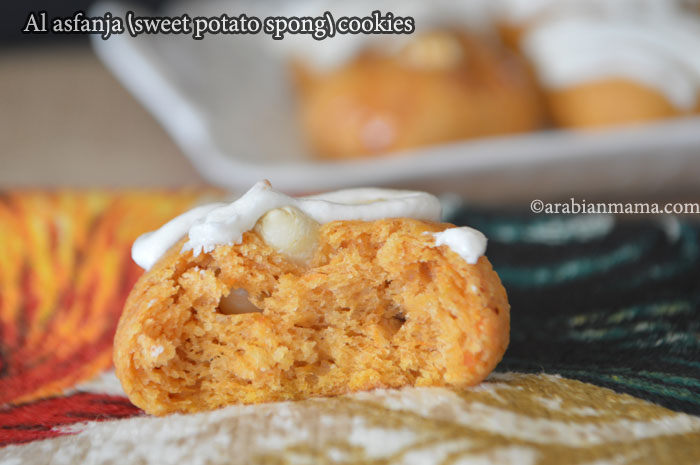 I can brag all night about the taste of these cookies, everybody in my home loved these, and I mean it EVERYBODY, but I was smart enough to top it with their favorite toppings. Usually you see these drizzled in the old boring simple syrup, but this time I drizzled them with different goodies so choose what's best suite your family. I've caramel lovers, white chocolate lovers, frosting lovers and brownie lovers in my home :), so I've make all these sauces and ribboned – if this is a word- my cookies with them, they were gone super fast.
These cookies are usually made with mashed potatoes but I've decided to get more adventurous and make them with sweet potatoes instead, they turned out even better than the original potato ones.
They are crowed feeders, and appeals to almost everyone. I do hope you give these a try soon. Enjoy!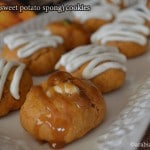 Al asfanja cookies
Ingredients
1

sweet potato

about 0.5 lb, cooked,peeled and mashed.

3

Tbs

granulated sugar.

3

Tbs

semolina.

10

Tbs

AP flour.

1/4

c

butter

room temperature.

1

Tbs

baking powder.

2

eggs .

separate one of them into yolk and white

A pinch of vanilla powder.
Optional spices
Cinnamon powder

ground cloves, ground ginger.

Optional filling: nuts any kind.

For drizzling: Simple syrup

caramel sauce, white chocolate sauce, cheese cream frosting.....
Instructions
Heat up the mashed sweet potato in your microwave just enough to melt the butter when added to it.

Add the butter and mix until it melts and be incorporated in the sweet potato.

Add the sugar, semolina, one whole egg and one egg yolk, vanilla, flour and your optional spices.

Mix the ingredients until the flour disappears.

Refrigerate for 30 minutes ,if it is hard for you to handle right away.

Scoop up 2-3 Tbs and form into a ball, fill with nuts if you chose to.

Top each one with a nut and arrange in a parchment paper lined baking sheet.

Brush with the egg white you have and bake in a 350F pre heated oven until nicely browned from the bottom.

Drizzle with your favorite syrup or sauce, or even dust with some confectioners sugar.

Enjoy.
Recipe Notes
These cookies are usually made with mashed potatoes but I decided to go for sweet potatoes instead and it was terrific.