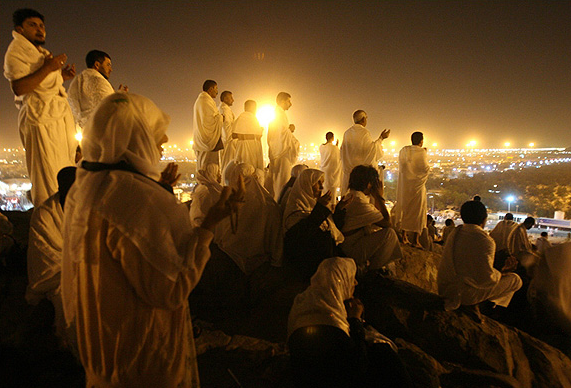 Tomorrow is Arafat or Arafa day, it is the 9th day of Zuk-Hija month and the eve of Eid Al-Adha. It is a holy day for Muslims and you will find most Muslims are fasting in this day. According to our beliefs, it was on Mount Arafat that Adam and Eve, separated for 200 years following their expulsion from the Garden of Eden, recognized each other and were reunited. Here too they were forgiven by Allah, the Merciful, for their transgression. Pilgrims must head to this place in this time of the year and stay the afternoon praying and asking God's forgiveness.
What about others who could not head to Hajj this year? If we fast that day with a truly believing hearts and minds, we will be highly rewarded from God. It is said that fasting this day drops all your sins for this year and the coming one too. There is no day when God sets free more of us from hell than this day. It is also the day when Islam had been perfected almost 1400 years ago.
So we celebrate the holiness of this day by fasting and praying all day till the sunset, then we eat and the Eid is officially here. I remember when I was young, I was so anxious to take a shower put on my new sleeping gown at night – it's a tradition kid's must wear all new night and day 🙂 – go get a biiiiig hug from mom and dad showers me and my sisters with kisses saying happy Eid to all the family members. Waking up next morning hearing the sounds of prayers coming from all the mosques around then wearing my again new clothes. We all head to the mosques to pray meeting family members and friends, get candies and presents and when we come back we get the big money from dad – which was my favorite part of Eid hahahaha. Kids – in most families – had to get a new outfit for every day of the Eid which is 4 days!!! Oh God I loved that too. In Eid Al Adha we also sacrifice something to God, mostly a sheep, I'll tell you about that later in details.
May all Muslims around the world have a blessed Arafa day. I will pray for peace and prosperity to prevail in this world.