Persian Herb & Yogurt Soup that is hearty, flavored and easy to make. A fabulous filling soup recipe.
It is super cold here... all of a sudden we are experiencing very low temperatures with snow showers. Actually it is not all of a sudden- they have been warning us in the news for almost a week- but no matter what, to me, I'll never be ready and welcome snow .. so may be that's why it always surprises me 🙂
This month's MENA cooking club challenge was Persian cuisine. Our host of the month, Sanam, invited us to make 3 dishes, and to my surprise - add that to the snow surprise- no one picked this lovely soup.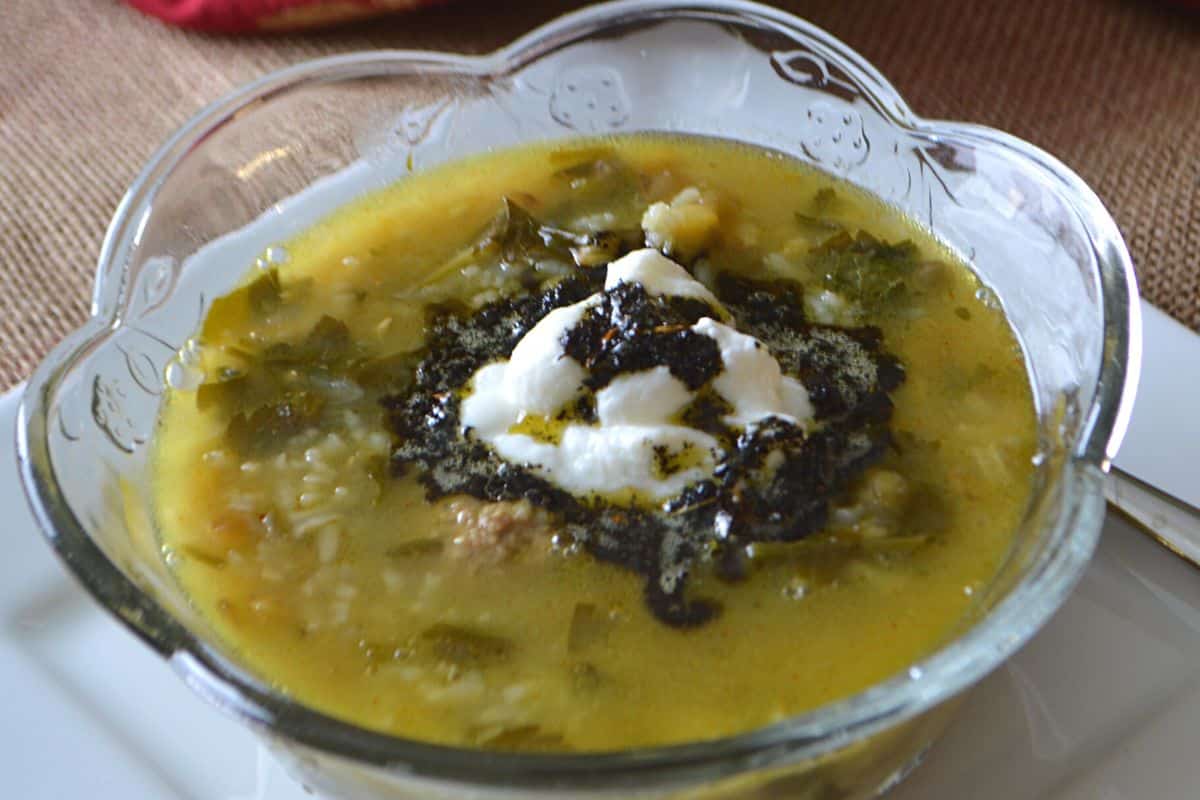 I was very very skeptical about this soup and felt that I will not like it, but somehow I felt the urge to make it!!! although Sanam was a very generous host and gave us lots of choices to choose from, but this soup got my attention and I am very happy that I've tried it, you'll never know unless you try <<< this is what my mom always told me when I was a little girl 🙂

I should have posted this 4 days ago, but I had a huge problem in my camera card and I was going crazy being not able to get my pictures out of it ... aaah technology!!!. Until my geek was able to fix that problem ** thanks dear **.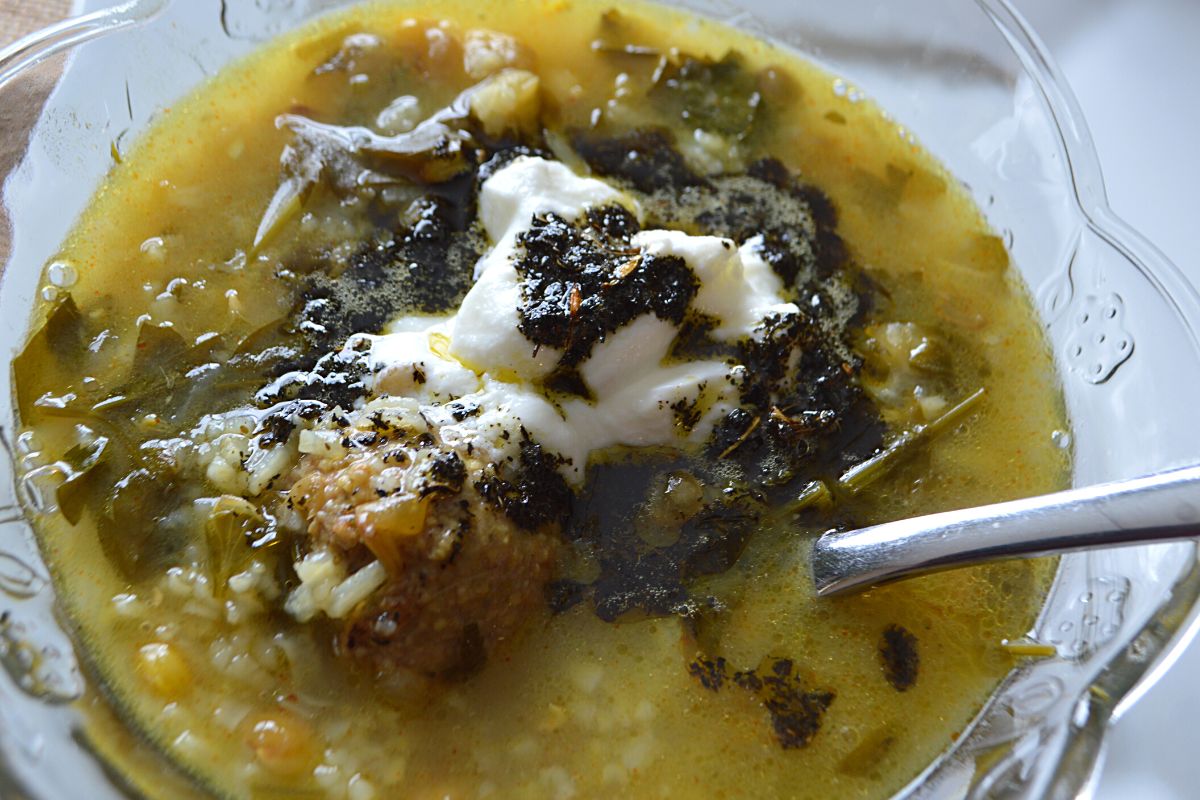 This soup really is on time, it is very warming, hearty and filling, in fact, it can be a meal by itself!!!. Contains everything you need in a complete meal. What makes it super, is that it also freezes very well.
I just need to warn you, this recipe yields a huge pot, so if you are not having a company you should adjust the amount.
Asheh mast is very versatile too, you can make it all vegan by avoiding meatballs and chicken stock and after doing my homework, I've noticed that some people make it with chickpeas instead on lentils, some add fresh mint some add dried and some skip it. Some people add yogurt in the pot itself some people - like I did- just add a dollop when serving... etc.
Related Recipes
Molokhia is a traditional Egyptian green soup full of earthy and garlicky flavors. Try the best and easiest Molokhia recipe, it is a fans favorite recipe.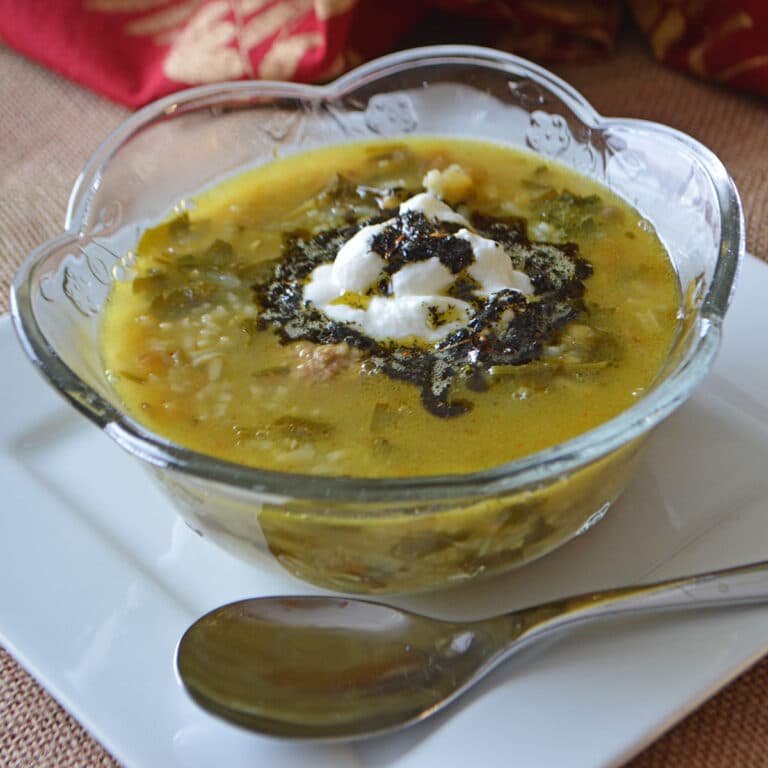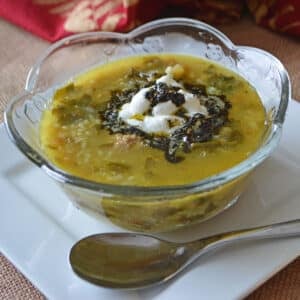 Persian Yogurt Soup: Asheh Mast
Persian Herb & Yogurt Soup that is hearty, flavored and easy to make. A fabulous filling soup recipe.
Print
Pin
Rate
Ingredients
2

onions

grated.

2

cloves

garlic

1

lb

ground beef

½

c

lentils

½

c

rice

4

c

fresh parsley

chopped.

3

c

fresh cilantro

chopped.

¼

teaspoon

turmeric.

salt/pepper.

Olive oil.

4

c

of water + 4 c of stock

any.

For garnishing

½

c

of dried mint.

yogurt.
Instructions
Saute one of the onions and the minced garlic until tender.

Add the turmeric and salt.

Then add lentils, rice and give them a good stir.

Add 4 cups of water cover and cook for one hour.

In the mean time, prepare the meatballs by adding second onion, salt and pepper tp the ground meat and mix very well, then shape into small balls.

After the hour, drop your meatballs into the rice mixture.

Add the chopped fresh herbs and the 4 cups of stock.

Cover and let it continue cooking for 2 hours.

Before serving, fry the dried mint in some olive oil.

Serve in a bowl with a dollop of yogurt on top and garnish with fried mint.
Notes
This soup is very adaptive, you can make it all vegan by skipping the meatballs and using vegetable stock. You can use fresh parsley, cilantro or dill whatever you like. you can use fresh mint in the soup itself instead of frying dried mint and using it as a garnish. You can use chickpeas/ lentils or skip it.
Sign up and learn more about Mediterranean flavors