Bastirma
is a very famous, very expensive cured dried meat in Egypt. It is also very well known in the Middle East and in the Mediterranean region as well. I recently knew that it is also knows in Armenia, Russia and Turkey. It is very flavorful and spicy. It is very common in Egypt to eat it fried with eggs or just as is … soooo delicious.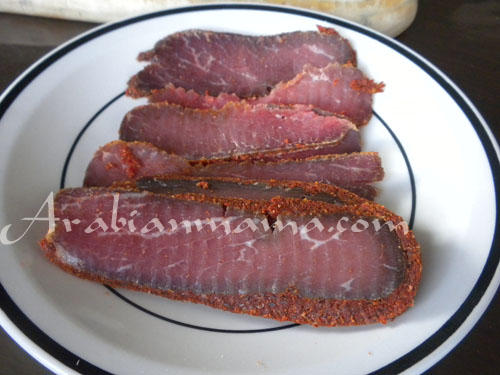 You will need:
2 pounds of a tender beef cut with fat trimmed and not too thick – I used a chuck roast cut, it was not too bad but it was not the best so next time I am going to go for a eye round cut.

1/2 cup of Kosher salt.

1 medium red bell pepper – this is to moisten the coating while giving it more red color.

2 tsp salt.

1/2 cup

Fenugreek powder. –

this is what gives bastirma its famous smell along with the garlic.

25 cloves of garlic that is about 3-4 garlic heads – I know it sounds daunting but it is really a key flavor.

1/2 cup paprika.
To make Bastirma:
First you will need to wash the piece of meat and pat it dry with a kitchen towel, then make some slots in each surface like 3 small slots with the knife.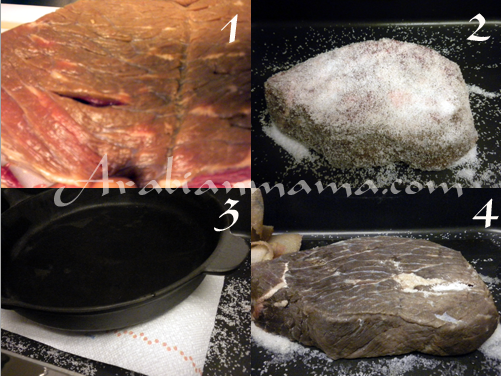 Then you leave it with a weight over it – I used my heave cast iron pan – for a whole 24 hours as it will release its water so make sure to drain it every now and then. After the 24 hours you will find your slab flattened and loos darker. Note: make sure that the temperature of the room the meat is in does not exceed 25oC or 77oF so if you cannot guarantee this you may consider leaving it in the fridge for 3 days instead.

Wash the meat opening the cuts that you've made previously to wash the salt from inside then pat dry, cover with a cheese cloth and hang it for 3 days. Make sure the air flows around it freely.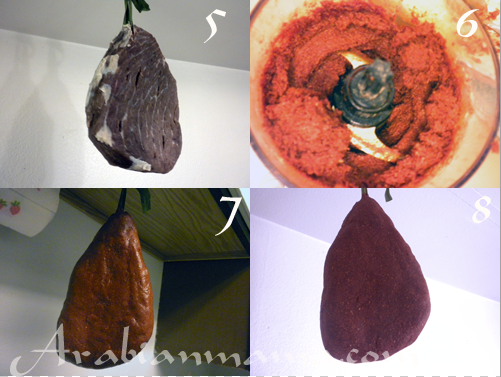 After the 3 days the meat is going to be much firmer. Now is the time to make the cover paste. In your food processor pulse the garlic, salt, bell pepper, paprika and the fenugreek powder you also may need little water until it forms a moist paste. Use gloves and cover the meat completely with the paste make sure to go arounf the ribbon or the twine you are using to hang it with. Hang it freely for another month. If you are living in a dry area like me, the paste will become hard and crusty while in other humid places might still be softer.

Here is how it looks after a month.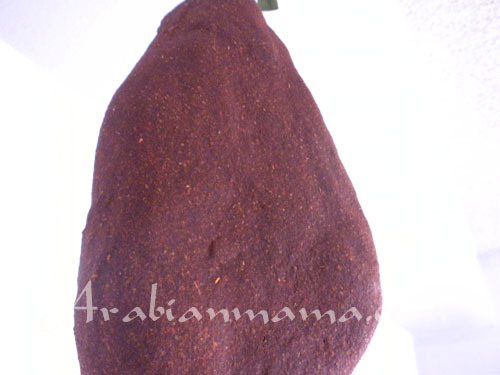 Ready to be cut and enjoyed 🙂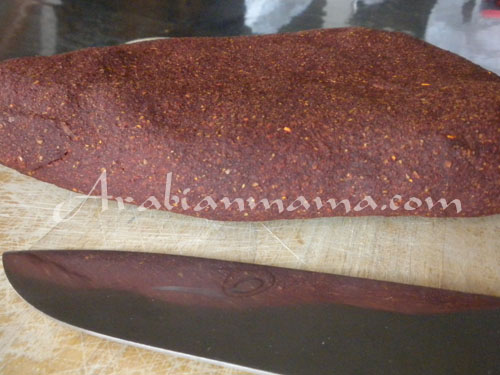 Cut it as thin as the bacon slices if you can. Oh look at those sweet salty babies yummm.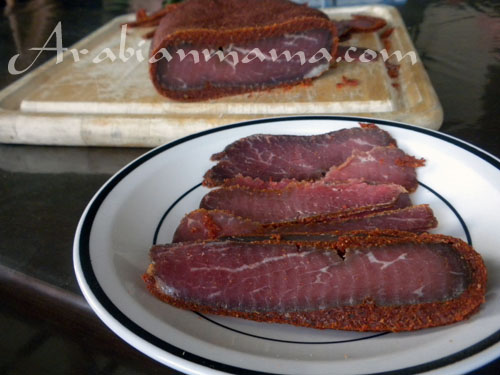 Here's how we mostly like it with scrambled eggs.