Dukkah spice is an Egyptian nut and spice blend that will knock your socks off. This is a traditional Egyptian dukkah recipe with authentic ingredients.
Dukkah spice is an Egyptian nut and spice blend that will knock your socks off. This is a traditional Egyptian dukkah recipe with authentic ingredients. Roasting your own raw ingredients makes all the difference.
Dukkah or duqqa spice is a street food sold in Egypt and if you know it then you know what to expect but if you don't, then expect to be amazed. It is very easy to make and requires just 10 minutes of your time. Dukkah recipe with step by step instructions, a video and how to make dukkah as well.
First Published: December 2018 Last Updated: September 2019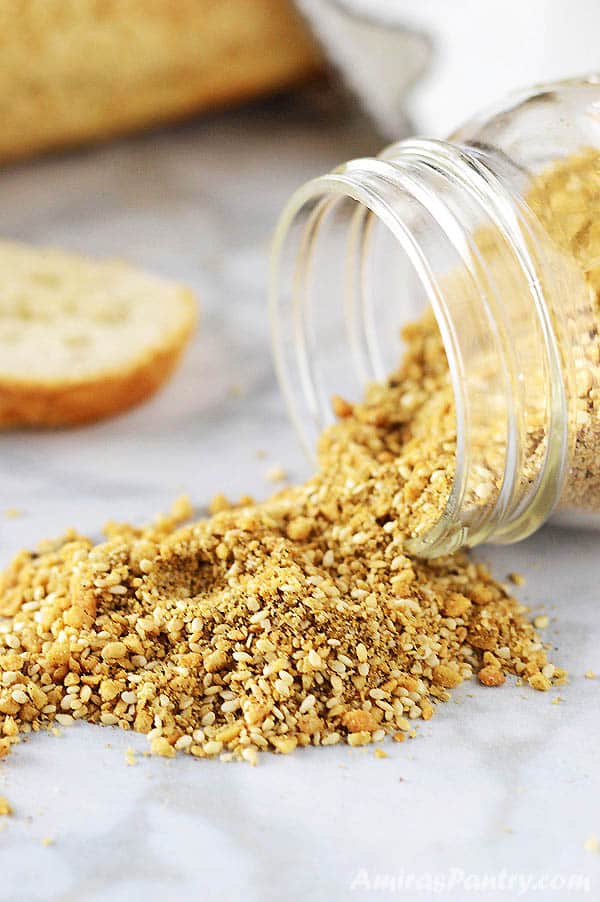 What is dukkah?
Dukkah is a spice blend very popular in Egypt and the Levant. Egyptian Dukkah uses nuts as the carrier of the spice blend, the Levant one on the other hand uses wheat berries and legumes. Dukka goes wild in Egypt especially during Easter time. It is usually sold with simit and hard boiled eggs, the sight of street vendors selling it is very common on the Nile river bank or near the gates of the Giza Zoo. I remember my mom buying the spice blend but never letting us eat bread or boiled eggs from those sellers.
There are many recipes online and of course there is always room for creativity by playing with the nuts and spices yet the authentic one is very simple. Because nuts like almonds, pistachios, hazelnuts and walnuts are too expensive for food sold in the streets of Egypt, they tend to use peanuts and sesame seeds. These two are inexpensive goods that can be easily found there. Also dipping the bread in olive oil is not an Egyptian style, it is more Levant. Olive oil is expensive as well, to tell you the truth I did not like the taste of extra versionolive oil with dukkah, but it is a personal preference. I liked using mildly flavored oil to get the most out of my dukkah flavors.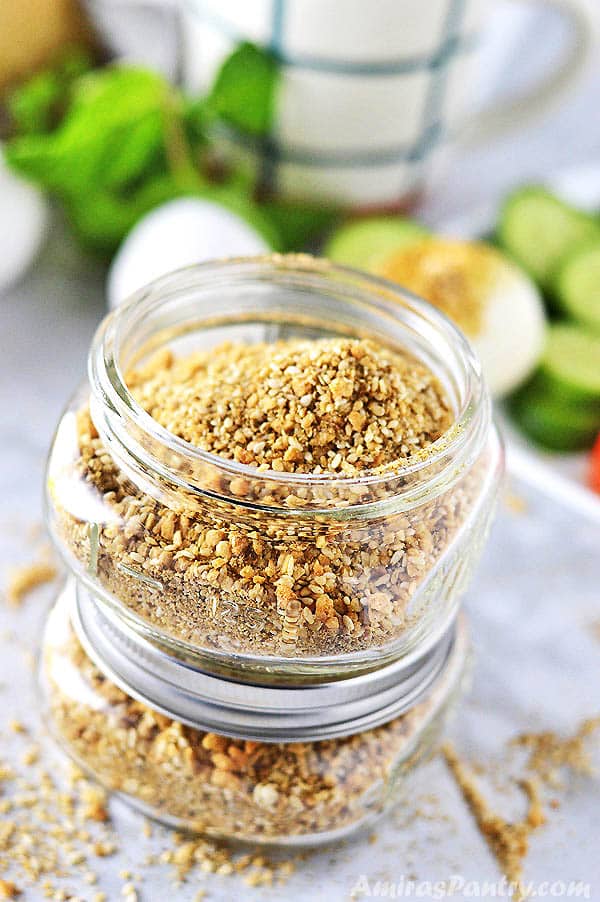 What is Dukkah made out of?
Here is what you'll need to make Dukkah.Very basic ingredients are needed for the dukkah:
Peanuts, this is our main carrier nut.
Sesame seeds, a must for this recipe.
cumin seeds and coriander seeds, when freshly toasted give an extraordinary flavor.
Salt and pepper, to adjust the taste of the dukkah.
Now I highly recommend getting your own raw, whole seeds but I understand that this might be a problem for some especially for coriander seeds. If this is the case feel free to use already ground store bought ones, but go for a trusted good quality ones.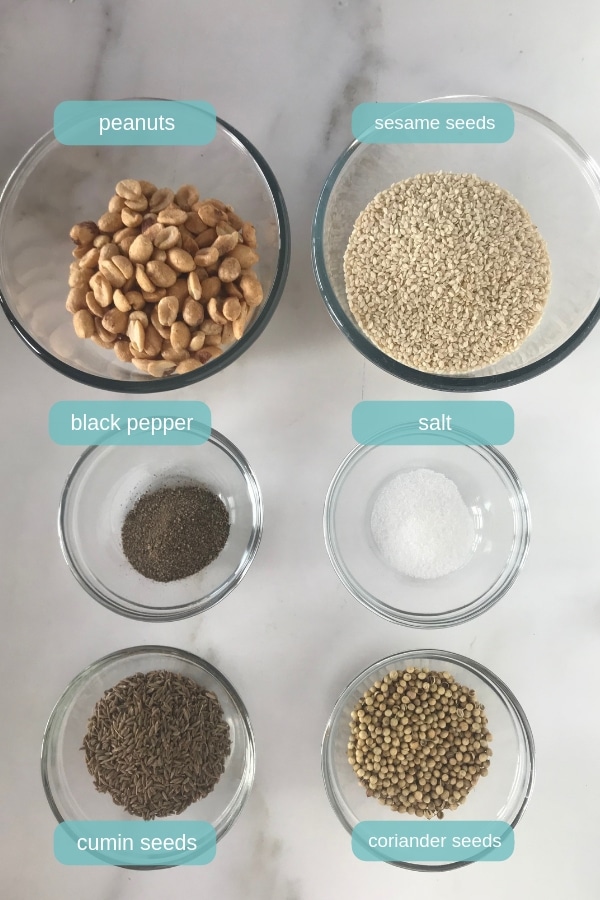 Is Dukkah the same as Zaatar?
Za'atar is a blend of herbs like thyme, sumac with sesame seeds and salt. Some people add cumin, marjoram or oregano to the mix. Dukka on the other hands has nuts in it along with a different set of spices.
Is Dukkah vegan?
Here is the good news, Dukkah is vegan, keto and gluten free! Here is how to use it for each:
Sprinkle over your salad. (Vegan& Keto).
Use as a dip or sprinkle over eggs. (Vegetarean & Keto).
As a spice for meat, fish and poultry (Keto).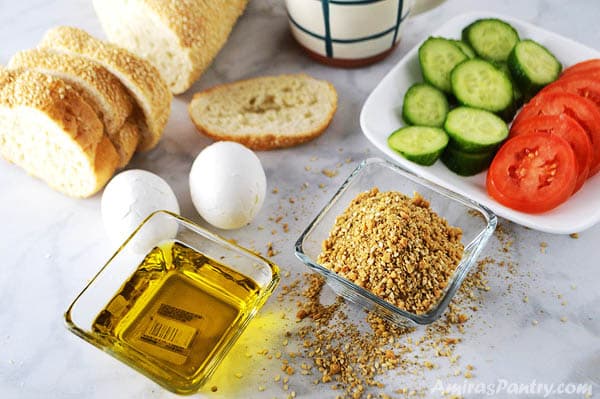 How to make Dukkah Spice? a step by step guide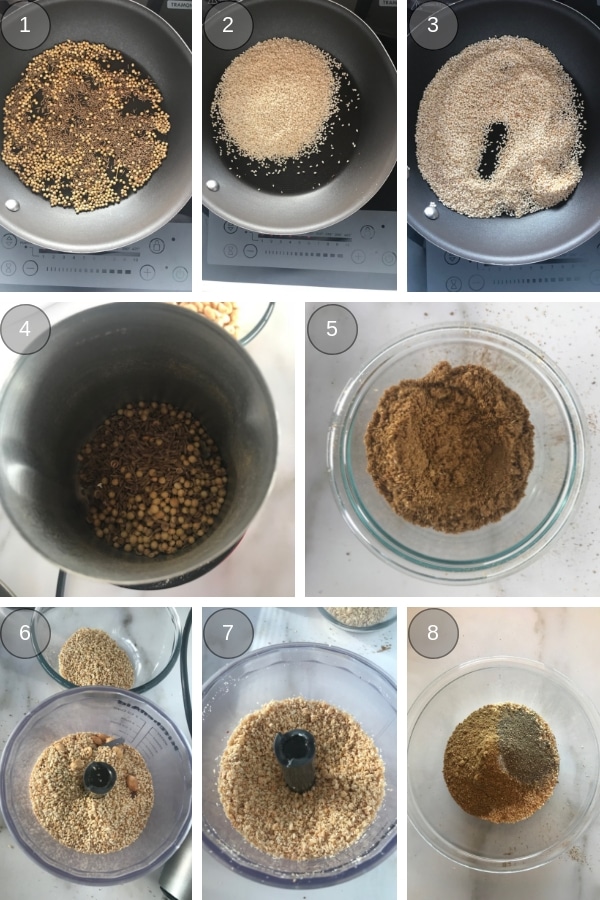 We'll first toast the ingredients, I like toasting them in a skillet rather than the oven so I can keep an eye on them.
Pay special attention to cumin and coriander as we do not want them to be over roasted or else they will taste bitter and ruin the whole formula. Set aside to cool down.
In the same pan lightly toast sesame seeds.
toast the peanuts as well, I bought mine toasted and unsalted as I could not get a hold of raw peanuts.
In a coffee grinder, finely grind cumin and coriander seeds.
In a food processor, add peanut and ¾ or half the sesame seeds and roughly process.I do that because I like my dukka with some texture, so I also reserve some sesame seeds to mix them in later. You can finely ground everything it is a matter of liking.
In a deep bowl combine all the ingredients together, ground spices, black pepper, salt, nut mixture and the sesame seeds that we set aside earlier.
That's it, place in an airtight container.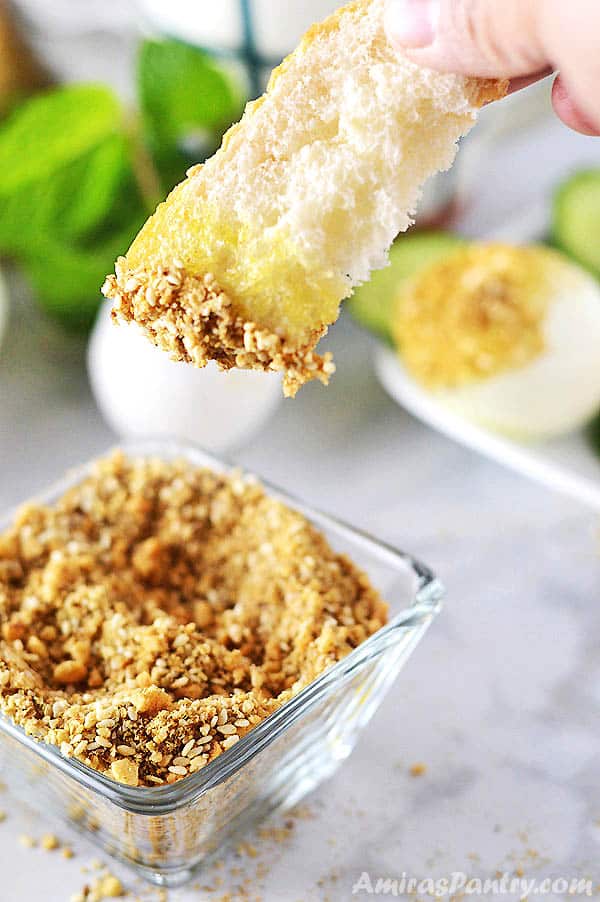 Get your crusty bread and eggs ready then dig in 😋. Guys, you are in for a treat a very addictive one too.
What is better than a gift? A homemade gift. This makes a great homemade gift for any reason or season.
Variations:
Use any nuts you like, or even used a nut blend of your favorite.
I've tried it also flavored with dry mint and it was fabulous.
Also give it a kick and add a pinch or two of cayenne pepper🔥.
You may need:
The following are affiliate links. We are a participant in the Amazon Services LLC Associates Program, an affiliate advertising program designed to provide a means for us to earn fees by linking to Amazon.com and affiliated sites. Thank you so much for being a part of Amira'sPantry!
I've been very happy with my KA coffee grinder for 5 years right now. I like that it has a bigger cup than the one I used to have before. I love my spices and always use fresh so it is serving me very well.

Related Recipes
Try this Egyptian phyllo meat pie recipe this week. Perfect for a hearty meal or as a tasty appetizer, this dish is sure to impress your friends and family with its rich and savory flavors.
Gluten free meatballs made with fresh herbs, spices and rice flour ans also dairy and egg free. These Egyptian rice meatballs are fried then placed in flavorful tomato sauce for a delicious gluten free dinner.
Other Spice Blends
7 Spice mix is a versatile Arabic spice blend that gives rich and complex flavor to any dish you have. Learn how to make 7 spice at home with many variations.
Hawaij Spice is used in Middle Eastern cooking and is typically a mix of black pepper, cardamom, cumin, turmeric, and coriander. It adds an earthy and floral flavor to your meals.
I hope you'll like this recipe and please if you make this recipe, snap a pic and hashtag it #amiraspantry — I love to see your creations on Instagram, Facebook, Twitter!
Don't want to miss a recipe? Sign up for the FREE Amira's Pantry newsletter delivered to your inbox with lots of tips and surprises! And stay in touch with me on Facebook, Twitter, Pinterest, and Instagram for all the latest updates.
Dukkah
If you like this recipe do not forget to give it a ⭐⭐⭐⭐⭐ star rating and attach a photo of your finished dish. It is always a pleasure of mine to see your photos and check your own take of the recipe. Thank you.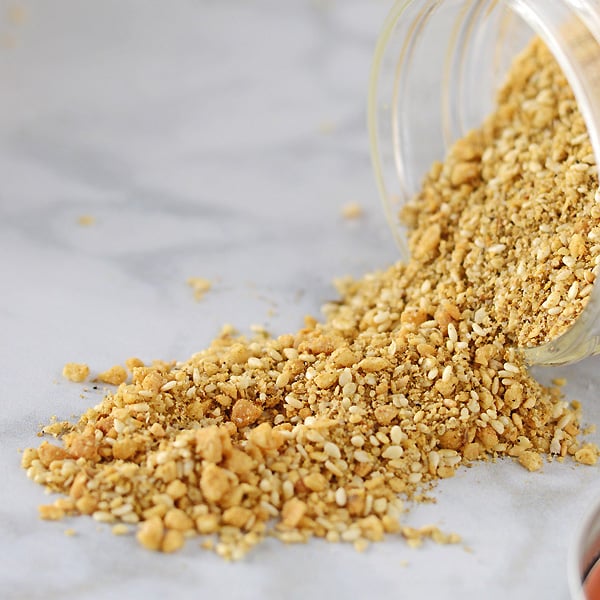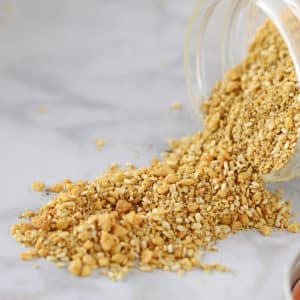 Dukkah
Dukkah spice is an Egyptian nut and spice blend that will knock your socks off. This is a traditional Egyptian dukkah recipe with authentic ingredients.
Print
Pin
Rate
Ingredients
⅔

cup

sesame seeds.

⅔

cup

dry roasted peanuts.

2

Tablespoons

cumin seeds.

2

Tablespoons

coriander seeds.

1 ½

teaspoons

freshly ground black pepper.

1

teaspoon

salt.
Instructions
In a skillet over medium heat, toast sesame seeds until they are golden. Keep stirring the whole time for about 2-3 minutes. Set aside.

In the same skillet place coriander and cumin, toast stirring frequently 1-2 minutes until they pop. Do not overcook. (Note1)

In a spice grinder, add cumin and coriander seeds and finely grind.

In a food processor, add peanut and almost ¾ of the sesame seeds and roughly process.

In a deep bowl, add chopped nuts, ground spices, salt, black pepper and the rest of the sesame seeds. Mix well.

Serve with oil, crusty bread and hard boiled eggs.
Notes
1) Cumin and coriander seeds tend to taste a little bitter if they are over toasted.
Nutrition Facts
Dukkah
Amount Per Serving
Calories 50
Calories from Fat 38
% Daily Value*
Fat 4.2g6%
Potassium 61.3mg2%
Vitamin A 5IU0%
Vitamin C 0.2mg0%
Calcium 49mg5%
* Percent Daily Values are based on a 2000 calorie diet.
Nutrition
Calories:
50
kcal
|
Fat:
4.2
g
|
Saturated Fat:
0.6
g
|
Polyunsaturated Fat:
1.5
g
|
Monounsaturated Fat:
1.9
g
|
Potassium:
61.3
mg
|
Fiber:
1.1
g
|
Sugar:
0.2
g
|
Vitamin A:
5
IU
|
Vitamin C:
0.2
mg
|
Calcium:
49
mg
Sign up and learn more about Mediterranean flavors
Time to show you off!