Eggplant salad is a relatively easy and filling vegan recipe. A deeply flavored salad that will always leave you craving for more.

Healthy easy eggplant salad is a great side dish for any grilled meat. Serve leftovers with pita bread and feta, and you'll want nothing more for lunch.
This eggplant recipe is textured, deeply flavored and colorful. The perfect easy vegan recipe for your guests to show them you care. The versatility of this recipe is outstanding.
Use any greens you have in hand, add a can of tuna, chickpeas or any type of beans to up the protein, skip the pita chips for a Keto and gluten free recipe... the ideas are countless.
This post has been updated from the original January 2016. Last updated March 2019.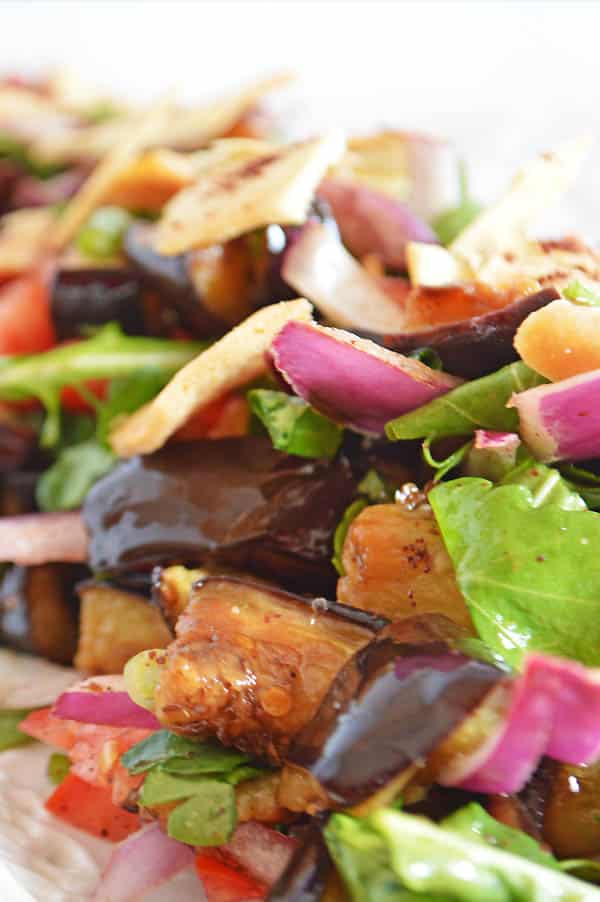 Eggplant Recipe
Eggplant recipes to please are hard to find, I've met many people in my life who would not touch any eggplant dish!! It has this bad reputation of causing gastro-problems, which I find incorrect. I used to hate eggplants when I was younger, but now I am a big fan. So if you you do not like eggplants at all.. do not try this recipe.
I've been trying to eat healthy and exercise as much as I can. Trying to limit processed food, dinning out and limiting carbs in my diet - which is super hard for a carb lover like me- hoping that I will shed off some weight and live a healthier life.
Last week, out of socializing more with my friends and let the kids out with their friends, we had to dine out in a famous restaurant and let me tell you it was a bad idea 😭. We were a big group so we could not find reservation at once we had to wait for two hours and kids started squirming, they were all hungry... super hungry.
We were there and it was very very crowded that it was hard to hear the one next to you. We've placed our orders, the waitress was so rude!!! but we decided not to make a problem as it was so tense and stressful already with the kids literally screaming for food!!!
After another hour we had our food and my poor little 5 years old got his last, which made him cry every time he sees a plate coming but not placed in front of him, poor thing, we all kept offering him food but he insisted on eating from his own order.
After finishing my plate and even licking it out of hunger, I felt so dizzy and I was about to drop unconscious.. I dragged myself out of the place to get some fresh air. It was so crowded that I felt there is no oxygen in there. My stomach kept hurting me all night and I had a terrible heartburn.Morals of the story : First, never dine out in such crowded places even if it was the last place on earth. Second lesson learned, do not dine out these days when you are in the process of cleaning your system, it does not worth it and homemade food is much much better for you.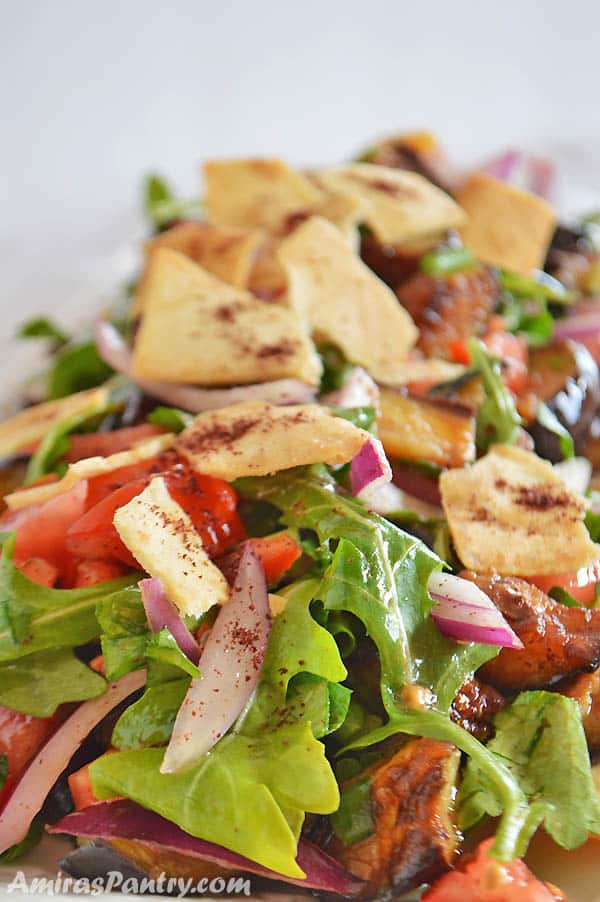 Eggplant Salad FAQs
Do you have to peel an eggplant before cooking?
Actually I don't. I used to but not anymore. I was raised to peeled eggplants in Moussaka but I've found that keeping the skin adds to the texture and nutrition of a dish. If in doubt, then you can peel the eggplant in strips using a vegetable peeler. Meaning peel an inch and leave the other and so on.. got it?
What does eggplant taste like?
Eggplant is underrated, many people say they do not like it because of its texture. Eggplants are elegant, rich and creamy is cooked properly. The ideal texture is buttery and creamy with a crisp skin.
Eggplant health benefits?
Eating fruits and vegetables generally is good for you, eggplants are a key ingredient in many diets out there as it is very low on calories. Eggplants contain a good amount of vitamins, fiber, and minerals. Source.
How to make Eggplant Salad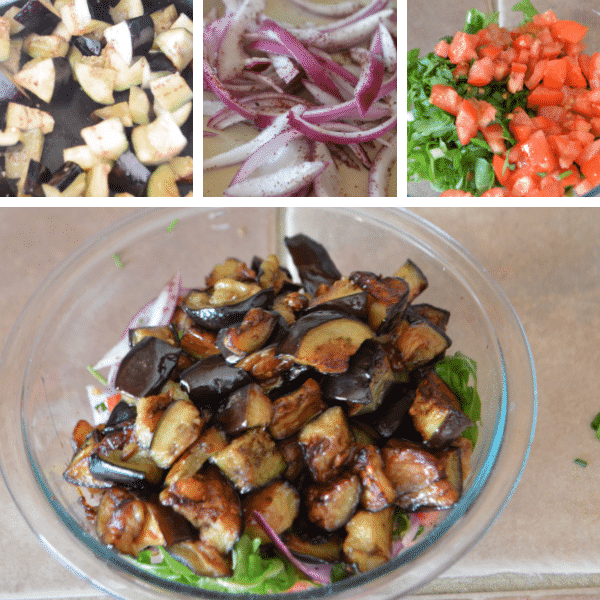 Cut eggplants: cut eggplants in chunks and season with salt. In a skillet over medium-high heat add olive oil and roast eggplants.
Season onions: place onion slices on a plate with sumac and rub to coat onions.
Add veggies : in a bowl, add arugula, green onion, tomato, parsley and red onion slices.
Add eggplant and check seasonings: add roasted eggplant, lemon juice and olive oil. Mix everything well and check for salt. You can also add a pinch of cumin.
Optional : top with pita chips: this step is optional, but if you are following a keto diet or a gluten free diet feel free to skip or top with your favorite diet appropriate chips.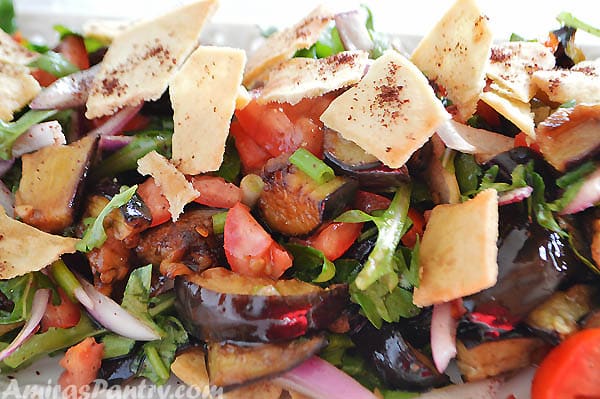 Eggplant Salad tips
Please note that you can use any greens you have, think spinach or salad mixes.
This salad is a meal by itself, filling and flavorful. Serve as a side dish with your favorite protein or just have it with eggs, tuna or chickpeas for lunches or meatless dinners. We've had it for dinner with some ful medammes and it was delicious.
If not for dietary purposes, pita chips are a must in this recipe so if you can do not skip.
Related Recipes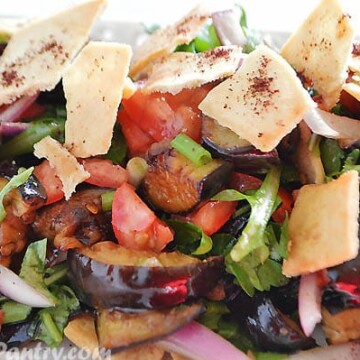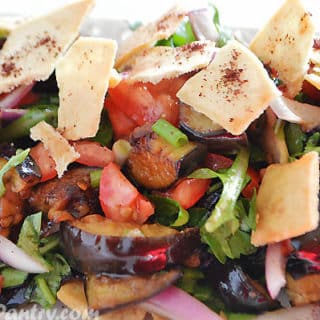 Easy aubergine salad
Eggplant salad is a relatively easy and filling vegan recipe. A deeply flavored salad that will always leave you craving for more.

Print
Pin
Rate
Ingredients
1 ½

lb

aubergine.

6

Tbs

olive oil - divided.

2

medium tomatoes - diced.

1

medium red onion- sliced.

2

c

baby arugula.

¼

teaspoon

sumac.

½

c

diced fresh parsley.

½

c

green onion- diced.

¼

c

lime juice.

Salt - to your taste- I've used 2 tsp.

2

c

Pita chips - use more or less depending on your liking.

optional : ¼ teaspoon crushed red chili flakes.
Instructions
Dice the aubergine and sprinkle with salt, toss to combine.

In a bowl combine the red onion rings with sumac and chili flakes, let it set until you finish cooking the aubergine.

in a skillet over medium heat, add 3 Tbs olive oil and saute the aubergine until it gets the desired color.

In a separate bowl combine arugula, parsley, green onions and tomato.

Add the aubergine, then add the remaining olive oil and lime juice.

Combine very well and check the salt.

Cover and refrigerate for 2 hours at least.

When you are ready to server top with pita chips and some more sumac for added tartness.

Enjoy.
Notes
* Nutrition facts are calculated without the pita chips.


Nutrition Facts

Easy aubergine salad

Amount Per Serving

Calories 134.5

Calories from Fat 94

% Daily Value*

Fat 10.4g16%

Carbohydrates 9.9g3%

Protein 1.3g3%

Vitamin A 950IU19%

Vitamin C 18.3mg22%

Calcium 44mg4%

* Percent Daily Values are based on a 2000 calorie diet.
Nutrition
Calories:
134.5
kcal
|
Carbohydrates:
9.9
g
|
Protein:
1.3
g
|
Fat:
10.4
g
|
Fiber:
2.8
g
|
Sugar:
3.9
g
|
Vitamin A:
950
IU
|
Vitamin C:
18.3
mg
|
Calcium:
44
mg
Sign up and learn more about Mediterranean flavors