We had our - almost- first snow couple of days ago so for me winter is here. I love loooove snow FROM THE COMFY OF MY HOME :). I like to watch it while falling, like the way it covers everything in white and I like how everything glows specially in the dark. I do not like going out in it specially driving in snow ... Hay do not blame me I came from a very very sunny country, I have never seen snow until I came here. It is considered freezing in Egypt when the lows are in the 30s 🙂 .

When it gets cold in the Middle East it is almost a tradition in every country there to serve HOT soup at dinner time specially the lentil soup. It is very nutritious, worming and filling too. It is usually served with croutons and salad or even slices of onions and tomatoes. Some people like to make it thick and eat it like a dipping sauce - usually in the consistency of dipping hummus. But we like it watery and serve it as a soup.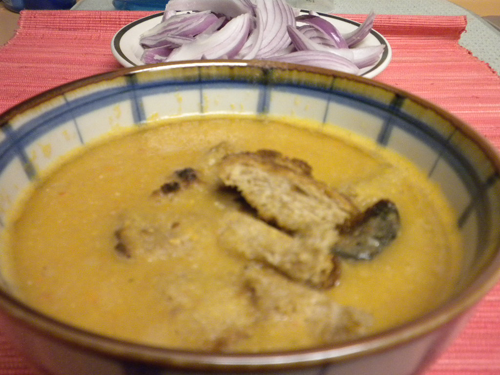 You will need:
2 cups of

dry yellow lentils

,rinsed and drained.
1

medium carrot

peeled and cut in chunks.
1 medium tomato

cut

in anyway even in half.
1

medium onion

cut in quarters.
2

garlic

cloves.
1/2 or a whole

green

/

yellow

/

red

pepper.
a dash of

ground cumin

.
Here is what you will do:
Simply

put all the ingredients in a pot and cover it with

tap water

.

Start with a medium- high heat then when it boils lower the heat to and cover.
Watch it carefully and when there is

not enough water

you add more about a cup each time.
let it

simmer

for about 30 min. Turn the heat off and let it

cool down

.
In your

blender

or food processor, blend the ingredients well together until it is

smooth

. Return to the pot and boil again, if you feel it is too thick for you then you can add a

cup of chicken/meat/veg. broth

or just add water.You are also welcomed to add 2Tbs of

melted butter

to give it richness if you would like to.


Serve hot

with croutons and salad or better

make your own croutons

by melting 2Tbs of butter then add a tsp of garlic and a 1tbs of salt saute for a min.

then add

about 8-10 slices of your favorite toast

cut in squares

.

Yum Yum.