Fattoush is a flavorful and satisfying salad that offers a balance of textures and tastes. Fresh vegetables, crispy pita bread are all tossed in a salty tangy dressing that complements the vegetables and ties the salad together.
A delicious middle eastern salad that is a native to the Levant area. Simple chopped veggies dressed in a zesty garlicky vinaigrette and topped with crunchy pita pieces. Fattoush and tabouli are two of the most favorite salads in our home.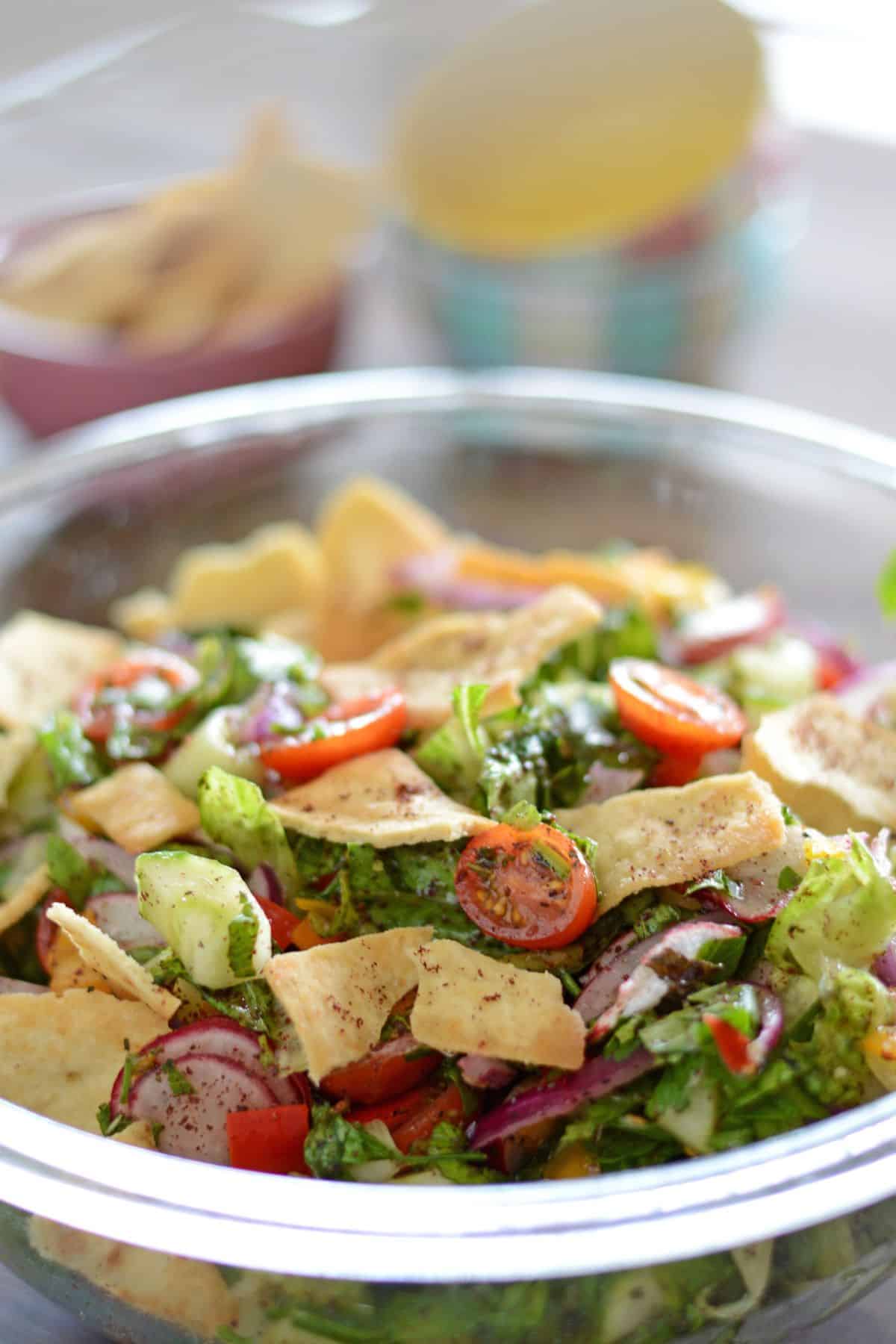 A colorful salad with bright lemony and fresh minty notes. You can use whatever vegetables you have the real secret is in the vinaigrette and the fried bread which takes your ordinary everyday salad to a whole new dimension.
❤️ Why You'll Love It
So easy to make.
Great for gathering and it feeds a crowd. It's always a big hit with everyone.
One of the first sides to disappear so you might want to make double.
An easy vegan side dish suitable for any time of the year.
I could eat this yummy salad all summer long - and I have! It is one of our favorite even in Thanksgiving! So unbelievably easy to make, absolutely fool proof.
📝 Ingredients
Note: This is an overview of the ingredients. You'll find the full measurements and instructions in the recipe card (printable) at the bottom of the page.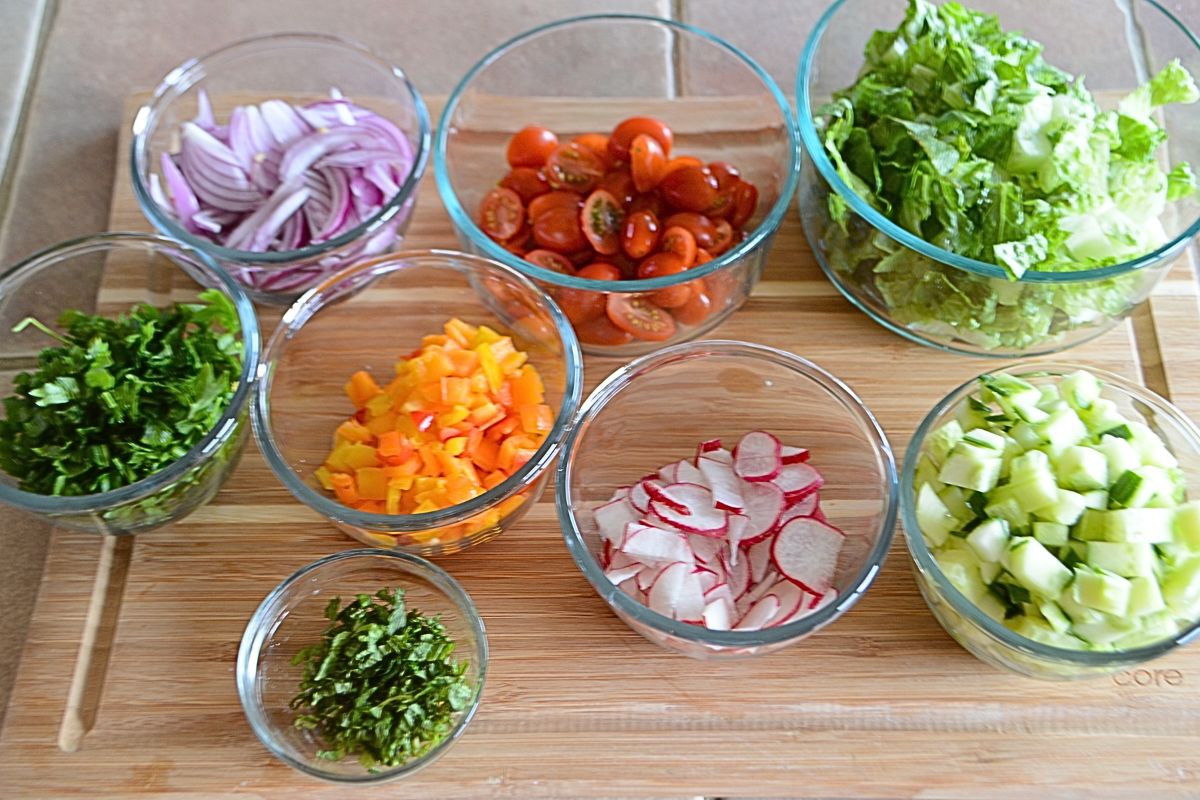 For the vegetables we will need: lettuce, tomatoes, cucumber, radish, bell pepper, mint and parsley.
For the dressing: olive oil, lime juice, sumac, dry mint, garlic, salt and pepper.
You'll also need a couple of pita bread for the pita chips.
🥄 Instructions
Note: This is an overview of the instructions. The detailed instructions are in the recipe card below.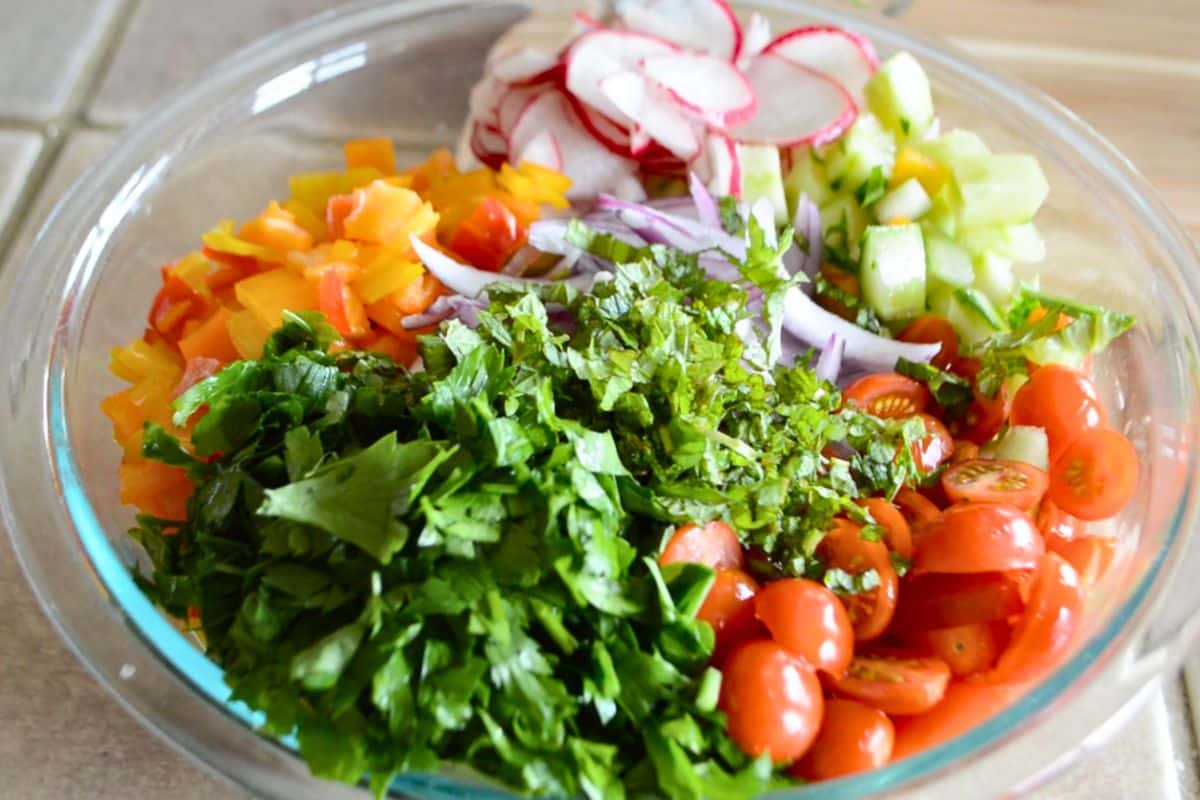 Cut pita bread into small bite size square and toss with some olive oil. Place in a pan or air fry until they are nicely browned and crunchy. Set aside.
In a large bowl add all the cut up fresh vegetables.
Combine dressing ingredients in a small bowl and mix well.
Pour dressing over the vegetables and toss to coat.
Add the pita bread and serve.
💡 Amira's Tips
For the best results use high quality fresh vegetables, it really makes a difference not using wilted and bruised old vegetables.
Add the pita bread just before serving to keep them crisp, you can also serve them on the side and let everyone add them to their plates.
I like using lime juice in this recipe but lemons can be used as well.
👩‍🍳 Variations
Use green onions instead of red, use any sort of tomatoes you have or bell peppers. It is a very forgiving salad.
Using store-bought pita chips is an option although not recommended as they are usually thicker and come in large pieces.
Add some pomegranate molasses to the dressing for extra tartness and a hint of sweetness.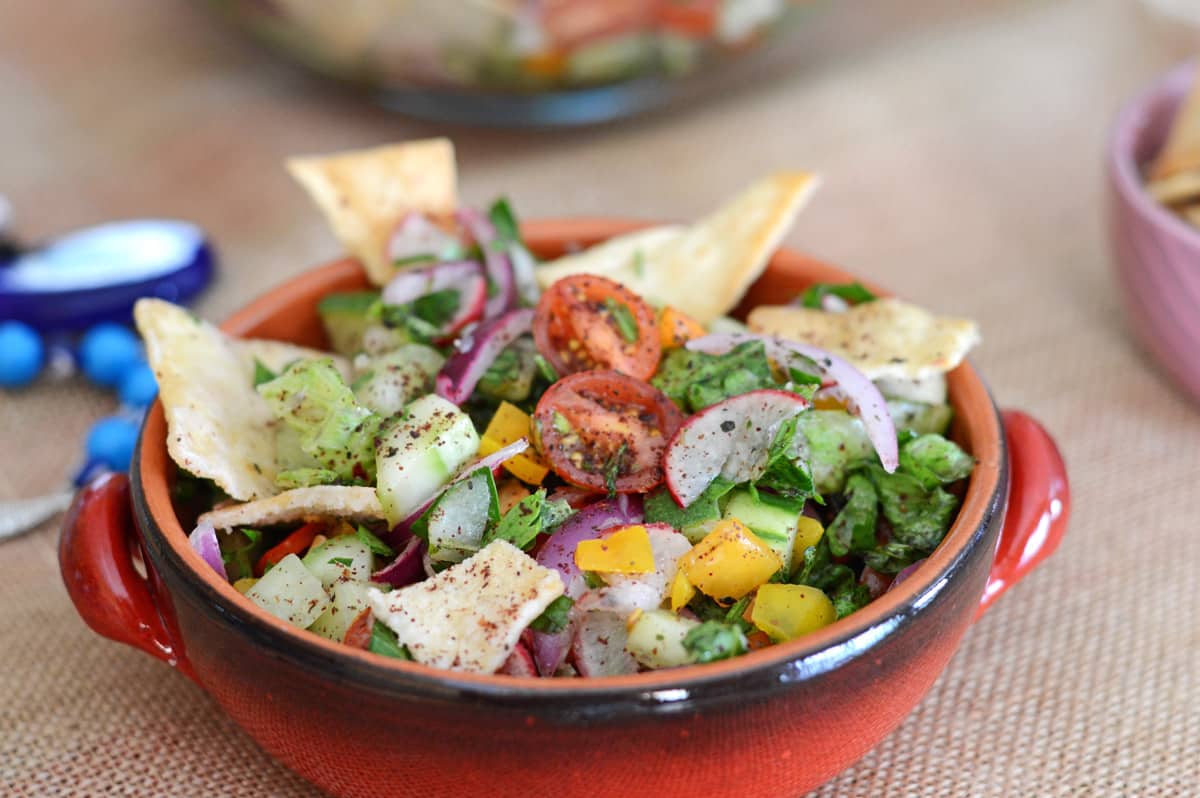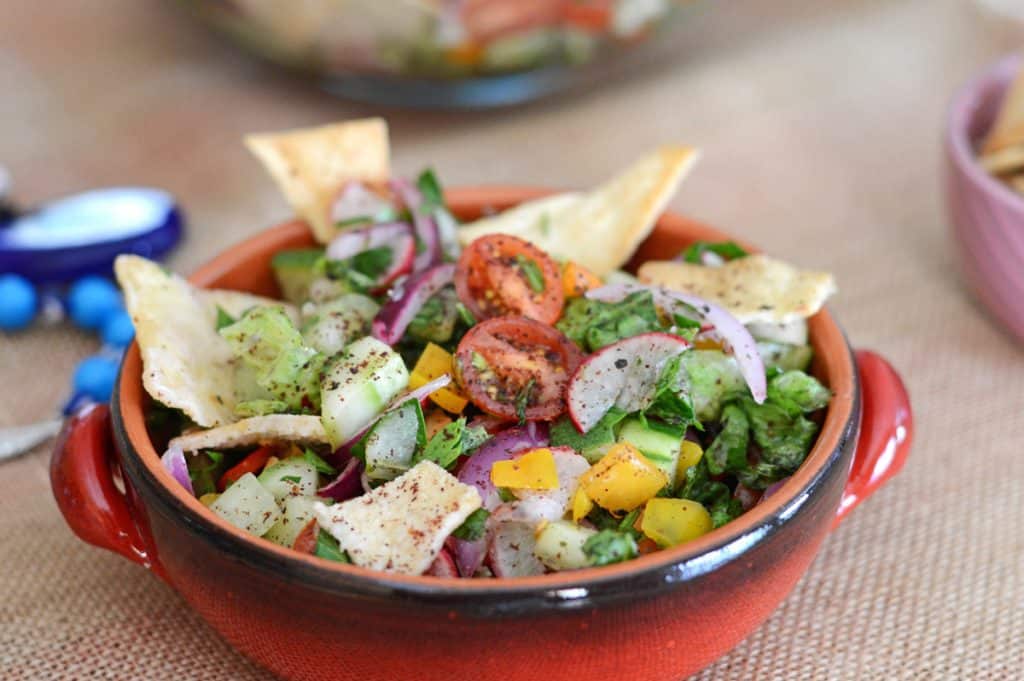 ⌛ Make Ahead
I have to say that this salad is better made and served right away, as the bread will get soggy by time and you do not want that.
Your best option is to mix veggies in a bowl, cover, and refrigerate. Make the dressing in a separate container then refrigerate as well. Bake or fry the bread and place on your countertop. Mix everything when you are ready to serve.
🍽️ Serve With
Eat fattoush as is, as a side dish to your meal. goes pretty well with Shish tawook, kafta, grilled chicken tenders and many recipes.
Toss in some leftover chicken, it makes a wonderful lunch.
Add some cooked chickpeas or lentils for a vegan lunch/dinner.
💬 FAQs
What is Fattoush dressing made of?
The dressing is a combination of flavors like extra version olive oil, lime juice, garlic, dry mint, sumac, salt and pepper. Some people do not like adding garlic and sometimes adding vinegar or pomegranate molasses with the lime juice. It has been a hassle for many of you to get pomegranate molasses so I did not include it in the recipe. If you would like to use it then substitute half the lemon juice with pomegranate molasses and taste to adjust.
What does Fattoush salad taste like?
Fattoush has a light, crisp texture with lemony notes. Vibrant due to the combination of fresh vegetables used with an acidic salty dressing ending up with a delightful crunch from the toasted pita.
How to make pita chips for fattoush?
Pita bread pieces are essential for fattoush. Either bake, shallow or deep fry your bread pieces. Deep-frying is the traditional method. I like to bake mine so I toss them with some olive oil and bake for 10 minutes in a 400F oven. Sometimes and out of convenience I use pita chips, this usually when I am pressed in time or feel lazy. I have to tell you that using store-bought pitas chips is not your best option as it does not give the same taste.
👩‍🏫 My Personal Experience
It is a popular Lebanese mezza that is adaptable to your liking. It was created to use up seasonal vegetables and stale bread. A Lebanese friend has taught me this recipe years ago and I've not changed it ever since.
There are a lot of recipes for fattoush, I have been scanning many of them and this is how I make mine.
Some people do not add parsley, onions, bell peppers and others insist that purslane is a must. I've seen people add feta, spinach, black olives, or scallions. Some people jazz it up with pomegranate molasses as well. So there is no right or wrong here do whatever you feel comfortable with.
If you have never made a traditional Arabic salad, I highly recommend starting here. It is so easy to make, adaptable and ingredients are not hard to find.
📣 Related Recipes
Pearl Couscous salad made with chewy couscous, pomegranate seeds, crisp arugula tossed with sweet and sour dressing and topped with chopped pecans. A very refreshing and colorful side dish.
Tender chicken with an abundance of fresh vegetables all tossed with a a refreshing and creamy kiwi dressing. A satisfying healthy grilled chicken salad for an excellent dinner or lunch choice.
If you like this recipe do not forget to give it a ⭐⭐⭐⭐⭐ star rating and attach a photo of your finished dish. It is always a pleasure of mine to see your photos and check your own take of the recipe. Thank you.
What's new? Check out Amira's Pantry Store on Amazon where you'll find all kinds of nostalgic goodness! Thanks so much for being a part of Amira's Pantry!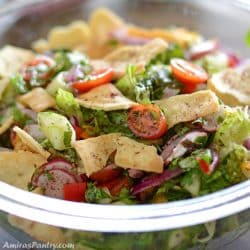 Fattoush Salad Recipe
Fattoush is a flavorful and satisfying salad that offers a balance of textures and tastes. Fresh vegetables, crispy pita bread are all tossed in a salty tangy dressing that complements the vegetables and ties the salad together.
Print
Pin
Rate
Ingredients
½

romaine lettuce head

coarsely chopped.

½

pint

grape tomato

halved.

2

cups

Persian cucumber

diced.

½

cup

red onion

sliced,

½

cup

bell pepper

seeded and diced.

½

cup

flat leaf parsley

chopped and loosely packed.

⅓

cup

radish

thinly slices

¼

cup

fresh mint

coarsely chopped and loosely packed.
For the dressing
¼

cup

extra-virgin olive oil

¼

cup

lime juice

1

Tablespoon

sumac

more for sprinkling on the top.

2

garlic cloves

minced.

1

Tablespoon

dried mint

or 1 teaspoon fresh chopped mint.

½

teaspoon

freshly ground black pepper.

1

teaspoon

pink salt

or to taste
For the pita chips
2

small pita breads

4 inch, torn into pieces.

2

Tablespoons

extra-virgin olive oil.
Instructions
Place pita pieces in a medium bowl; pour oil over and toss to coat. Season pita to taste with salt. Roast in a 400F oven until golden brown and crispy.

Combine salad ingredients together in a deep bowl.

Combine dressing ingredients well together.

Pour the dressing over the salad and toss.

Right before serving, add the pita chips and mix .

Add more pita pieces on top and sprinkle with sumac or za'atar.
Notes
Most people also include about 1 cup of purslane in fattoush. If you cannot find it you can use watercress or baby arugula or you can do as I did and skip it.
You can also use green onions instead of red onions. Trim ends and cut both white and green parts into thin strips.
Serve with:
Please check the nutrition disclaimer policy.
Nutrition
Calories:
204
kcal
|
Carbohydrates:
18
g
|
Protein:
3
g
|
Fat:
14
g
|
Saturated Fat:
2
g
|
Polyunsaturated Fat:
2
g
|
Monounsaturated Fat:
10
g
|
Sodium:
499
mg
|
Potassium:
297
mg
|
Fiber:
2
g
|
Sugar:
3
g
|
Vitamin A:
1506
IU
|
Vitamin C:
35
mg
|
Calcium:
52
mg
|
Iron:
1
mg
Sign up and learn more about Mediterranean flavors
First published April 24, 2017 . Last updated June 6, 2023 with important tips, clear step by step instructions and readability.