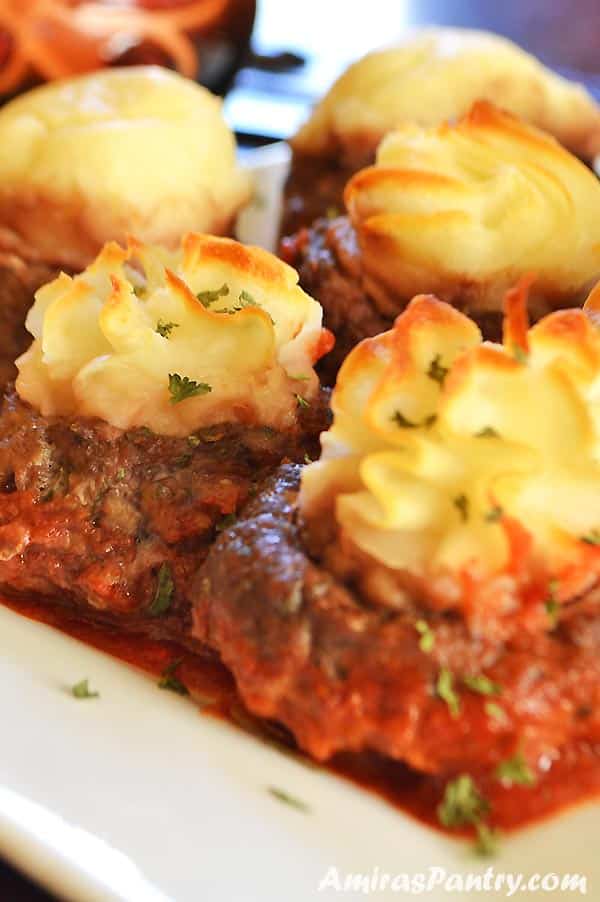 Easy to make meatballs topped with mashed potatoes, presented in a fancy way. This simple dish can be made with your favorite meatball recipe and you can even use store bought mashed potatoes. Best of all, your guests will think you've spent ages to prepare this – not only tasty but lovely looking- dish!!

I hope you've all enjoyed – and still enjoying the holidays season. It is the time of the year when everything around you turns joyful and pleasant- even if you do not celebrate Christmas – like us- you'll still feel the joy filling the air!!
Ottomans have a large impact on the Arab world- specially the Mediterranean part of the Arab world. Their influence reached not only the culture, language, clothes …. but also in the kitchen.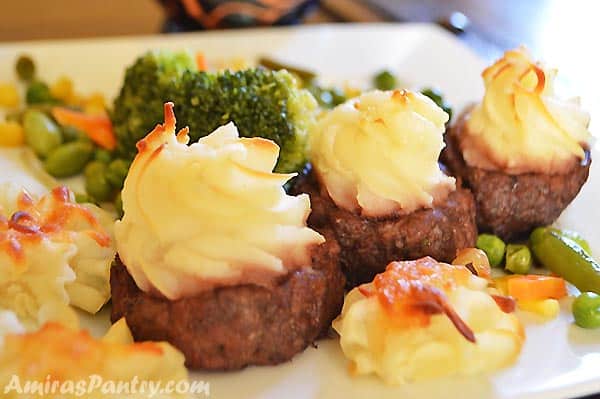 My sons likes this kefta a lot specially my eldest as his name is Hassan. It is believed that this kefta was named after Hasan Pasa – who had a lion pet!!! and whose head looks like this meatballs.

This eye appealing dish is easy to make and I always find myself making it with the store bought mashed potatoes :)- just do not tell that I've told you that.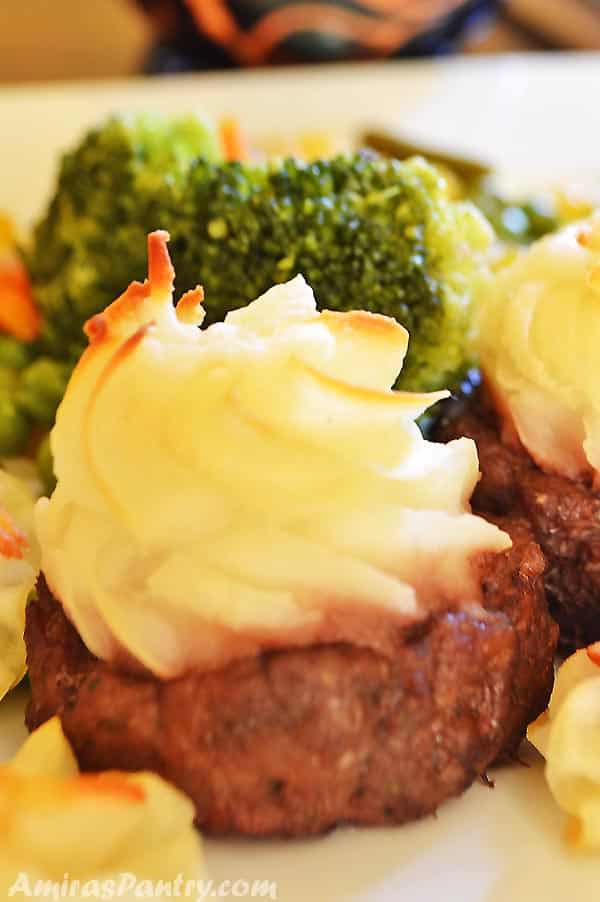 This dish is very handy when you are trying to feed a crowed for less and above all please everyone from adults to kindergartners.

Decorate your plate with the leftover mashed potatoes piped through a fancy tip of a pastry bag and serve with steamed vegetables.
Here is a video on how to make Hassan Pasha meatballs. Stay warm and enjoy your vacation.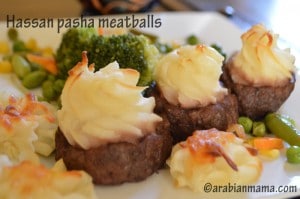 Hassan Pasha Kefta
2014-12-26 09:07:58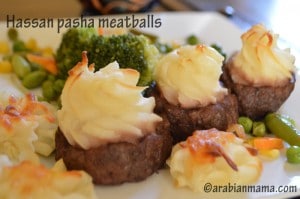 From the Turkish cuisine, comes this easy and lovely looking recipe. Simply meatballs topped with mashed potatoes.
For the meatballs
1 lb ground beef.
1 egg.
1 Tbs bread crumbs.
1 medium yellow onion - minced.
1 garlic clove- crushed.
salt and pepper to taste.
For the mashed potatoes
2lbs potatoes boiled and peeled.
3/4 c of milk/heavy cream.
2 Tbs unsalted butter.
Salt/peppers.
Optional: A can of tomato sauce.
Mozzarella cheese- grated
Instructions
Mix all the meatballs- kefta- ingredients together.
Mash the boiled potatoes and add mil,butter, salt and pepper.
Shape meatballs with your fingers and try to form a cup with flat bottom.
Spoon the mashed potato on top of the cup.
If you would like spoon some sauce in a baking dish. Add the meatball cups to the dish.
You can squeeze mashed potatoes using a pastry bag for a more fancy presentation.
Place in a pre heated 375F oven for 20 minutes.
Take it out sprinkle cheese on top then return to oven for another 10 minutes or until golden brown
Enjoy!
Amira's Pantry https://amiraspantry.com/