A spicy ground beef mixture stuffed in crispy pita bread. This is perfect for parties as well as weekday dinners.
Hawawshi is basically crispy pita bread stuffed with kofta like mixture. It is a super easy dinner idea that is also perfect for parties and game night.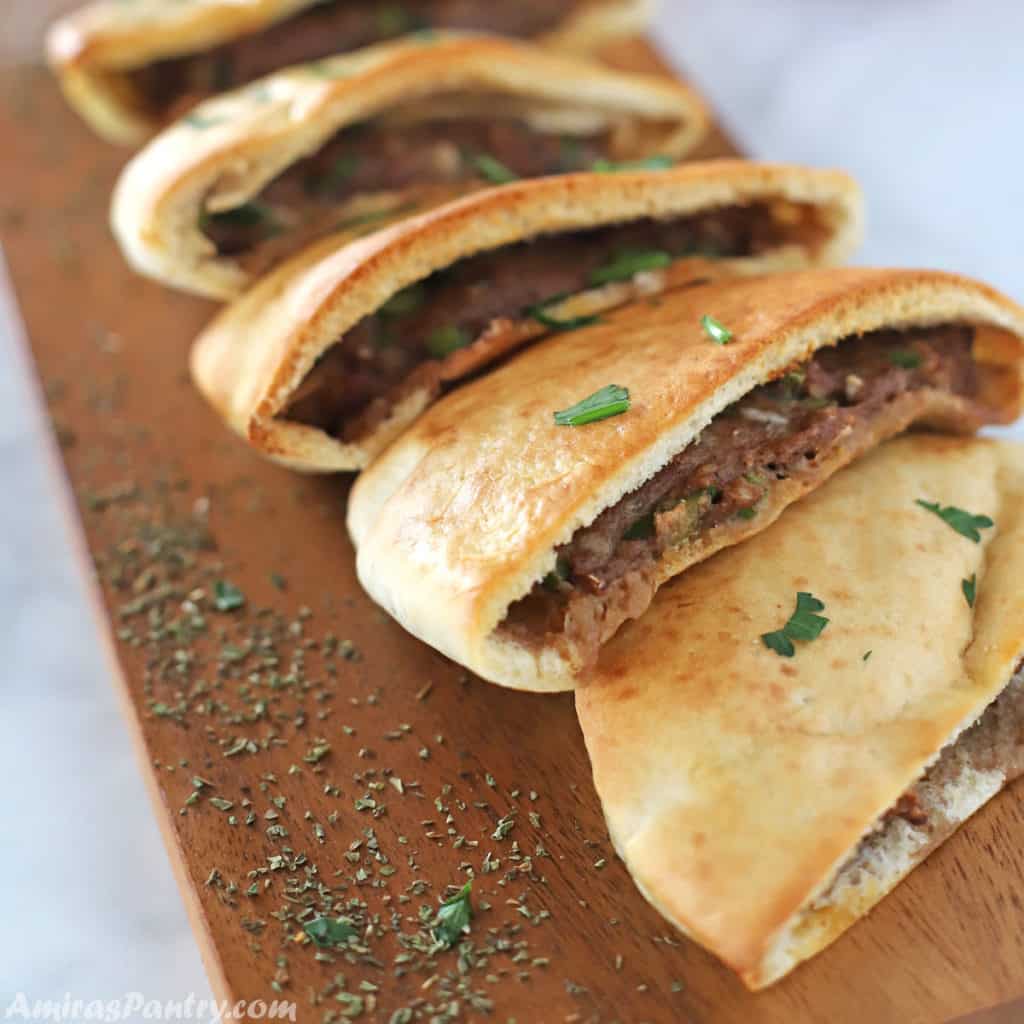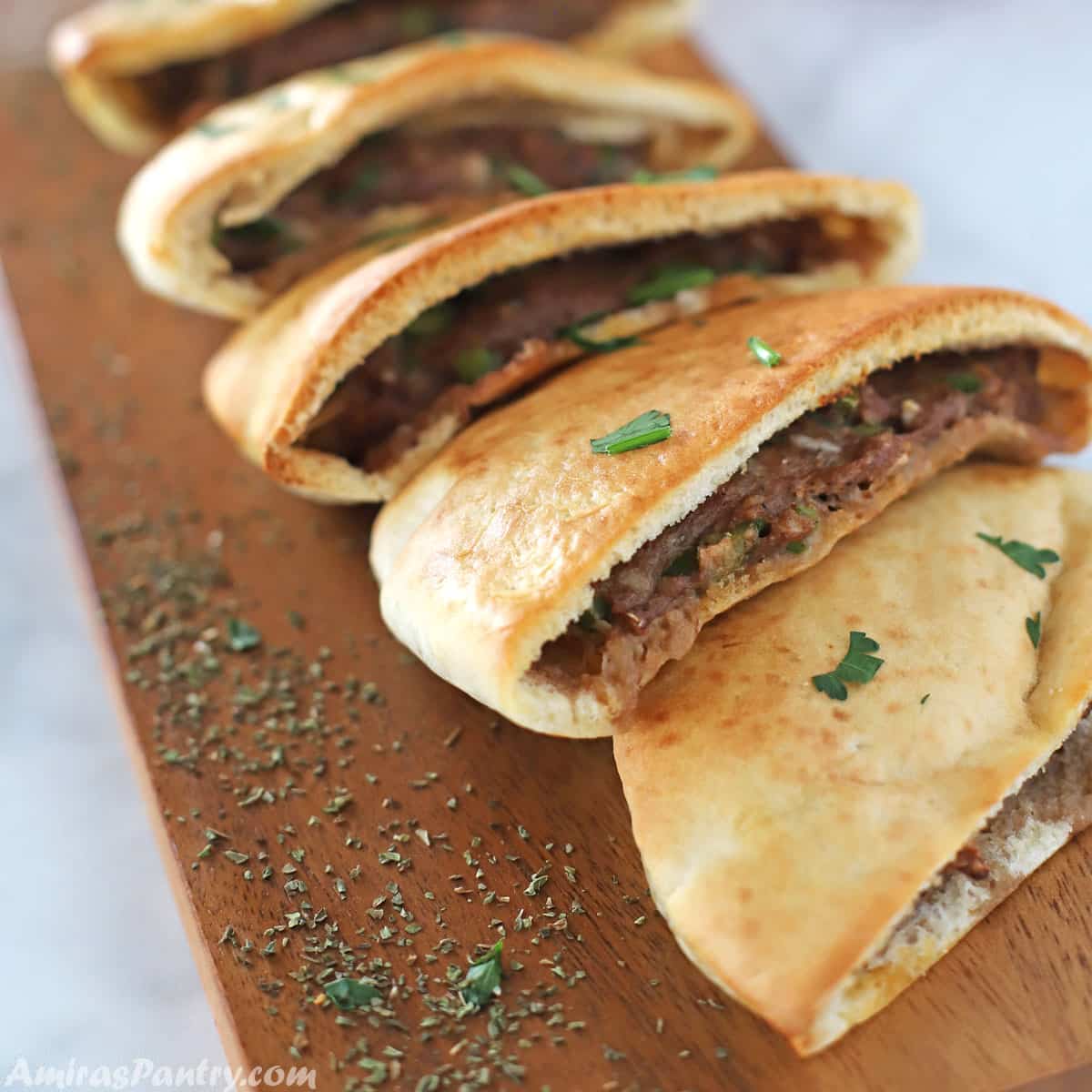 Hawawshi vs Arayes
Arayes means brides. This recipe is known by the name Arayes in the Levant area but it is also known as Hawawshi in Egypt. This sort of Arayes is called in Egypt "the cheater Hawawshi" recipe. In the original Hawawshi recipe you make the bread dough. This dough version of Hawawshi is also known as Alexandrian Hawawshi.
For convenience, I chose to make the cheater version or the Arayes. When my husband's aunt was here, she made the original Hawawshi using the 10 minutes dough and it turned out beautiful.
We all look forward to weekends, and weekends in Egypt start Thursday night. Thursdays are by far my favorite until now, although here in the US weekends start Friday night. I remember when I was in elementary school, I only had Fridays off so basically my weekends were only one day. Imagine if my kids know that I bet they will say " Oh poor mama, you must've had a miserable childhood".
My mom used to cook a very special dinners on Thursdays, so when I come home I could always tell what my mom is preparing as the smell fills the air in the whole building where we used to live. Among her special diners were these meaty pockets.
What goes into Hawawshi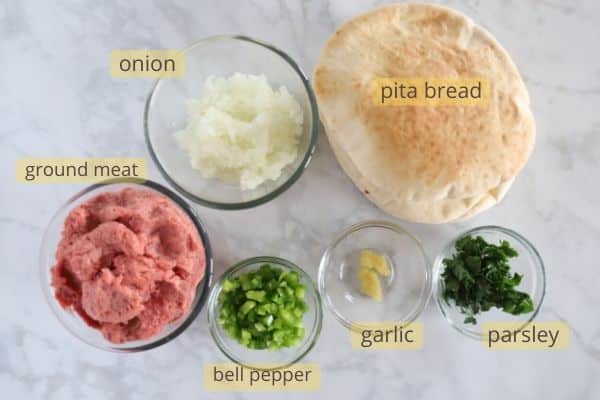 As I mention down there, there are many variations to Hawawshi so feel free to experiment and adjust accordingly. You can use any sort of ground meat you have or even a combination. This is a very forgiving recipe what I need you to stick to is the spice mix below.
I also recommend using homemade pita bread or buy a thick pita bread. Thick pita bread makes for a better Hawawshi sandwiches.
Amazing spice mix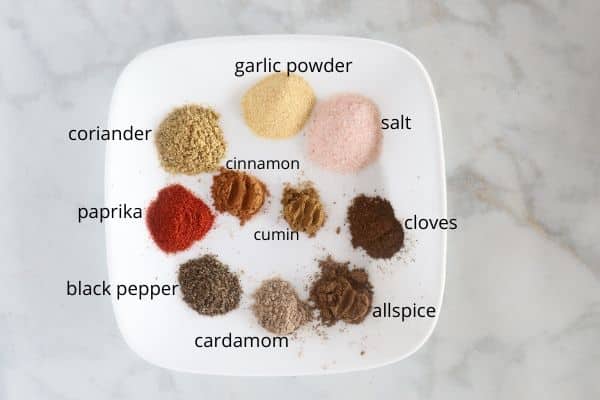 I've been experimenting with spices for this recipe for about 3 months now. I really like this combination of flavors, I know it might seem daunting but really the outcome deserves it. After your first attempt in Hawawshi, check if you need to increase or decrease the spice mix. But this recipe here was tested and approved by so many.
How to:
In a deep bowl, add spices, onion, garlic, bell pepper and parsley.
Mix well and tastes to adjust seasonings.
Add the ground meat and mix to combine.
Cut your pita in halves, stuff each pita with ¼ to ⅓ cup of the meat mixture.
Brush lightly with oil on both sides.
Arrange pita halves on a grilling sheet and place in a 400F preheated oven.
Make ahead tip
If you want to prepare Hawawshi ahead of time, you can make the meat mixture, divide them into patties, flatten and freeze on a cookie sheets until solid then store them in a ziploc bag. When you are ready to use, defrost in your fridge overnight then stuff the pita halves and continue with the recipe as is.
Variations
Some people specially in the levant area add pine nuts to the meat mixture. I think this is a great idea but Egyptians do not do that in Hawawshi.
Also sometimes lemon pepper is added to Arayes to add a nice tangy lemony finish.
For Hawawshi, some people add diced tomato. If you chose to then you must de-seed them. Seeds will make the mixture watery and leads to a soggy bread.
Make them with any ground meat combination you have on hand. Make them vegan by using ground mushrooms.
Some people prefer to cut the pita into quarters instead of halves. This is totally up to you but adjust the cooking time accordingly.
Hawawshi is usually known for being spicy, you can dice some chili peppers in the mix or use cayenne pepper to your liking.
I've seen people adding breadcrumbs to the meat mixture to make it more tender and juicy but this is not a common practice.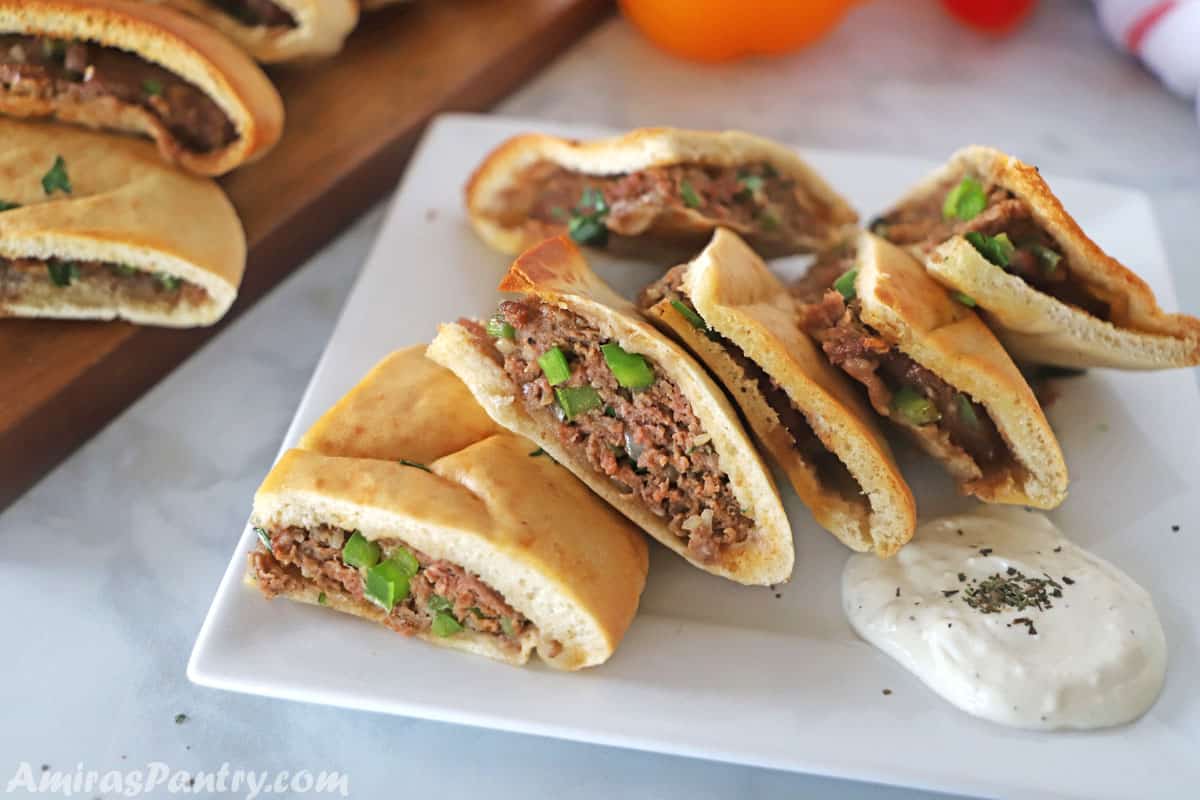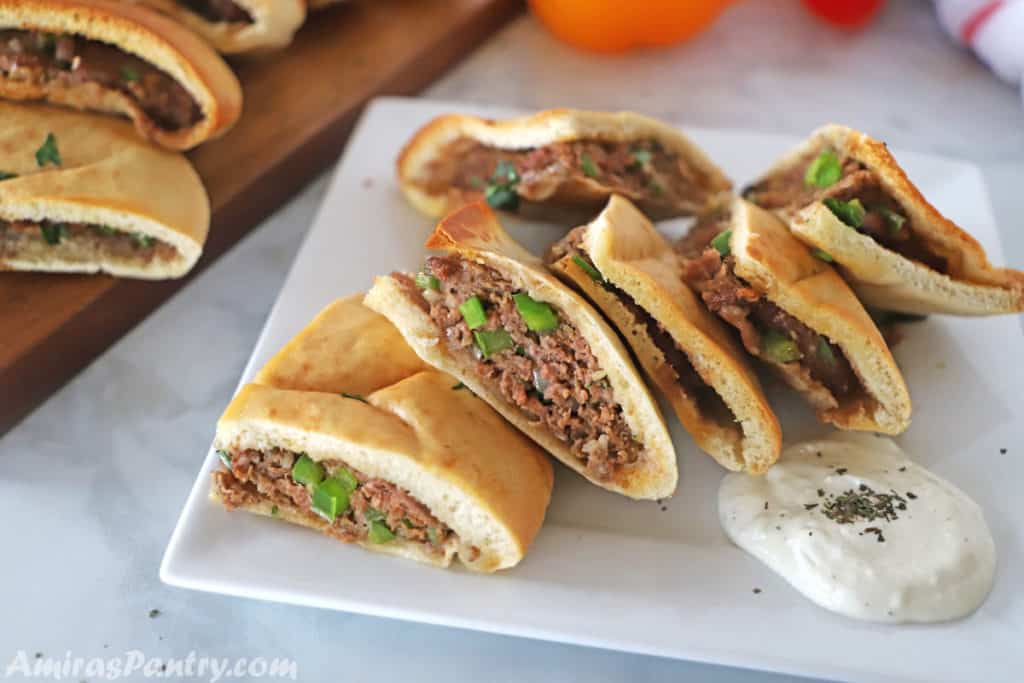 How to cook Hawawshi
I like baking them in the oven then finishing them off on a grill (if possible) to get the incredible grilling marks on them. Some people cook them start to finish on the outside grill, others like to cook them on a skillet. Cooking time depends greatly on how thick the meat mixture is. I like mine thicker than usual so I put about ⅓ cup of the meat mixture in each pita half.
You might need
The following are affiliate links. We are a participant in the Amazon Services LLC Associates Program, an affiliate advertising program designed to provide a means for us to earn fees by linking to Amazon.com and affiliated sites.

If you love crisping up your fries, chicken and more try this Nordic baking tray I just love everything about it and you should expect to see it more on the blog .



If you like this recipe do not forget to give it a ⭐⭐⭐⭐⭐ star rating and attach a photo of your finished dish. It is always a pleasure of mine to see your photos and check your own take of the recipe. Thank you.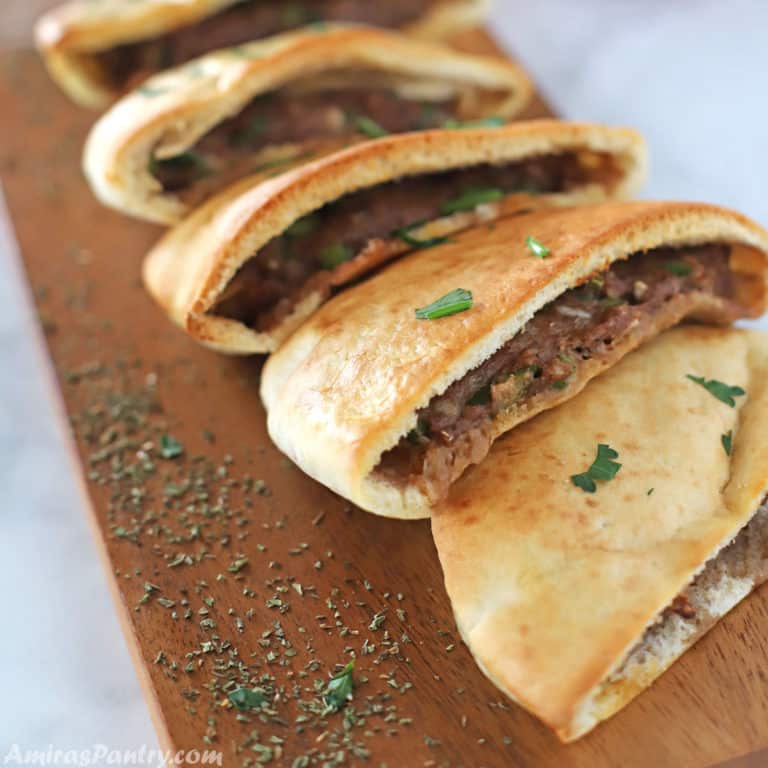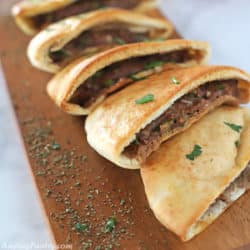 Arayes (Hawawshi)
A spicy ground beef mixture stuffed in crispy pita bread. This is perfect for parties as well as weekday dinners.
Print
Pin
Rate
Ingredients
1

large onion

finely diced.

2

garlic cloves

minced.

1

bell pepper

chopped.

½

cup

parsley

roughly chopped. Note1

2

teaspoons

salt

or to taste.

1

teaspoon

garlic powder.

1

teaspoon

coriander.

¾

teaspoon

allspice.

½

teaspoon

freshly ground black pepper.

½

teaspoon

paprika.

½

teaspoon

ground cardamom.

½

teaspoon

ground cumin.

½

teaspoon

cayenne pepper

optional for heat.

¼

teaspoon

ground cloves.

¼

teaspoon

ground cinnamon.

2

pounds

ground beef

Note2

¼

cup

olive oil.

6-7

pita bread loaves.
Instructions
Preheat oven to 400F.

Place a rack on a cookie sheet lined with parchment paper or you can use a grilling pan if you have it.

In a deep bowl combine the first onion, garlic, bell pepper and parsley if using.

Add all the spices and mix well to distribute the spice. Check seasonings and adjust accordingly.

Add the ground beef and mix well.

Warm your pitas in the microwave each for 8 seconds so they will be easier to open.

Cut each pita in half and open to make pockets.

Stuff each pocket from ¼ to ⅓ cup according to your liking. Brush with oil on both sides.

Arrange Arayes on a your baking sheet and bake in the middle of your oven for almost 13-15 minutes turning them once in between so the bread crisps up on both sides.

Serve garnished with more parsley.
Notes
Note1: using parsley is optional, but it gives a nice flavor to your ground beef.
Note2: you can use any ground meat you like and you can make it vegetarian using ground mushrooms as well.
Serve with:
Serve these delicious pockets with green salad or Tabouli. It also goes great with tzatziki, hummus, garlic or tahini dip.
Please Note: Nutrition facts calculated without the pita bread as it varies greatly from brand to brand. Sodium is based on using 2 teaspoons pink salt, please adjust to the salt you are using.
Please check the nutrition disclaimer policy.
Nutrition
Calories:
210.9
kcal
|
Carbohydrates:
2.3
g
|
Protein:
18.3
g
|
Fat:
13.9
g
|
Saturated Fat:
4.4
g
|
Polyunsaturated Fat:
0.7
g
|
Monounsaturated Fat:
7.2
g
|
Cholesterol:
59.4
mg
|
Sodium:
99.2
mg
|
Potassium:
309.5
mg
|
Fiber:
0.6
g
|
Sugar:
0.8
g
Sign up and learn more about Mediterranean flavors
This recipe originally published March 2013. Updated for some housekeeping things on April 2020.
Time to show you off!!