What does cordon bleu mean? according to wikipedia cordon bleu can refer to Le Cordon Bleu, the world's largest hospitality education institution which will, unfortunately, close its 16 branches in the US by next month. Or can refer to this heavenly comfort food, Swiss dish that is mainly made of meat wrapped around cheese and ham, then breaded and deep-fried. How can possibly any other dish compete with all these goodies joined together in a luscious, mouth watering recipe?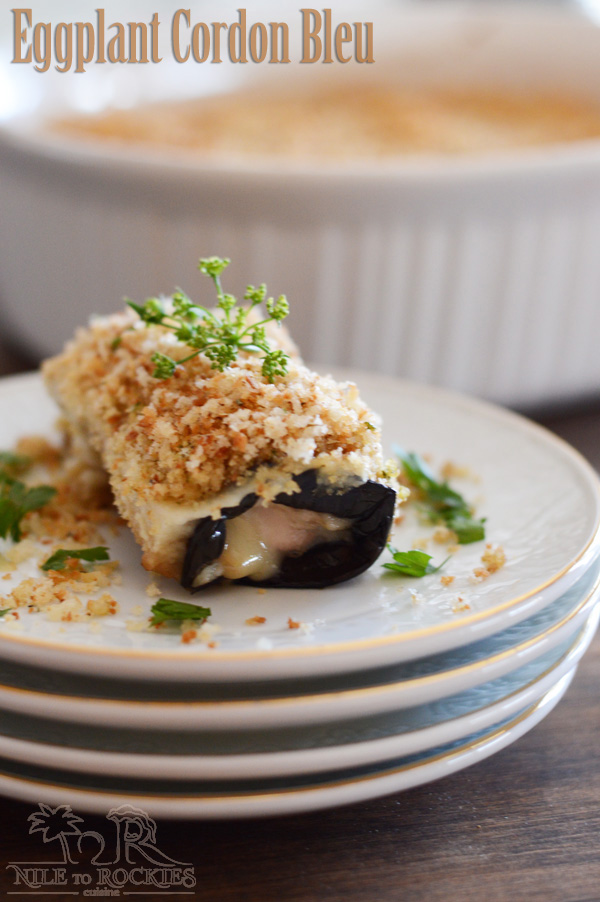 Cordon bleu dish is a very rich one and not the most healthy one, you know those dishes made with quinoa and kale and all these healthy, earthy, good for you stuff. I tried hard to make it lighter but I also added a little twist to it, making it chicken less dish.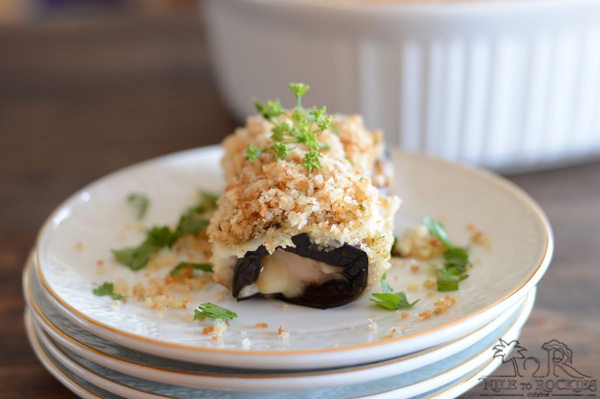 Eggplants are rich of flavors, so I wrapped it around a slice of cheese and deli meat, I used smoked turkey slices, then poured some thick bechamel sauce and topped with panko crumbs, really tasted so so good.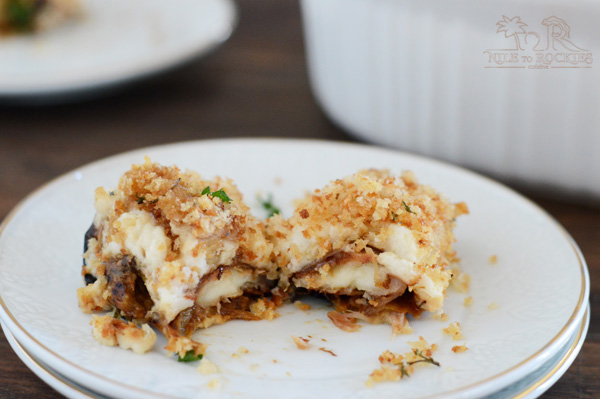 If you want to make it even lighter, I suggest omitting the bechamel sauce and just dredge the eggplant rolls into beaten eggs and then panko crumbs, put in the oven or even pan fry it. so delicious.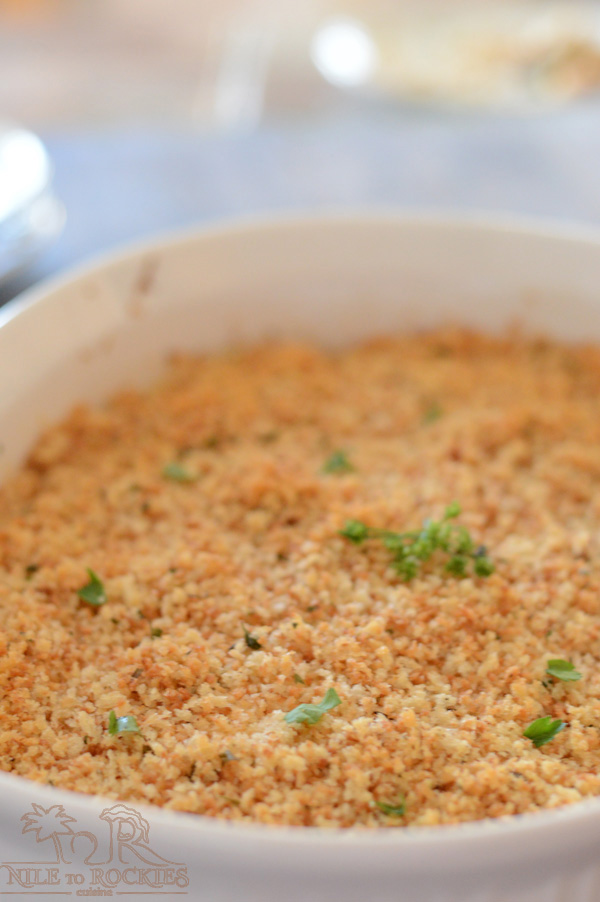 These should be served immediately, so do not make a big patch if you are not going to consume the whole dish. My husband liked them even when they were two days old, but I like the crumbs to be extra crunchy and refrigerating them does not help in this matter.
I hope you'll like this recipe and have the time to try it out… Enjoy!!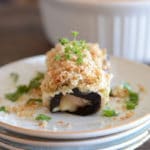 Eggplant cordon bleu
Eggplant rolls, wrapped around cheese and deli meat, swimming in a luscious bechamel sauce and topped with buttery panko bread, a rich and comforting dish
Print Recipe
Ingredients
2

medium eggplants cut lengthwise into thin slices

about 1/4 inch each.

1/3

cup

olive oil.

Salt to taste.

Cheese and deli meat slices one for each slice of eggplant.
FOR THE BECHAMEL
2

Tablespoon

Butter.

2

Tablespoon

oil.

5

Tablespoons

Flour

2

cups

Milk.

Salt to taste.
FOR THE PANKO CRUMBS TOPPING
1 1/2

cup

Panko crumbs

2

Tablespoon

Butter

1/2

teaspoons

Italian seasonings.
Instructions
In a large pan, over medium heat, place eggplant slices, brush with olive oil and sprinkle some salt over them.

When they become the desired color, flip over and brush the other side.

Wrap each eggplant slice over a slice of cheese and deli meat, roll tightly.

Butter a baking dish and place the eggplant rolls in it.
Make the bechamel sauce
First melt the butter and oil in a sauce pan over medium heat.

Whisk in the flour and cook until bubbly and smooth, add milk and season. Keep stirring until thickened.

Pour the sauce over the eggplant rolls.
Make the topping
In a pan over medium heat, melt butter, then add panko crumbs, seasoning and stir.

Keep stirring until crumbs turn golden brown.

Sprinkle on top of the dish and bake in a 350F preheated oven until bubbly.

Serve and .... Enjoy!!
Need more Eggplant recipe?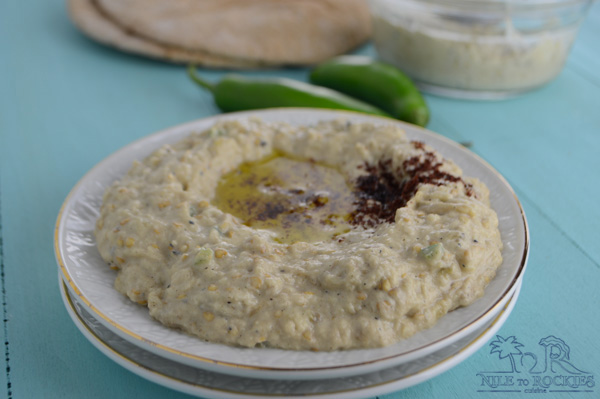 Baba Ghanoush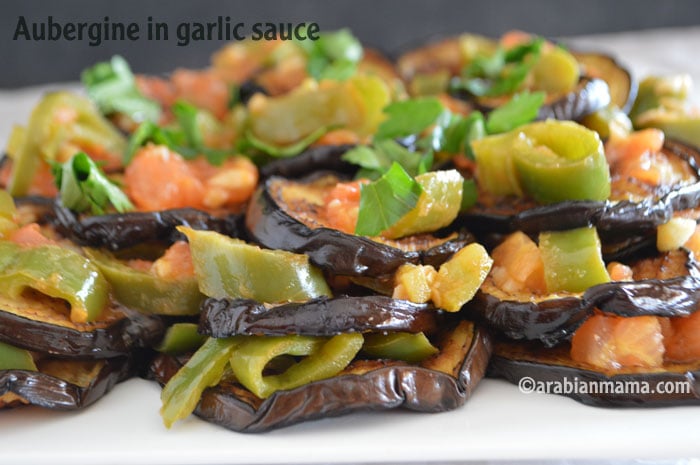 Eggplant in garlic sauce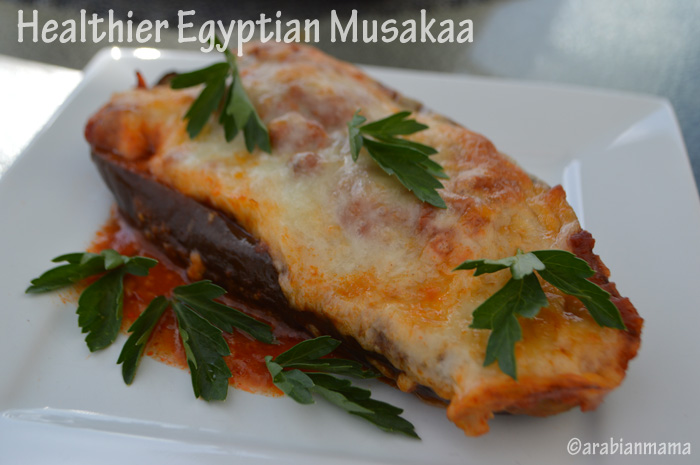 Healthy Musakaa