Flavorful, colorful and meat free Musakaa that satisfies both eggplant and chickpeas fans.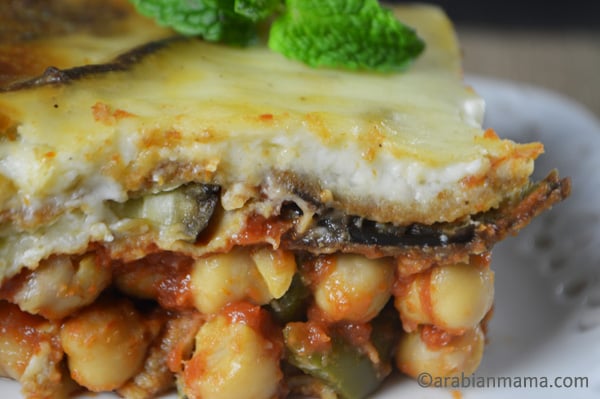 My late dad was a huge fan of eggplant , but sadly I did not share him the same love until recently. I've become crazy about two things Hummus and Eggplants. When I see eggplants on sale I just grab a couple without hesitating, who knows I might needs them 🙂 smart girl right?
If I don't come up with a recipe, I always have this easy garlic and vinegar recipe handy that comes together quickly and tasty each time. In the Middle East, we always peel the eggplants, but recently I've discovered how tasty they become when you leave the skin on and it is full of things your body needs too, so now I either leave the whole skin or make stripes along it so we can always have some skin in each bite.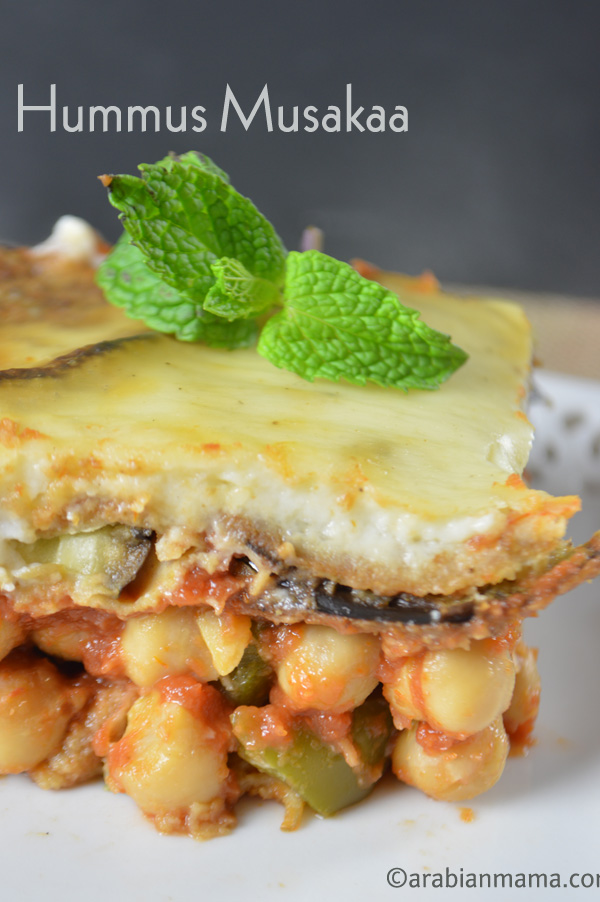 I've always known two types of musakaa, one with tomato sauce and the other topped with bechamel sauce. In this recipe I went for the bechamel one to give it more richness but you are welcome to do whatever you like. I've also breaded my eggplants to get more crunchy texture, this was fine but it did not really give me the feeling of the tender eggplants usually there in musakaa, so next time I'll make it in the oven without the extra calories from breading the eggplant slices. Also I would recommend, sauteing some diced onions in olive oil and adding the chickpeas to it, season and stir for a couple of minutes, this step lends the chickpeas a very desirable taste.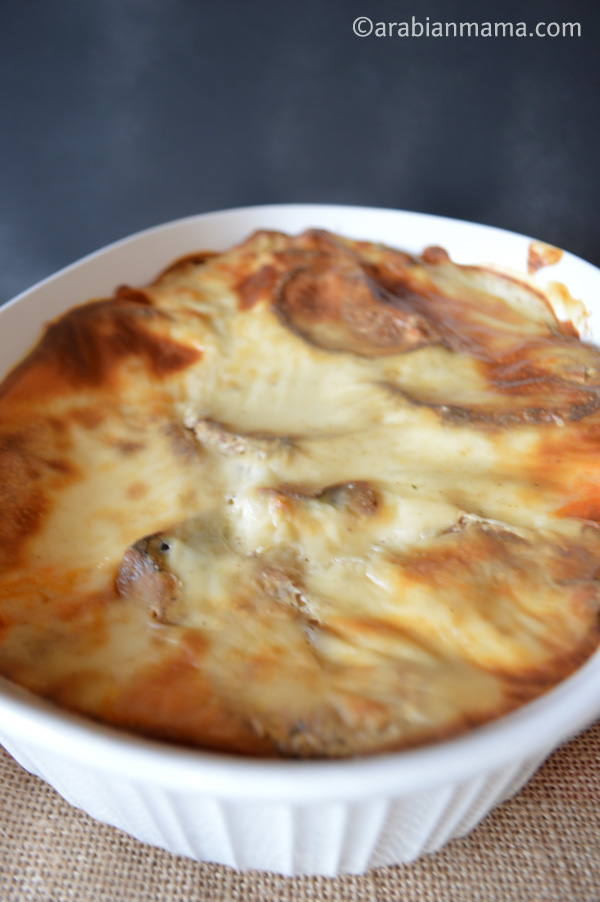 Here is a short video to show you how to prepare this delicious dish... Enjoy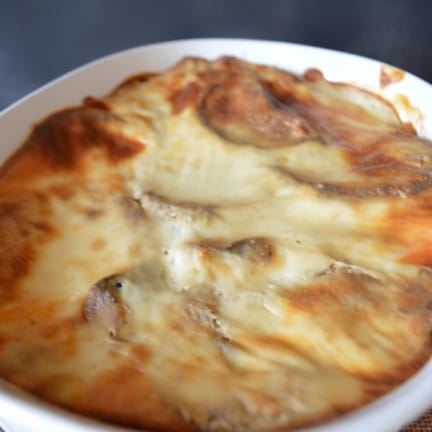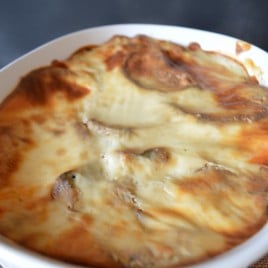 Ingredients
2

small eggplant

1.5 lb. total

1/2

cup

flour.

1/2

tsp

garlic powder.

1

tsp

salt.

1

large egg.

2

Tbsp

milk.

3/4

cup

plain breadcrumbs.

1

can chickpeas - drained.

15.5 oz.

1

bell pepper- any color.

1

can tomato sauce.

16oz.
For the bechamel sauce
4

Tbs

unsalted butter- or 2Tbs butter+ 2 Tbs olive oil.

4

Tbs

flour.

2

c

of milk.

salt and pepper to taste.
Instructions
Slice the eggplant into 1/2 inch thick slices.

Preheat the oven to 425 F.

Beats egg with milk to make egg wash.

Add garlic powder and salt to flour and mix well.

Dip the eggplant slices in the flour, then the egg wash then into the breadcrumbs. Arrange in a baking dish and bake for 25 minutes until golden brown and crispy.* please see notes.

Make the bechamel sauce while the eggplant is in the oven by melting the butter in a sauce pan, then add the flour and cook. Slowly pour milk and stir vigorously until all are well combined, season and let it cook until bubbly, it should be smooth and creamy.

Pour 1/4 c of the bechamel sauce in an oven dish, then arrange the eggplant slices, top with sliced bell pepper, then add the chickpeas.** please see notes.

Add the tomato sauce then top with another layer of eggplant slices.

Finally pour the rest of the bechamel sauce over and smooth the surface.

Bake in a 350F oven until golden brown.

Let it cool down for 30 minutes, slice and enjoy.
Notes
* The breaded eggplant slices gives this dish extra crispiness but I was not very thrilled about it, so next time I will just stick them in the oven drizzled in some olive oil. This is totally a personal taste, so choose whatever suits you more.
** I recommend sauteing a small diced onion in 2 Tbs olive oil then add the chickpeas, season with salt and pepper then stir for a couple of minutes before adding to the dish. This step kicks the flavors and you can season with your favorite seasonings as well.
Sign up and learn more about Mediterranean flavors
Looking for more hummus recipes?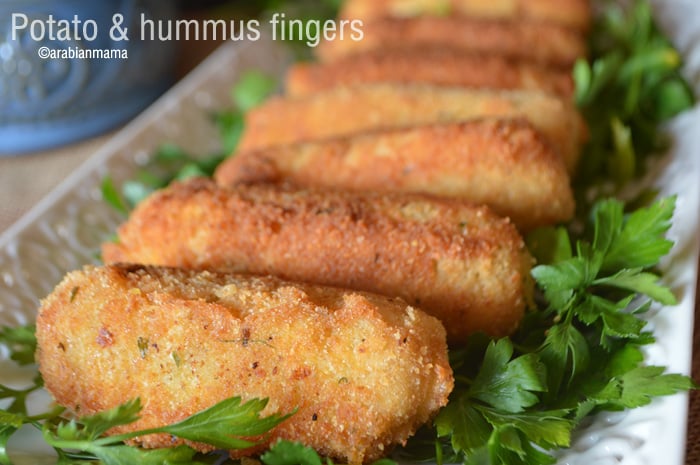 Hummus and potato fingers