A simply delicious strawberry cake recipe that is super flavorful, sweet and very tall. A no bake jello layer cake that is gorgeous and easy to make with fresh strawberries for jello lovers.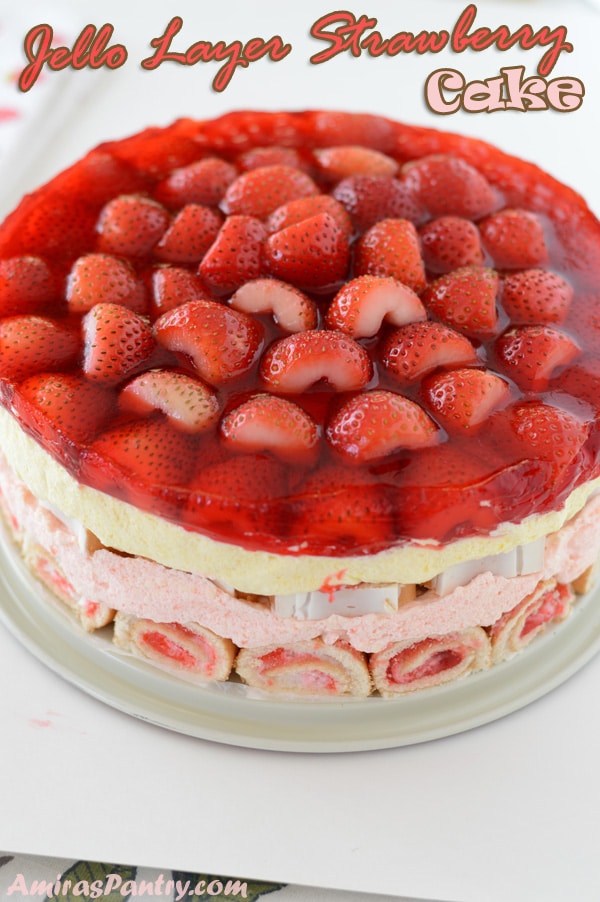 This is a death by jello cake by all means, it is my latest culinary invention, a cake that is made for those crazy jello lovers out there. Adapt it to your liking and use whatever jello kind(s) your heart desires, think grapes and orange will give the right colors in a Halloween party.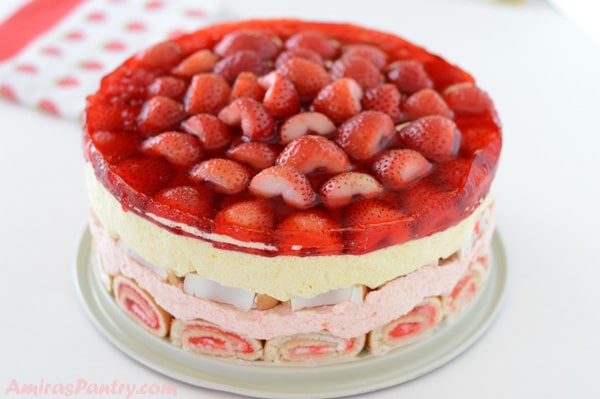 This is a huge and tall cake, consists of 5 layers, 3 of them have different kinds of jello. First layer is made of cake then followed by a creamy peach jello layer then another cake layer followed by a creamy pineapple layer and finishing off with a thick layer of fresh strawberries and strawberry jello. You can make it shorter by cutting the recipe in half. Use leftover cake or cookies as a base and work your way up using your own creativity, finish it with more jello and strawberries on top makes you think finally something healthy 🙂 so you kind of justify another bite.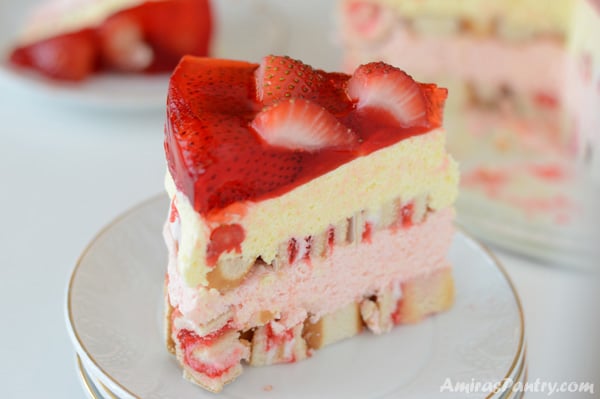 My kids went crazy over this cake they gulped half of it in a matter of hours so I had to send the rest with my hubby to work, his colleagues could not even touch it at first, I told you it is a scary cake 😱, but finally it was almost gone the next day.
I've made this cake on the course of two days as I was so busy, and all this time they were on their toes watching and helping me with the mixing and waiting next to the fridge for the yummy cake to finish😋.
My youngest ate the top jello part with the strawberries , my other two ate the whole thing with my middle creative kid being the most thrilled among the three as he is crazy about anything red :). Bottom line is, this jello cake is very good especially for a party with lots of kiddos.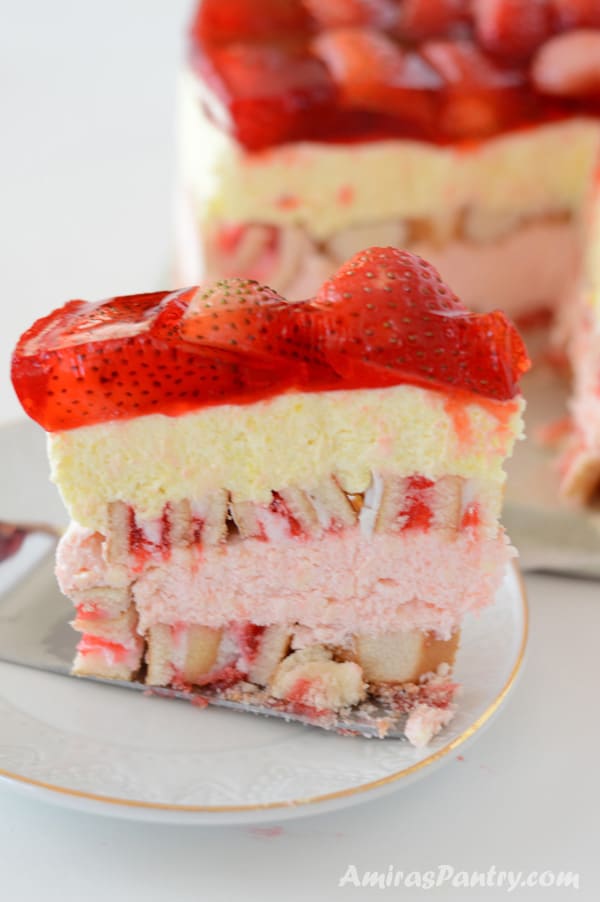 This babe is rich and easy to make but needs time to make and set in the fridge so if you have a party I recommend making it ahead of time. Also this cake is not for small family it needs a gathering think Thanksgiving? it will be very suitable for a big party.
This can be made anytime of the year, think red blue and white 🇺🇸 for the 4th of july, purple, orange and black for Halloween, red and white ❤️❤️ for Valentine's day… really let your imagination and flavor combination go wild.
My father in law was thrilled more than the kiddo about this cake :), for me it was super sweet, and I think this was mainly due to the cake I used, I've used these strawberry shortbread rolls which were very sweet as they were frosted as well so next time I will use a plain pound cake or even plain cookies. I also recommend that you use no sugar jello, really you will not feel the difference.
I hope you'll have fun making this humongous, scary death by jello cake, and until next recipe have a safe Halloween.
Need more Arabic desserts? check out the desserts section.
Meanwhile here are some recommendations 👇