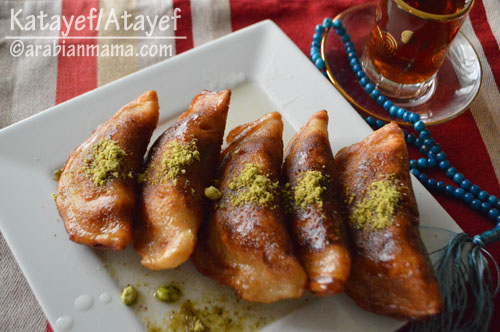 Qatayef or Atayef is sort of stuffed pancakes that is commonly served during the holy month of Ramadan. Everyone loves Atayef, adults and kids, men and women, I have never seen anyone who does not love Atayef. Whenever I serve this dish to friends, I find myself surrounded with smiley faces as it reminds us all of the good days of Ramadan.
Atayef is usually made sweet, stuffed with nuts or cream and drizzled with simple syrup. I've made salty Atayef too which was so so delicious I've stuffed it with mined meat, chicken and even cheese.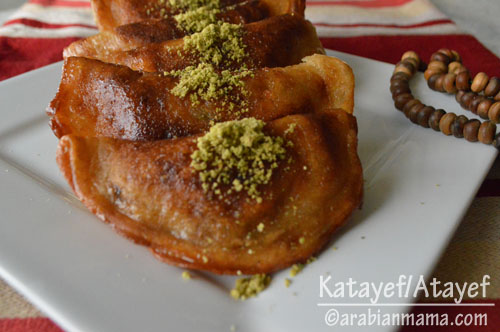 If you googled the recipe you will find many recipes for Katayef some use whole wheat and others use semolina. The secret behind it is to adjust the batter so it will not be too runny or too thick. I've got a recipe that is really fool proof for a successful batter with only needs 3 ingredients commonly found in every kitchen.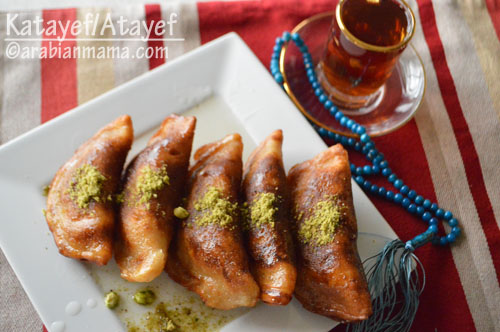 You will need :
2 cups of all purpose flour.
1 3/4 cups of warm water.
1 tsp dry yeast.
1 Tablespoon sugar.
1/2 teaspoon baking powder.
1 Tablespoon dry powdered milk.
A pinch of salt.
Oil for deep frying.
Mixed nuts of your choice for the filling.
Thick simple syrup- 2cups sugar to 1.5 cup of water and a dash of vanilla with a tsp of lemon juice.
Add the first 7 ingredients to your blender and blend well until you get a batter that is a little like pancake batter but not lumpy and a little runny.
Let it rise for about an hour.
Lightly grease a non stick pan – or use your griddle- on a medium heat then pour almost 2 Tablespoons of the batter or smaller according to the size you are comfortable with. The Atayef should start to bubble on the surface, wait for a couple of minutes until the surface has no wet spots anymore which means it is done. Do not flip the Atayef just remove from heat and let it cool- covered with a clean kitchen towel- on a rack.
When it is cooled enough to handle start stuffing the Atayef by placing 1-2 teaspoons of your filling and fold it so it forms a half circle pressing on the edge to seal. Deep fry them until golden brown, drizzle with syrup.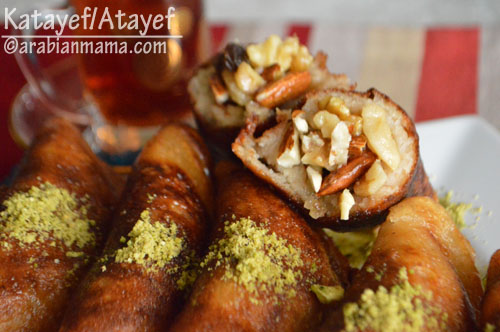 Serve and enjoy.