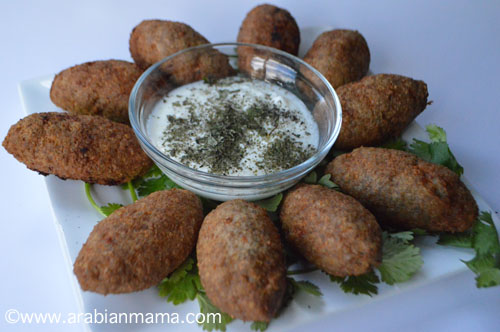 Kibbeh is originally a Syrian hard shell kind of meat balls, some people say it was originated in Lebanon but anyway it spread all over the middle east and we call it Kobeebah in Egypt. It is made in many different forms but I will make the original form but a little bit differently. Kobeebah is usually made with minced meat but today I will make it with ground turkey meat as we are trying to stay away from dark meat for health purposes.
You will need:
For the shell you will need:
1 pound of ground meat/turkey.
1 cup of burghul wheat.
salt and black pepper to taste.
1 tsp of all spices.
For the filling:
1 pound of ground meat/turkey.
1 medium onion diced.
salt/pepper to taste.
2 Tbs of oil.
1/4 c – more or less – roasted pine nuts – optional.
Here is what you will do:
Add water to the burghul -just to cover- and let it soak for just 10 minutes.
Meanwhile you will need to prepare the filling by browning the onion in  the 2 Tbs of oil then add the meat , salt and pepper and cover until it is done. When it is done add the pine nuts if you choose to and set aside.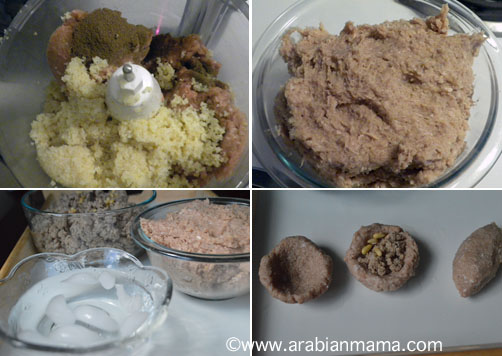 To make the shell, drain the burghul and squeeze in hand . In the food processor, add the ground meat, burghul, and all the spices including salt and pepper. Pulse until you get a smooth paste like in the picture above- you may add a little nit of water if you feel you need to but I did not.
Bring a bowl of iced water to dip your hands in every now and then. Start by shaping the burghul mixture into a ball- almost the size of a golf ball- then make a hole in the center as you can see above. Fill the hole with almost a Tbs of the filling mixture then close and shape into an oval as you can see.
Deep Fry the kobeebah in hot oil until golden brown. Let it cool down then serve.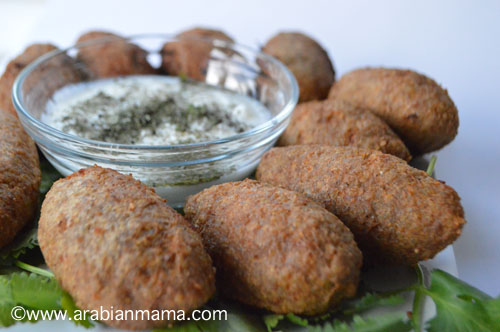 For easy frying,

try to freeze the kobeeba

for an hour or two until it is firm then fry them in really hot oil and reduce the heat a little bit after they are in , just to make sure it will be done inside out and not only burnt from the outside.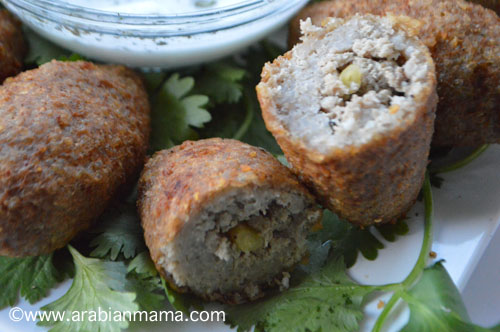 I served them with yogurt dip. It was super yummy.