I love ghee. In the Middle east almost every little girl has seen her mom making ghee many many times. It is a must in the most famous Middle eastern desserts. It adds its own touch to dishes regarding smell and taste. In Egypt we usually make ghee out of white butter not yellow one, but I love it either ways.The idea behind making ghee is clarifying the butter, taking away the dairy solids in it to end up with pure butterfat.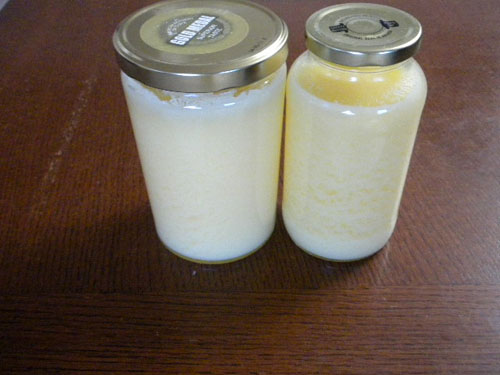 You will need:
Unsalted butter

– I bought the packet sold at Costco- but any butter is good.
A dash of

salt

.
A deep pot.
Making the ghee:
First put your butter cubes in the pot with

few pinches of salt

on medium- low until it melts completely.Then lower the heat to simmer.
After that you will notice that the butter is beginning to clarify at the center and some foamy white stuff rises on the surface,

skim this stuff with a spoon

. Some people discard it, I hate throwing things so I usually use this stuff in frying.
You will keep on simmering the butter for almost

4 more hours

– depending on your stove and pot. By the end of the 4th hour I could see clearly the bottom of my pot.
You will notice some solid stuff sink at the bottom of your pot we call this "

mortah

" in Arabic. It is delicious, spread it over a hot toast it really have a very heavenly buttery taste. Some people sprinkle with cinnamon, sugar or Stevia on a toast and yum yum.
Wait until it cools down-

be extremely careful as this is very hot when it is done

– then strain the butter – now ghee- in clean containers.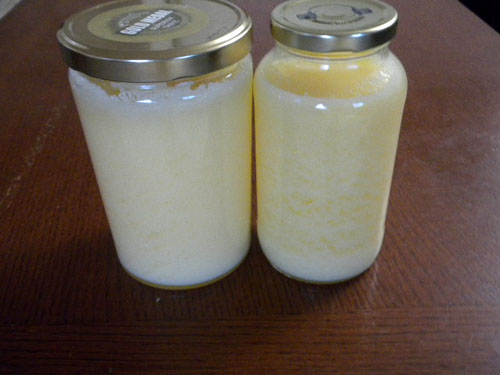 It will be solid after some time depending on the temperature of your kitchen. Try to store it in a cool place in your kitchen away from heat or better refrigerate it,  and you should be able to use it for about six months …. if you can keep it around for that long :).