A tasty chicken skillet with spinach, artichokes and a ton of other flavors, all ready in just 30 minutes
Chicken breast recipes can be dry and boring but not with this one. Roasted artichokes in a lemony sauce combined with spinach for a hearty, healthy and luscious chicken breasts every time.
One skillet lemon artichoke chicken dinner, ready in less than 30 minutes. Add some spinach and tomato for more colors and nutrients, serve with rice and you've got a drool-worthy dinner.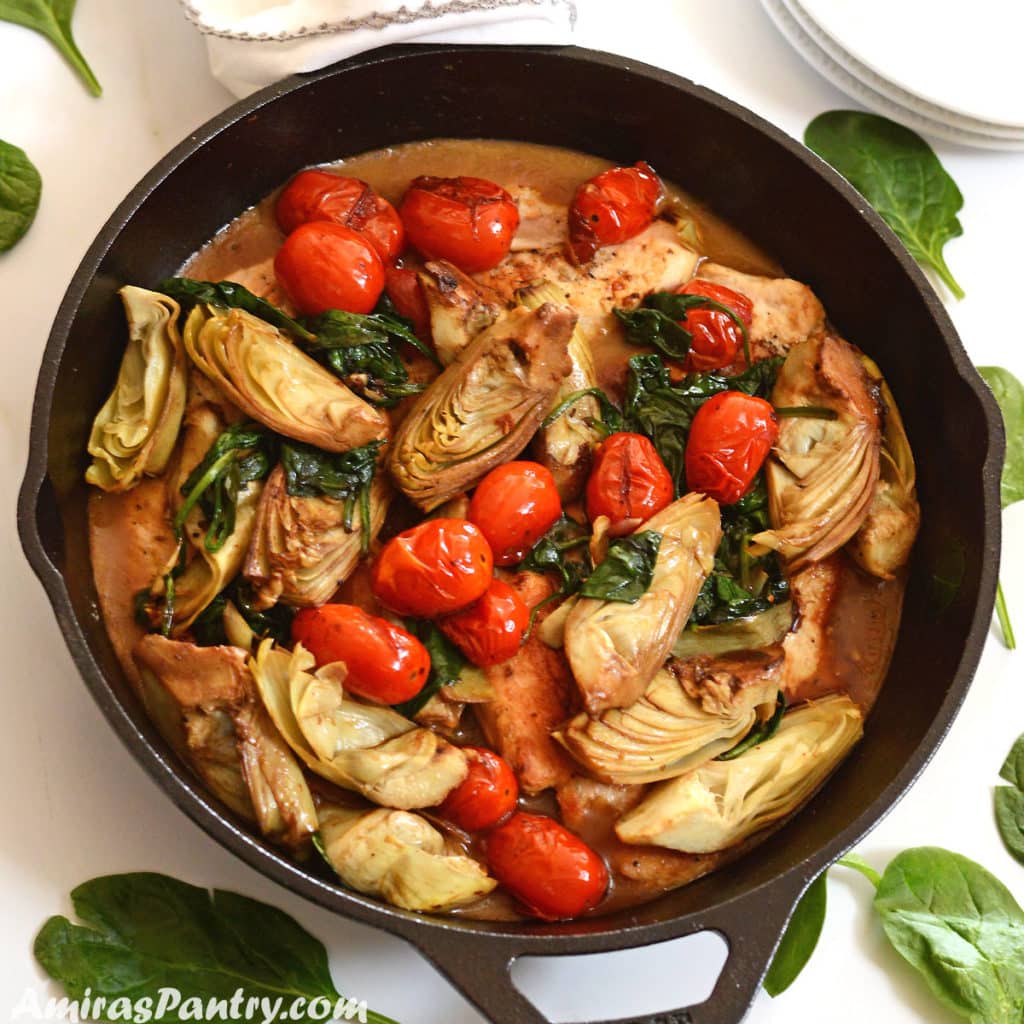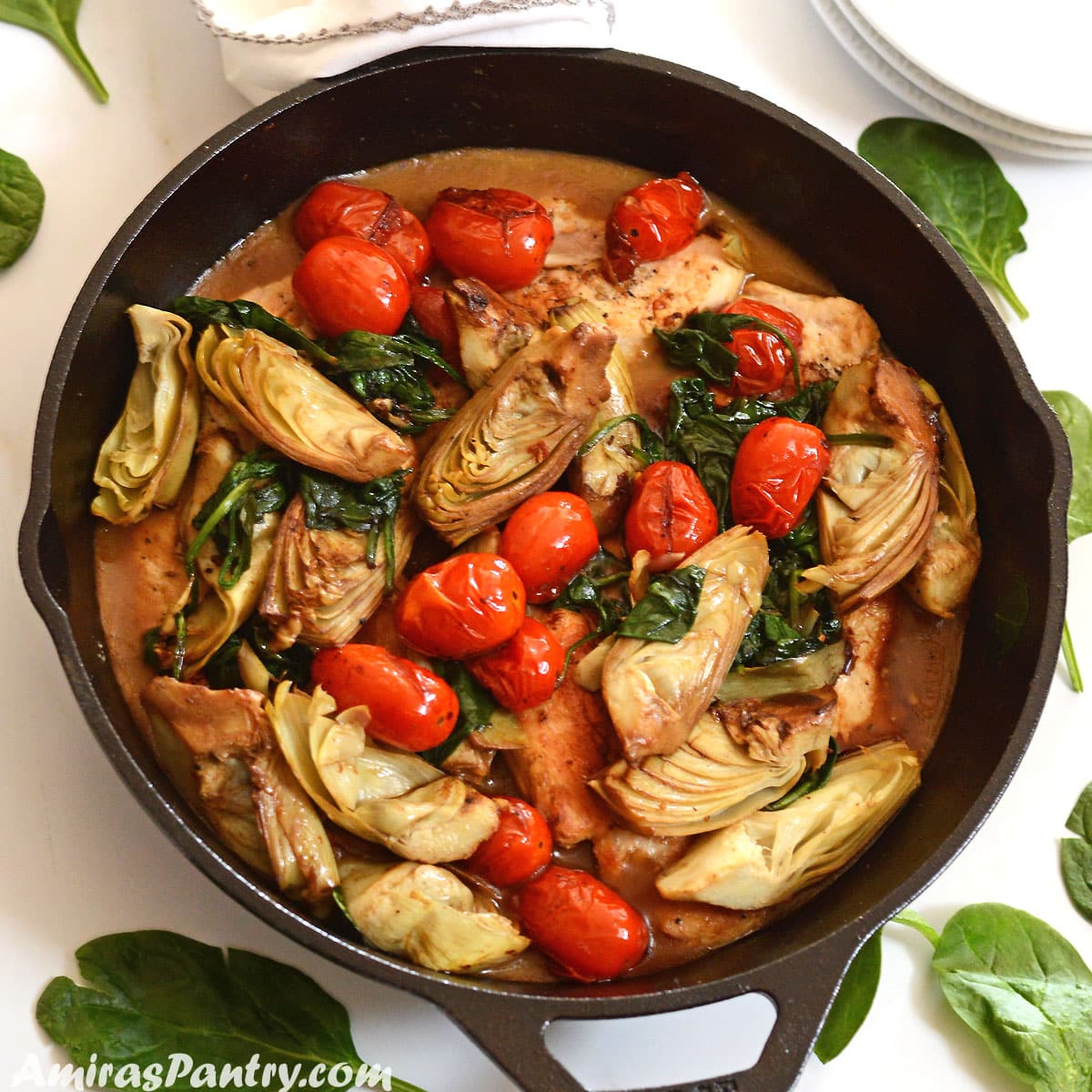 Chicken breast recipe
Hearty and nourishing, this is the kind of recipe that after you eat, you'll feel you did your body good. We are talking simple, bright, fancy, real food and beautiful chicken dinner out of nowhere.
I am used to having artichokes with ground beef like in this stuffed artichokes casserole, it is a classic in the Egyptian kitchen. But this time, we are making it with chicken breast. Everyone is seeking healthy foods, and we really have to. After all these cookies, chocolate, cakes, pies... etc. It is indeed overwhelming, but hey that's what holidays are for. Food, Fun, Family, and Friends and I will never want it any other way.
I think we are all ready for some healthier stuff, and by healthier I mean more fruits, veggies, and probably lean meat. My idea about healthier recipes is also delicious recipes like this one. Creamy, tangy, and oh so good.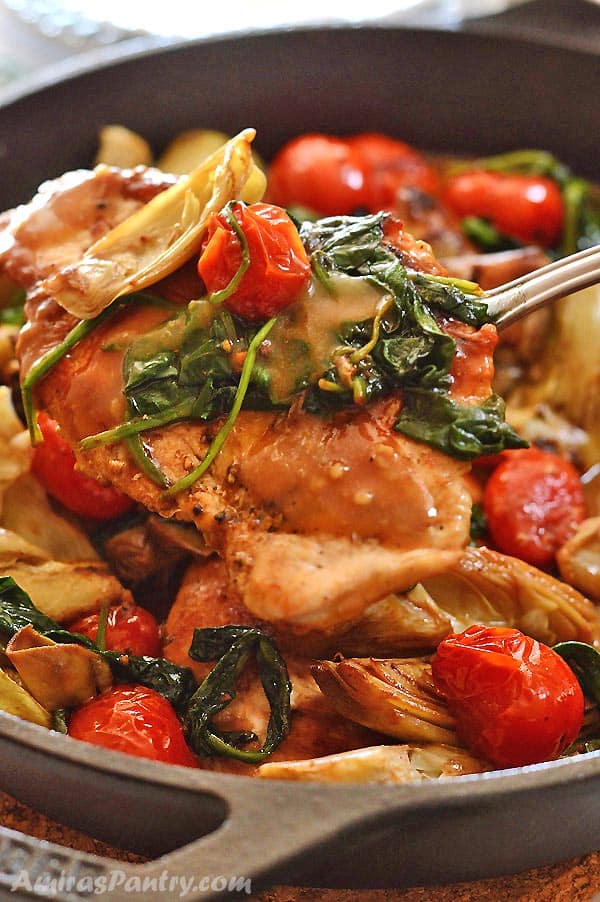 Recently I took my oldest to the pediatrician and there was this nice nurse waiting for him, you know to take all his measurements and stuff. When she knew that he is almost 15, she looked at me and said " Is he behaving well?", cos we have shots for that as well 😆. I replied " He has his moments but in general he is a good boy", the lady then gave me a piece of advice that I need to be firm and in this time we are living in I have to be firm.
She continued on a story about her daughter that when she was 14 I guess, she used to slam her bedroom's door whenever something happens. One day the mom told her if you did that again you'll not like what will happen next, the girl bluntly slammed her door not once but twice 🚪🚪. What do you think the mom did?
She went up to her daughter's room and took off the door!! The woman ACTUALLY made her daughter's room door-less, I seriously find it funny 🤣. SO, I gave my son this look 😈, and he replied back with that look that says " Don't you dare think about it" hehehehe. But seriously guys, although this might seem cruel to some people, sometimes kids drive you nuts. Yes to the point that you take off their bedroom's door 😅, I really cannot stop laughing about this.
How to make creamy lemon artichoke chicken
You are 20 minutes away from having this for dinner tonight. So let me show you how easy and quick this recipe is: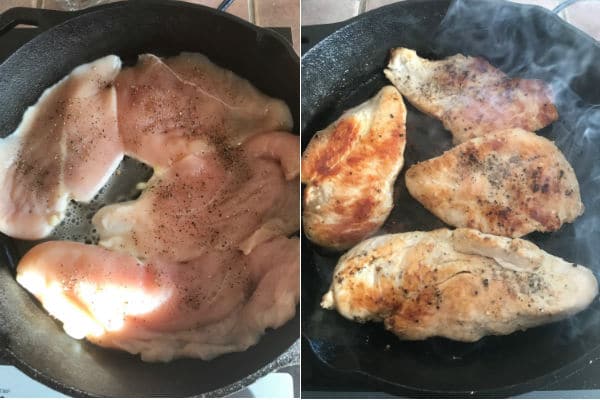 In a cast iron or non stick skillet, melt butter add chicken breasts and season with salt and pepper.
Cook on each side for almost 5-8 minutes until lightly and nicely browned. Set the chicken aside.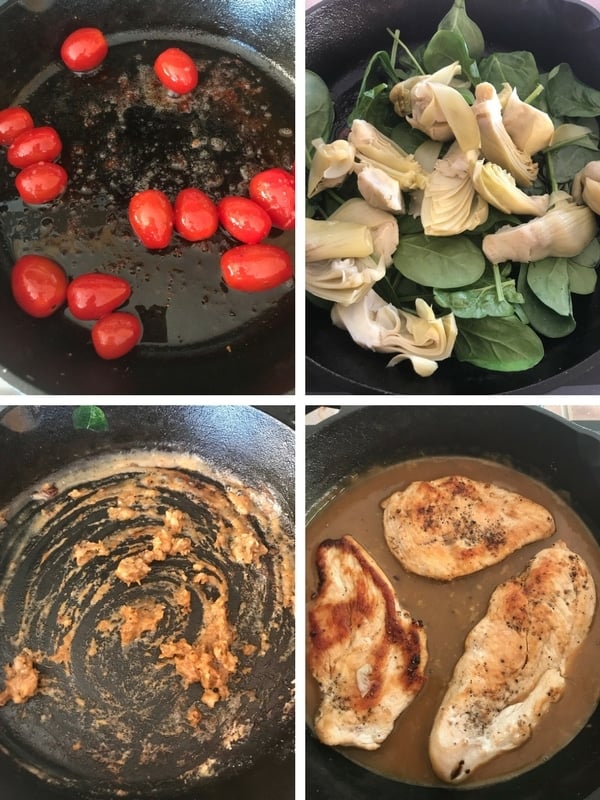 In the same pan, melt more butter ,we are talking in terms of 1 or half a tablespoons, and saute tomatoes. Set them aside with the chicken.
We'll repeat these steps with artichokes and spinach and then set them aside.
Now add garlic, saute for a little and do not let it brown or it will make your sauce bitter. Stir in flour then lemon juice. Pour the stock and stir until it thickens.
Put everything back into the skillet again and give it a minute or two to get to know each other on low flame and you are ready to serve your delicious meal. Serve it with a side of rice or pasta, I personally prefer rice or probably couscous.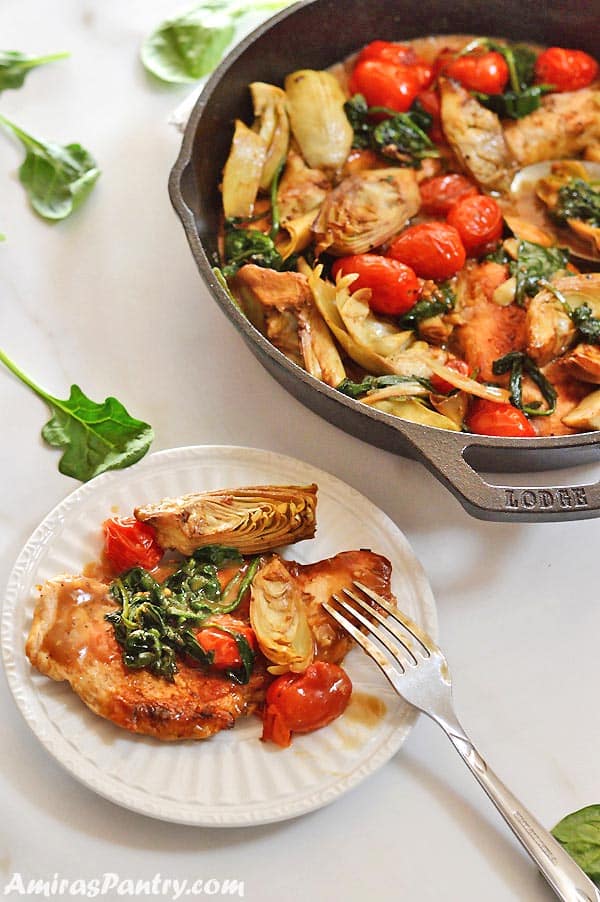 The idea behind this dish came from a Village Inn dish that I've ordered this recently. Unfortunately, the dish was not what I've expected. Chicken slices was very dry, it had very few artichoke pieces and there was barely enough sauce. I was very disappointed and decided to make it myself, and boy was I pleased.
You might need
The following are affiliate links. We are a participant in the Amazon Services LLC Associates Program, an affiliate advertising program designed to provide a means for us to earn fees by linking to Amazon.com and affiliated sites.

I love this Lodge cast iron skillet and use it for almost everything. I will share a post soon on how to take care and season your cast iron skillet.
I hope you'll like this recipe and please if you make this recipe, snap a pic and hashtag it #amiraspantry — I love to see your creations on Instagram, Facebook, Twitter!
Don't want to miss a recipe? Sign up for the FREE Amira's Pantry newsletter delivered to your inbox with lots of tips and surprises! And stay in touch with me on Facebook, Twitter, Pinterest, and Instagram for all the latest updates.
Lemon Artichoke Chicken
If you like this recipe do not forget to give it a ⭐⭐⭐⭐⭐ star rating and attach a photo of your finished dish. It is always a pleasure of mine to see your photos and check your own take of the recipe. Thank you.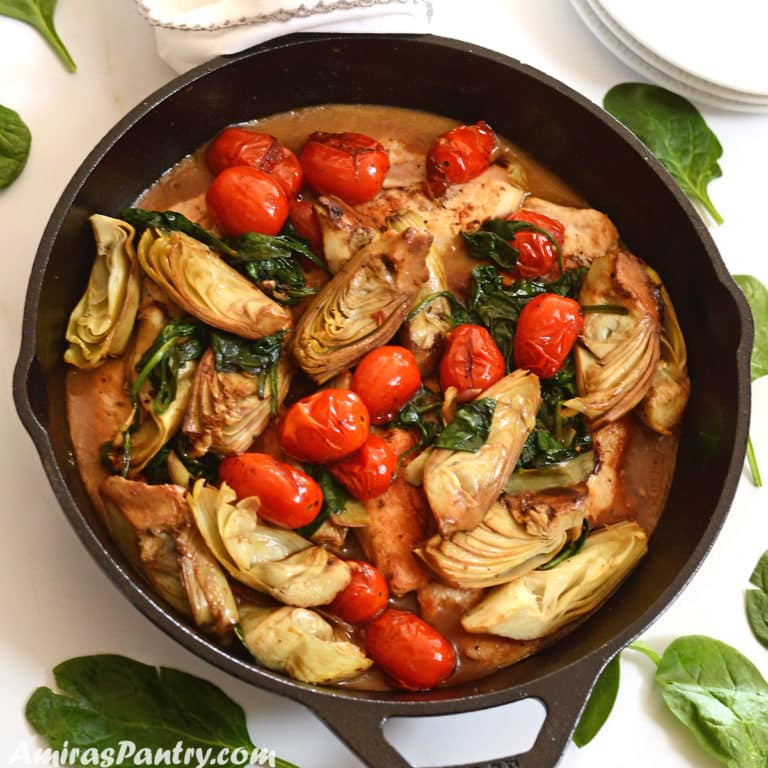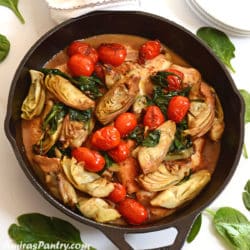 Lemon Artichoke Chicken Breats
A tasty chicken skillet with spinach, artichokes and a ton of other flavors, all ready in just 30 minutes
Print
Pin
Rate
Ingredients
3

Tablespoons

butter

divided.

1

pound

chicken breast

thinly sliced.

Salt and pepper.

1

pint

grape tomato.

1

(14 oz)

can artichoke, drained.

2

cups

spinach.

1

large garlic clove

minced.

1

Tablespoon

flour.

Juice from half a lemon

1

cup

chicken stock.
Instructions
In a skillet, over medium heat, melt 1 Tablespoon of butter then add chicken breast, season with salt and pepper.

Cook on both sides until browned on the outside, 5-8 minutes on each side. Transfer to a plate and cover.

In the same skillet, melt ½ Tablespoon of butter add tomatoes and saute until tomatoes get charred a bit. Transfer the tomato to the plat with the chicken.

Add another ½ Tablespoon of butter to the pan then add artichokes and spinach. Sauce over medium heat until spinach is wilted and artichokes begins to brown. Transfer to the plate with the chicken and tomato.

Melt the remaining Tablespoon of butter, sauce garlic for just 30 seconds then add the flour cook for 30 seconds more.


Add lemon juice, stock and stir on low until sauce thickens, about 2 minutes.

Transfer chicken, tomato, spinach and artichokes back to the pan and toss to coat. Adjust seasoning if necessary.

Simmer on low for a minute or so.

Serve hot with rice, pasta or any side you like.
Nutrition
Calories:
293.2
kcal
|
Carbohydrates:
16.2
g
|
Protein:
28.9
g
|
Fat:
9.7
g
|
Saturated Fat:
5.6
g
|
Polyunsaturated Fat:
0.5
g
|
Monounsaturated Fat:
2.8
g
|
Cholesterol:
89.1
mg
|
Sodium:
242.9
mg
|
Potassium:
615.3
mg
|
Fiber:
5.1
g
|
Sugar:
4.9
g
Sign up and learn more about Mediterranean flavors
This recipe originally published January 2018. Updated for some housekeeping things on February 2020. No change to the recipe.