Cloud bread is a low carb bread recipe, very light and fluffy. This bread alternative works perfectly in any situation and with little imagination ,you can go wild with it.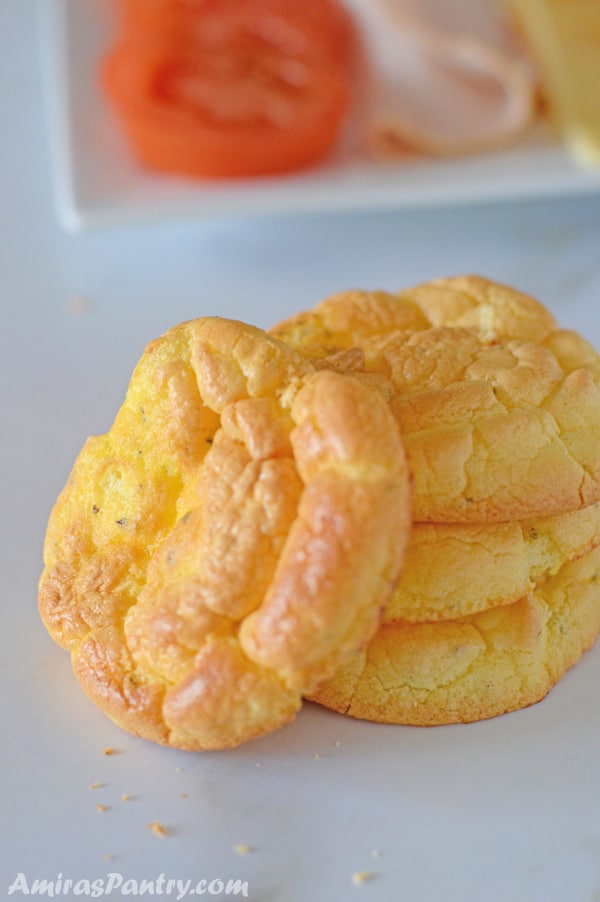 Cloud bread recipe variations are almost endless. Think spices, cheese and even sweeteners.
You can pretty much put whatever toppings on it I've used larger forms for my burgers and stuffed them with turkey and cheese as well. You also can use them as a pizza base!! Isn't this great?!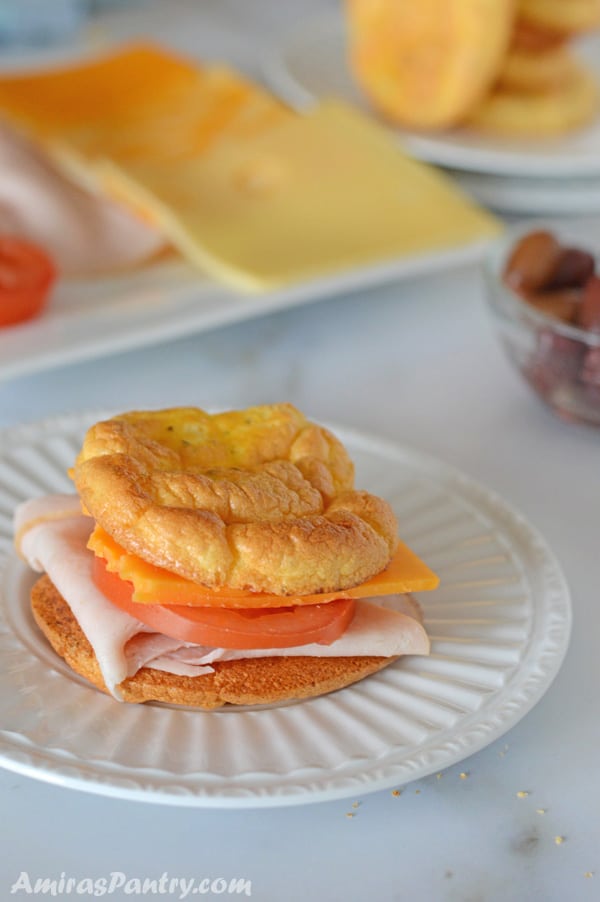 I'm not sure about the origin of this recipe but I've also heard that this recipe first appeared in the Atkins Diet cook book back in the 70s. I've never imagined that I will make a keto recipe, I only believe in moderate consumption of everything.
But, there are seasons in our lives where we must do something to shake things a little bit. Some of you might want to speed up the process to get their bikini bodies 👙 before summer hits.
For me, I want to get my pre-Ramadan figure 😄.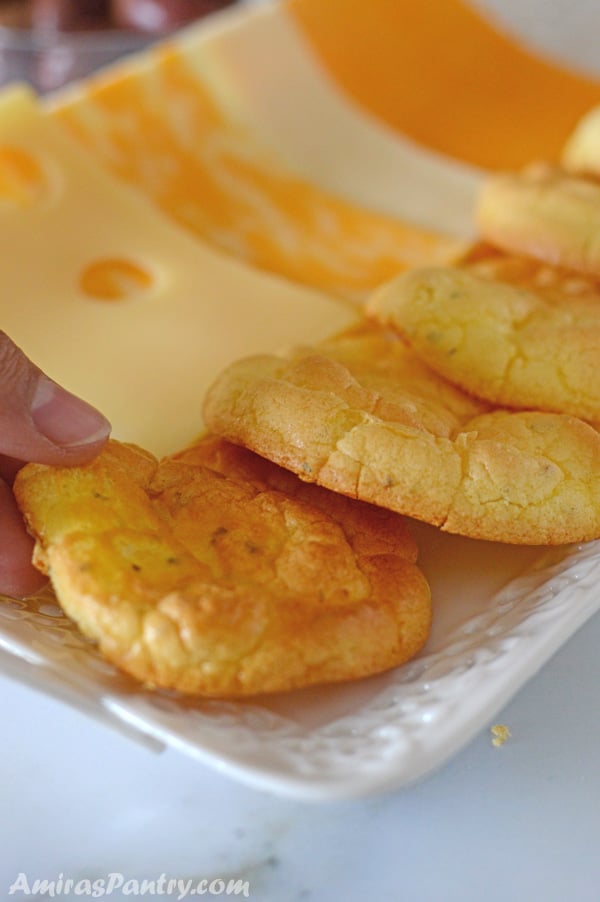 Ramadan, Muslims' fasting month, is almost one month away. I know it is not a month of eating, rather it is a month of worship… But….. in reality, and after a whole long day of fasting all I want is … desserts 🍰🍫…. carbs🍞🍚 … then probably some more carbs 🍟.
I am trying to lower my daily intake of carbs and sugar, which is very hard for a food blogger… trust me. But many times I crave a sandwich and feel like a normal person again.
Although it's not firm enough to replace bread in a regular sandwich, but it is one of the easiest ways to enjoy "bread" without all the carbs.
This is an easy on spot cloud bread recipe, no disappointments here. It needs a little skill but do not let this put you off, let me show you.
In a bowl, beat egg whites with cream of tartar, until it forms stiff peak. This is the hardest step which needs skill and probably a little more experience.
Here is how to tell and make sure that you've got a stiff peak:
First, you'll need to start with a room temperature eggs, this ensures that you get the most volume.
Make sure that your mixer's bowl and whisks are very clean and do not have any fat residues.
Using cream of tartar is highly recommended as it helps stabilize the shape.
Start on low to medium speed, egg whites will appear frothy.
Then in a little more time, you'll get the soft peek. If you turn your whisk over, you'll notice a peek that will flip back in few seconds
Continue beating and you'll get the stiff peak we need. If you lift up your whisk or beaters, you'll get a peak that is stiff and does not flip back as shown above.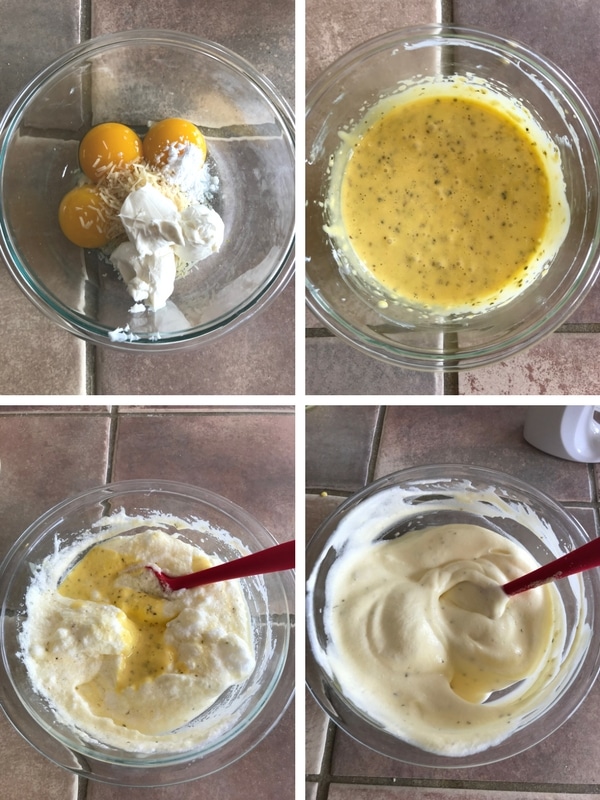 Mix all the flavors with the egg yolks, then fold the two together. Spoon in a well oiled baking sheet and bake for 30 minutes.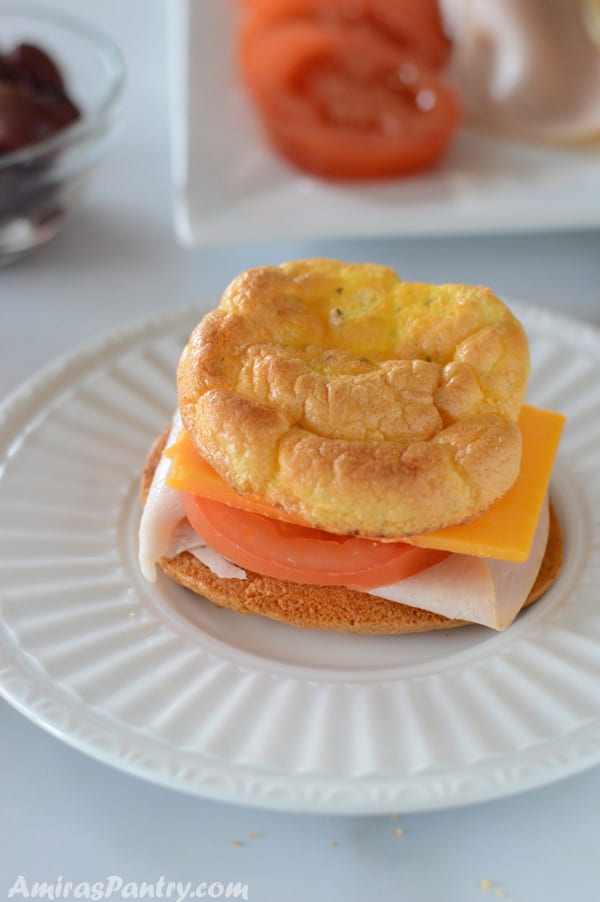 Wait for it to cool down then let it set overnight on your counter in an open bag. This pretty much helps reduce the eggy flavor in them rather than eating them straight after baking.
You can flavor them up however you want. If you want to make a peanut butter sandwich for example, take off all the flavors in this recipe and add a sweetener.
I hope you'll like this recipe and please if you make this recipe, snap a pic and hashtag it #amiraspantry — I love to see your creations on Instagram, Facebook, Twitter!
Don't want to miss a recipe? Sign up for the FREE Amira's Pantry newsletter delivered to your inbox with lots of tips and surprises! And stay in touch with me on Facebook, Twitter, Pinterest, and Instagram for all the latest updates.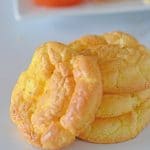 Cloud Bread
Explode in your mouth with flavor, light and no carb sort of bread.
Servings
:
10
bread rounds
Ingredients
3

Large eggs

room temperature.

1/4

teaspoon

cream of tartar.

3

57 g Tablespoons cream cheese.

2

Tablespoon

Parmesan cheese.

A pinch of garlic salt

1/2

teaspoon

dried oregano.
Instructions
Preheat oven to 300F.

Separate egg whites and yolks.

Add cream cheese, parmesan cheese, garlic salt and oregano to the yolks and mix well.

Beat egg white and cream of tartar until you get a stiff peak.

Using a spatula, gradually and carefully fold the yolk mixture into the egg white mixture.

Spoon mixture into a baking sheet lined with an oiled silpat, make 10 mounds for small buns or 6 for larger buns.*

Bake for 30 minutes, then let them cool completely.**
Recipe Notes
* If you do not have silat baking mats, you can just oil your sheet well.
** These will be very soft and eggy right after baking, better leave them overnight on the countertop or in an opened sack.
Nutrition Facts
Cloud Bread
Amount Per Serving
Calories 41.4
Calories from Fat 29
% Daily Value*
Total Fat 3.2g 5%
Cholesterol 61.3mg 20%
Sodium 76.9mg 3%
Potassium 40.2mg 1%
Total Carbohydrates 0.4g 0%
* Percent Daily Values are based on a 2000 calorie diet.
You may also like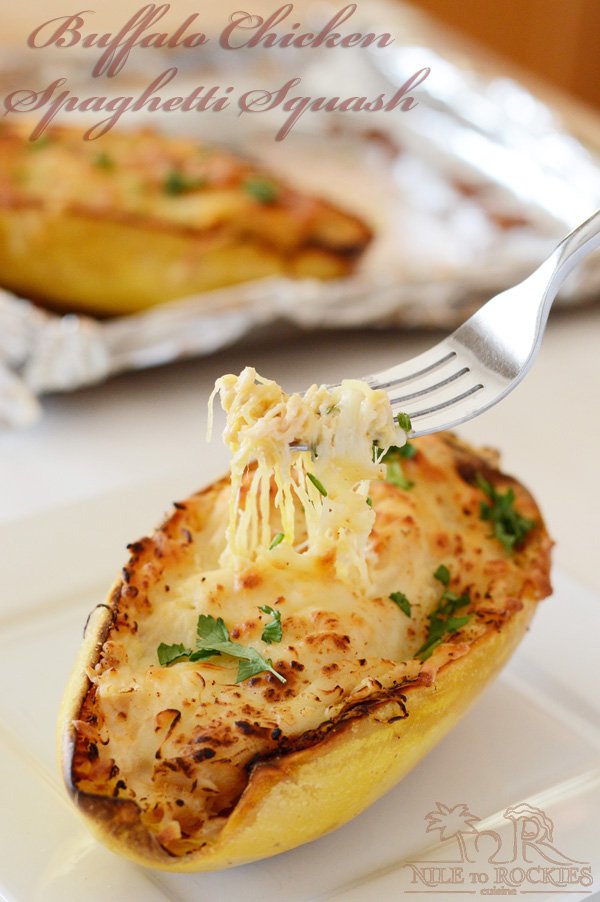 Buffalo Chicken Spaghetti Squash