A very thin batter that when baked transforms into a 3 layer custard filled cake.
Total time
1
hour
15
minutes
Chocolate magic cake is made with a very thin cake batter that will separate beautifully into three magical layer, you'll not believe your eyes.
Next time, try this delicious no bake lazy cake for an ultimate chocolate experience.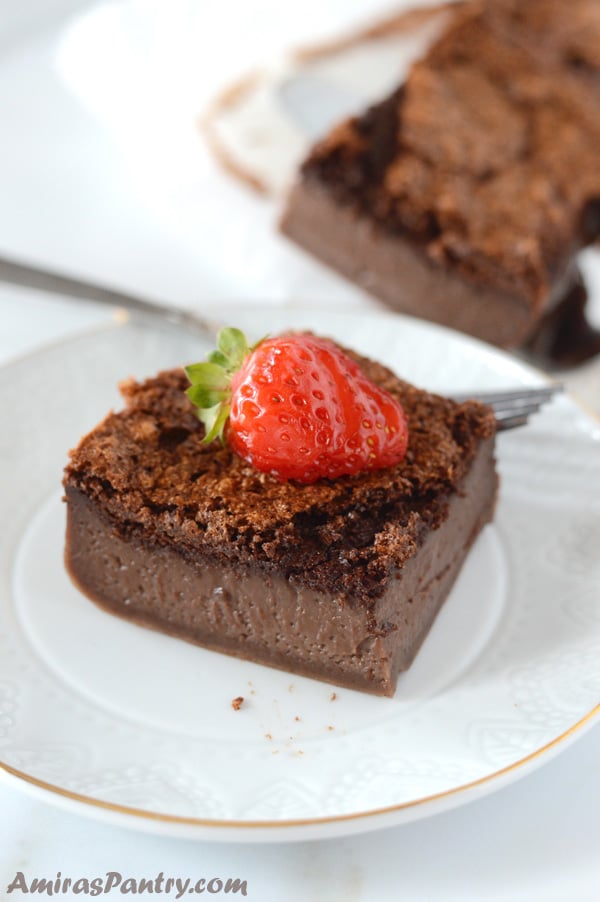 You will not imagine that this cake has only 6 Tablespoons of flour!! This is for when you just want to whip up something easy , set back and relax, watch the cake magic happen.
A seriously addicting and magical chocolate cake that separates into 3 layers when baked. Dense cake at the bottom, custard layer in the middle and sponge cake on top. Holy Moly, this is a very exciting recipe to make ... even more than the magic flan cake that I've made before.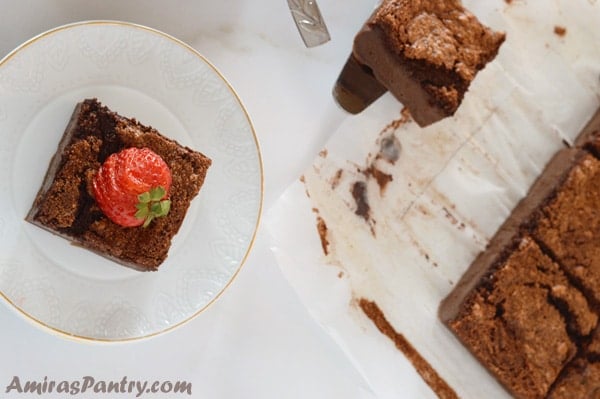 I was introduced to this amazing cake back in 2007 through one of the Arabic food forums, this very very trusted cook that I've known for years made the recipe and it looked so delicious. Bake then, I did not have any confidence in kitchen and especially in baking.
I did not even dare to try it, so I just printed it out and saved it in my files for later.
10 YEARS LATER... Yep, you read it right 10 Y E A R S, while going through my old recipe book, I've found the recipe. Being a bolder cook now, I try any/every recipe that interest me and dare to play with it.
My friend said 10 years ago, that this recipe originated in Romania. Googling the recipe, it turned out that yes it was true and it is a famous Romanian cake that has not been appreciated enough.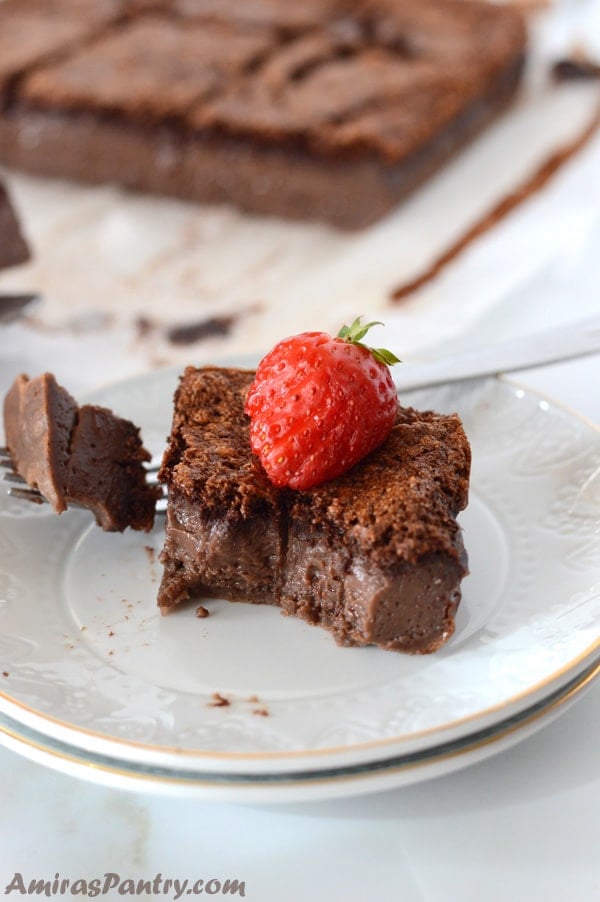 I do not know the science behind this amazing cake, I've tried searching it up but no clear explanation of why this very thin batter turns into this amazing custard filled cake. This cake has many fine qualities I would love to point out to you, right at this very moment.
It looks fancy and at first sight you think it needs a lot of work.. making two different cakes, cut in half and filling in between with custard.
You can play with the flavor in so many ways think vanilla, lemon, red velvet...etc.
It is even better the second or third day, which means you can prepare it in advance with no worries what so ever.
The batter is so easy to make, but you'll keep doubting yourself every step of the way. The process will be much less intense as you make the second... the third.. the fourth one :). Only 15 minutes of preparation time and the rest is for your oven to do.
You'll keep making and bragging about it for the rest of your life... or at least this is what I've been doing
Now let me show you how the magic happens: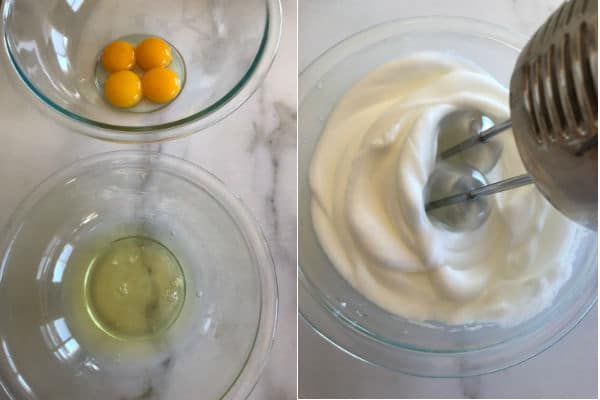 I need to emphasize that ALL the ingredients should be in room temperature ... please this is crucial. The point is we are using melted butter and cold ingredients will cause butter to harden which is something that will ruin the recipe and will not give you the three magical layers.
So, separate egg whites from yolks, then with your mixer, mix the egg whites until stiff. I know this might sound intimidating, but trust me just whip it to the point when you tilt the bowl it does not budge.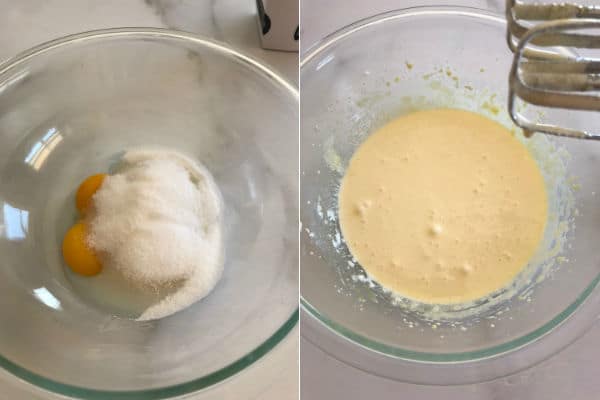 Now, it is the yolks turn, beat egg yolks, water, vanilla and sugar until light and fluffy. I've used vanilla powder, I feel more confidence working with vanilla powder than extract. I am doing my best to reverse that or at least making them equally desirable.
May be because I grew up seeing my mom, and everyone else, working with the powder form of vanilla.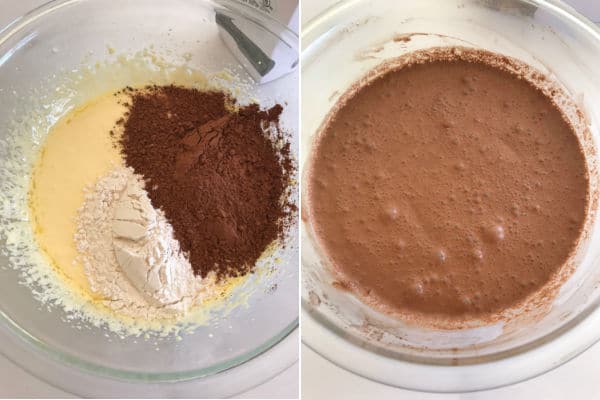 Now add butter and mix well. Then incorporate both the flour and the cocoa powder. For a dark chocolate rich flavor, I've used dutch processed cocoa but you can use sweetened varieties of your choice. Add milk and mix.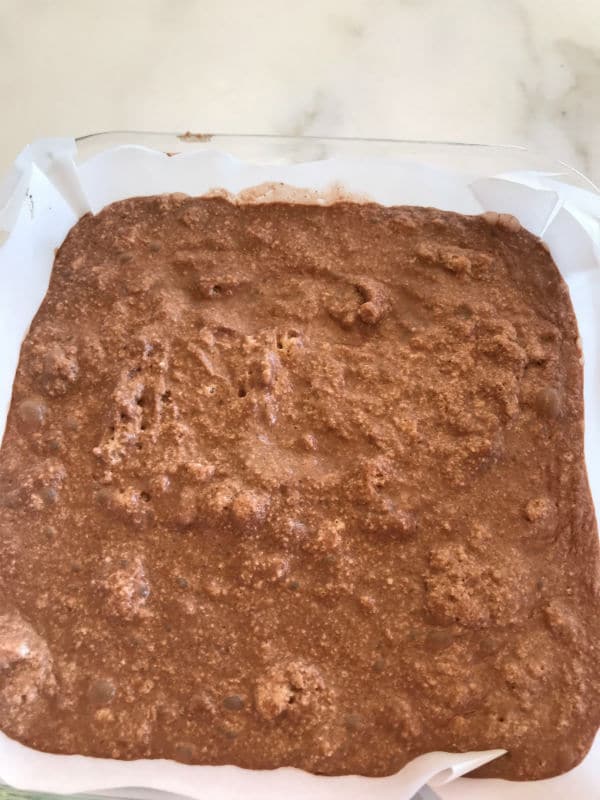 Gradually fold in the egg white mixture with a spatula until you are done with the whole amount. Pour into an 8X8 oven dish preferably glass so you can cut the cake in it or line with parchment paper so when the cake is done you can take it off using the paper.
At this moment, I am sure you'll be mad at me, you'll have a very thin and liquid batter with clouds of egg whites floating on top. You'll think that you've done something wrong, but D O N ' T. Do not attempt to add more flour or do anything else with the recipe, it should be like this and that's the magic. Now relax and pop it in the oven.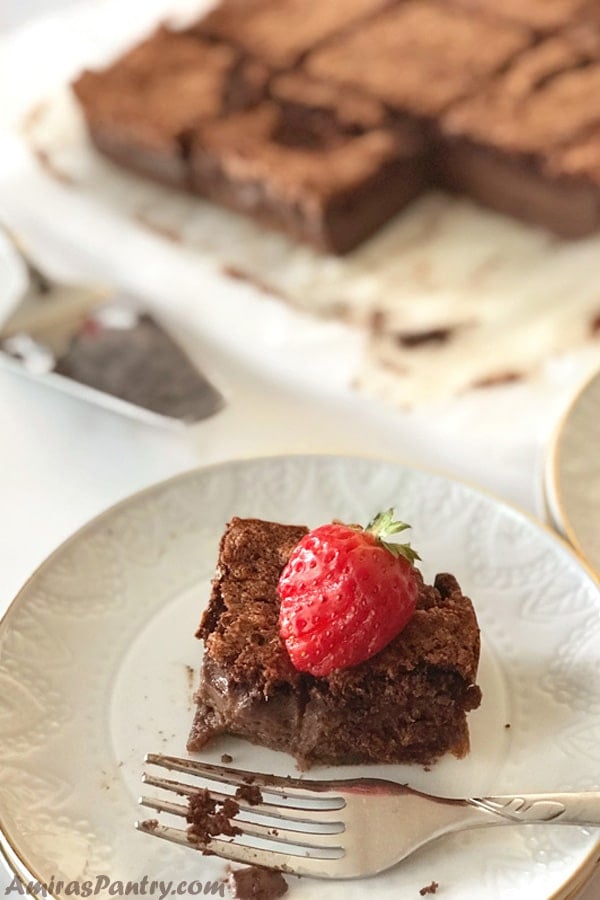 The oven: that's another important issue, there is no way you can test this cake if it is done or not. Some people reported it was done after 40 minutes up to 60 minutes . Very annoying really, so here is what I've done, I kept mine in the oven for 45 minutes and did not open the oven door, this was super hard as I was really very curious. Then turned the heat off and left it there for another 15 minutes. This did not only made me sure that my cake was done, but also made sure that the cake did not drop in the middle.
If your cake dropped, that is perfectly normal, it will not affect the taste. Mine cracked at the top beautifully which gave it a more homemade look. This cake is usually dusted with powdered sugar, I did not want to cover the top as I really liked how it looked, so I just served it with strawberries on the side.
I hope you'll like this recipe and please if you make this recipe, snap a pic and hashtag it #amiraspantry — I love to see your creations on Instagram, Facebook, Twitter!
Don't want to miss a recipe? Sign up for the FREE Amira's Pantry newsletter delivered to your inbox with lots of tips and surprises! And stay in touch with me on Facebook, Twitter, Pinterest, and Instagram for all the latest updates.
Related Recipes
The traditional tastes of black forest cake are combined with the thick, fudgy texture of brownies to create a rich, chocolaty treat known as Black Forest Brownies.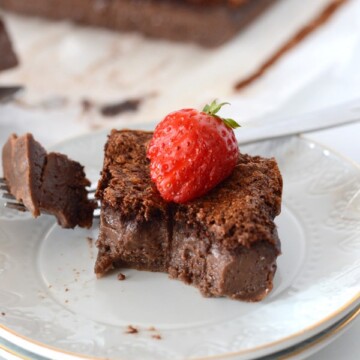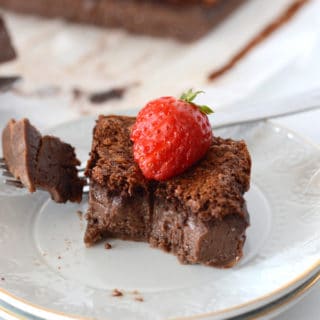 Chocolate Magic Cake
A very thin batter that when baked transforms into a 3 layer custard filled cake.
Print
Pin
Rate
Ingredients
4

large eggs

separate the whites from the yolks.

1

Tablespoon

water.

1

teaspoon

vinegar.

¾

cup

sugar.

1

stick

half cup melted butter.

¼

teaspoon

vanilla powder or 1 teaspoon vanilla extract.

2

cups

warm milk.

6

Tablespoons

cocoa powder*.

6

Tablespoons

A.P. flour.
Instructions
Preheat oven to 325F then line an 8x8 inch baking dish with parchment paper.

In a large bowl, beat egg yolks, water, sugar and vanilla until it turns pale yellow.

Add melted butter and mix until butter is well incorporated in the mixture.

Add cocoa powder and flour then mix well.

Beat in milk until it is thoroughly mixed with the rest of the ingredients.**

Now with a clean whisks, beat the egg whites with the vinegar until a stiff peak is formed.

Fold about a cup of the egg white mixture to the cocoa mixture using a spatula. When it is mixed well repeat the process until you are done with the whole egg whites.

Pour into the prepared baking dish and bake for 45 minutes. Turn off the heat and keep it there for another 60 minutes to set.***

Let it cool down and refrigerate for at least 3 hours before serving.

Serve with fresh fruits or dust with confectioners' sugar.

Enjoy!
Notes
*For a dark chocolate taste use dutch process or else use sweetened cocoa powder of your choice. ** You better use a large bowl as the mixture will be too thin and it might splatter onto your kitchen counter. ***Make sure not to open the oven door before the 45 minutes has passed. Some people reported in done at 40 minutes some went all the way to 60 minutes, so cooking time varies a lot depending on your oven. There is obviously no clear way to check for doneness of this cake, so I've found that leaving it in the oven for 15 minutes while turning the oven off, helps much in making sure that everything is cooked thoroughly and helps with the sinking problem may people had.
Sign up and learn more about Mediterranean flavors