This is the cake that will make you close your eyes after each bite, it might not look a beautiful as it tastes, but I assure you, everybody and I mean EVERYBODY, will lick their plates.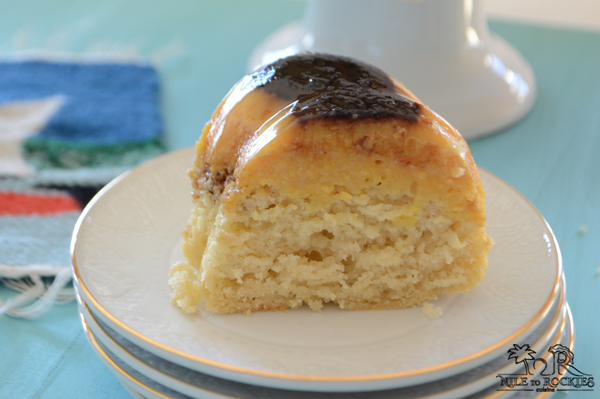 My kids love flan, and who does not? I've never met someone who does not like it up until now, it is one of the greatest achievements in human history. My late father was crazy about flan too, so may be my kids inherited that from him somehow. I was first introduced to this cake 7 years ago in one of the Arabic forums, and we were hooked.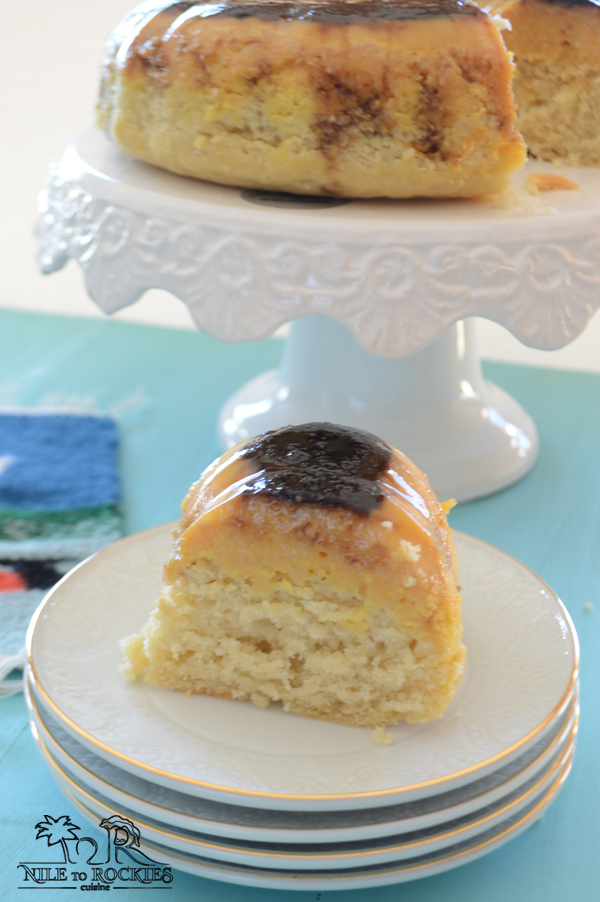 Whenever I make it in any gathering, it is a masterpiece and it is the first to be gone in less than 30 minutes😋. We have never been – as a family- a fan of homemade flan, I've always found it too eggy and no matter how hard I tried, I always feel as if I am eating a sweet omelet!!! I've even tried- after being convinced of its benefits from a work colleague in Egypt- making it for my eldest when he was 2 years old and it ended up in the trash can, even my husband did not touch it.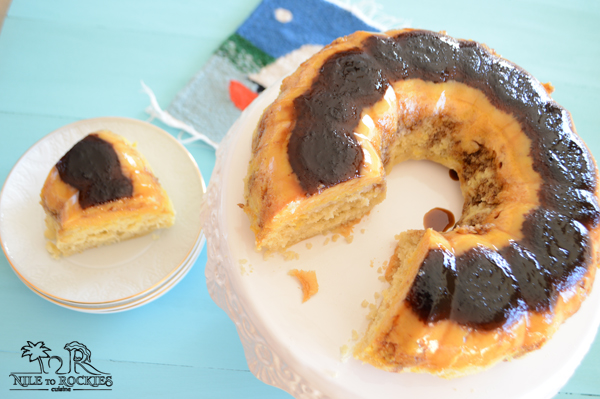 I'm used to make this magic cake with store bought flan mix and cake mix – just to save time and effort- and it has always turned out great. Although I am still not a fan of homemade flan but this is not the case with the cake anymore as I like making it from scratch now.
In Arabic this cake is called "Qudrat Qader" which you can translate to something like magic. It is often made with chocolate cake to highlight the contrasting colors and make it look more appealing🍰
, but seriously it does not have to look that fancy, it tastes like a feast already.
I have a kid who does not like chocolate cakes, so I have opted out the cocoa powder and stick to a vanilla cake… it was super delicious.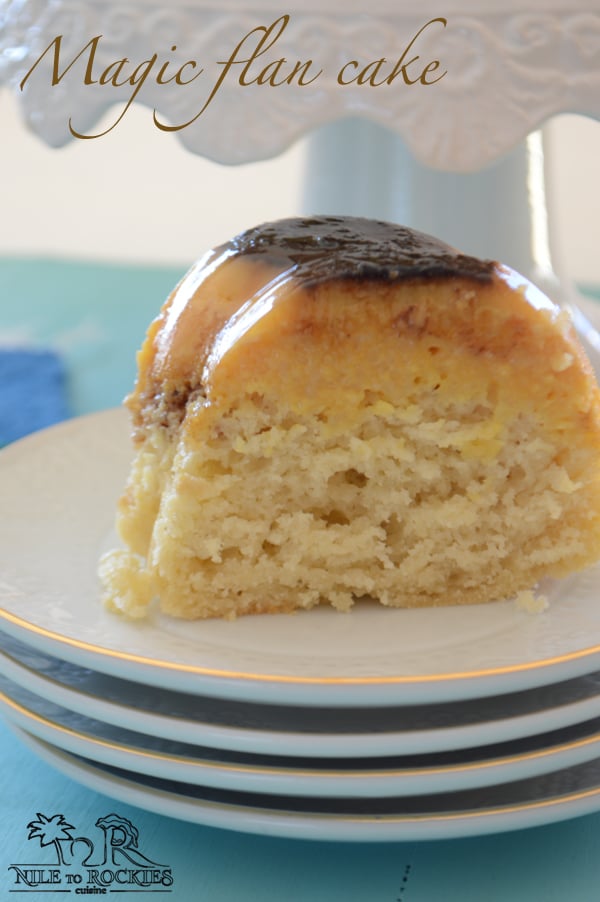 So, what makes this cake magical? The magic part happen in the oven. You pour the cake batter over the flan and they get separated in the oven, with the flan at the bottom and the cake on top, then you flip it when serving. You really have to try this cake recipe, besides the magic that will happen in the oven, there is also magic that will happen to anyone rolling their tongues around this delicious cake… it makes you happy and optimistic, I do not know why?!!
Ok, enough talking and let's get serious here… Two things that you might find overwhelming in this recipe:
First: you will need to bake this in a water bath, it really isn't that hard.. trust me the outcome worth it.
Second: you'll need to refrigerate it overnight or at least for 4 hours so it does not fall apart when cutting and serving.
Here is a short video showing you how to make this delicious cake…. Enjoy!!
Magic flan cake
This cake in not only magical in the oven but it will spell its magic on you leaving you feeling happy and refreshed from the first bite.
Ingredients
For the flan part
I've used store bought flan mix - you will need one packet- and you'll need half the amount of milk recommended on the package

or else use your favorite flan recipe.
For the cake
1 1/2

cup

A.P. flour.

3/4

cup

sugar.

2/3

cup

oil.

2/3

cup

milk.

2

eggs.

a dash of vanilla powder about 1/8th teaspoon - or equivalent in vanilla extract.

1

Tablespoon

Baking powder.

1/4

cup

unsweetened cocoa powder - optional if you want a chocolate cake.
Instructions
In a bundt pan pour the caramel sauce evenly.

In the blender add the flan mix packet - if using store bought one- with half of the milk indicated on the packet itself and blend very well. Or else make your own favorite flan recipe.

Now we'll start making the cake, in your blender add the eggs, vanilla powder, milk, sugar and oil and mix well.

Sift the flour with the baking powder- and add cocoa powder if using- in a bowl, add the liquid mixture gradually and mix.

Pour the cake batter slowly and evenly over the flan.

Place the cake pan in a large roasting pan and fill the roasting pan halfway with hot water..

Place in a 350F pre heated oven and bake for 60-75 minutes.

Take the bundt pan out and let it cool completely then refrigerate overnight or at least for 4 hours - the more the better.

To release the cake, place the pan in a large bowl of hot water, turn it out onto a serving platter.

Cut and.. Enjoy!!
Sign up and learn more about Mediterranean flavors