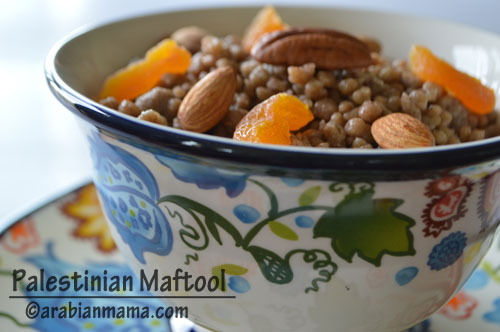 Tired of having rice or bread on dinner and looking for something new? Looking for a new easy, healthy dessert or may be you want a simple kick to your salad. Make Palestinian Maftoul ,and enjoy the authenticity of the East in this scrumptious kind of pasta.

Maftoul was this month's daring cook challenge presented by Sawsan. At first I've read it as meatloaf then I said huh!!! a meatloaf challenge !!! then with a little concentration I got it :). Maftoul is made from rolling a mixture of whole wheat and plain flour around bulgur granules then steaming it and now it is ready to be cooked in so many different dishes.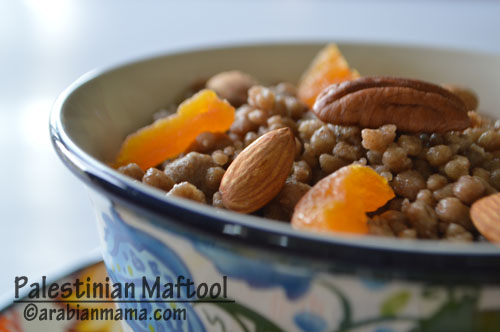 This is my first time to contribute in this challenge so imagine how excited I was, but after working on making the Maftoul for more than 30 minutes I was about to cry. I was so so disappointed, the granules - due to my lack of experience- turned out very different in size, some and nice and small and some are huge in the size of chickpea!!! This was devastating, what did I do wrong?. Then I knew from Sawsan that this is because it is my first time and I am not used to it yet..... darn. But in the middle of my self empathy here comes the light bulb. I just used my hand mixer and Voilà, I ended up with the perfect Maftoul granules. Oh boy was I proud of myself :)... sorry guys about bragging I am just sooooo excited.
More about how to make my 5 minutes Maftoul is in the video... I really hope you'll try it. Thanks for listening- reading- my adventure of making the Maftoul. Enjoy the rest of the week.