A Moroccan/Japanese inspired dessert.
Matcha cookies take an interesting Moroccan twist in this Matcha Babouche cookies. Babouches are little crunchy sesame bites that are proven to be instant spirit lifters. Two of my favorite cuisines combined in this amazingly nutty and earthy sesame cookies.
Crunchy, mildly sweet with deep nutty notes, these Moroccan pastry are sure to please, hard to forget and you can never stop at one. Whenever I make those people just go bonkers over them!!

This post has been updated from the original December 2015. Last updated March 2019.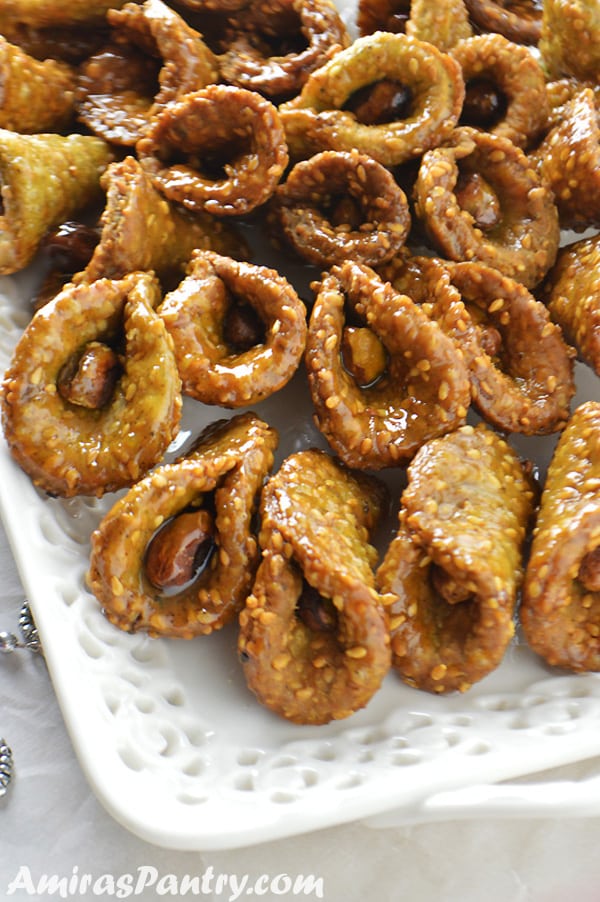 Match Babouche Cookies
These matcha cookies are great to accompany your tea, the flavors are surprisingly unique and delightful. I've mixed in Matcha powder and reduced sugar for this recipe. I've tried really hard to bake these babouches, but unfortunately, I was not successful and it did not turn crispy as it should be. I know it sounds ridiculous to add this expensive green tea powder to a treat and then fry it at the end !!! but I know you understand sometimes we have to make sacrifices.
Anyways you are welcome of course to make it traditionally without the matcha as the original recipe. I've skipped the orange blossom water as I thought the taste will not go along with the powerful matcha taste and aroma. I liked the matcha taste so much, it was very convenient and went very well with the heavy sesame flavor in this recipe. I've also stuffed my babouches with pistachios as I felt the color goes very well with the green color of the babouches, but you'll always find the babouches stuffed with almonds.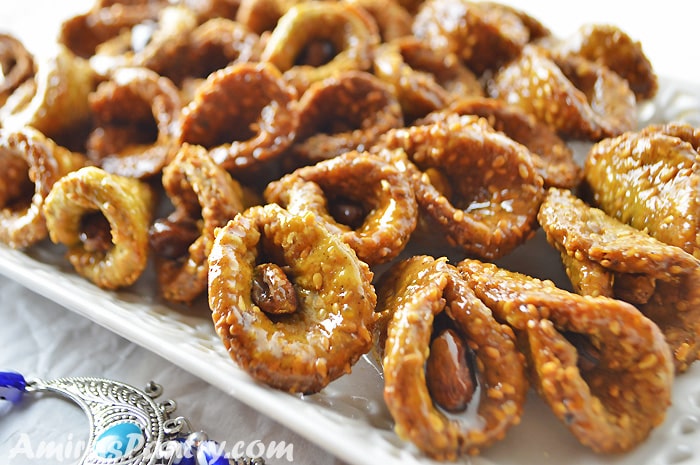 My kids, those little three brats, have declared war on me!!!. On our way home from a long day at school, they ask: what's for dinner mom?, after answering their question, they seem ok with it. Fast forward 20 minutes , they drop their backpacks, take a glimpse of what is there on the stove top, then one makes a grilled cheese sandwich, another takes a Go-gurt and the third just settles with what's left in his lunchbox!!!
What is this?, I say, after all this work in the kitchen!!. Their taste buds have changed dramatically, is it the school lunches? - although they are not having much of it- is it their friends?. I like for them to try new foods from around the world, but I hate to see them loose their Middle Eastern taste o_o.
I keep thinking, if they are doing so now, what will my grandchildren do!! then what about my great grandchildren.. where will my heritage go? very dramatic, I know. This is, I believe, the biggest challenge that all immigrants face.. keeping their heritage, their traditions, even… their food heritage.
But finally, we try to meet our kids in the middle and resolve our differences calmly. So, for the food I'm trying recently to mix the east with the west and in this recipe I've mixed the Middle East with the Far east.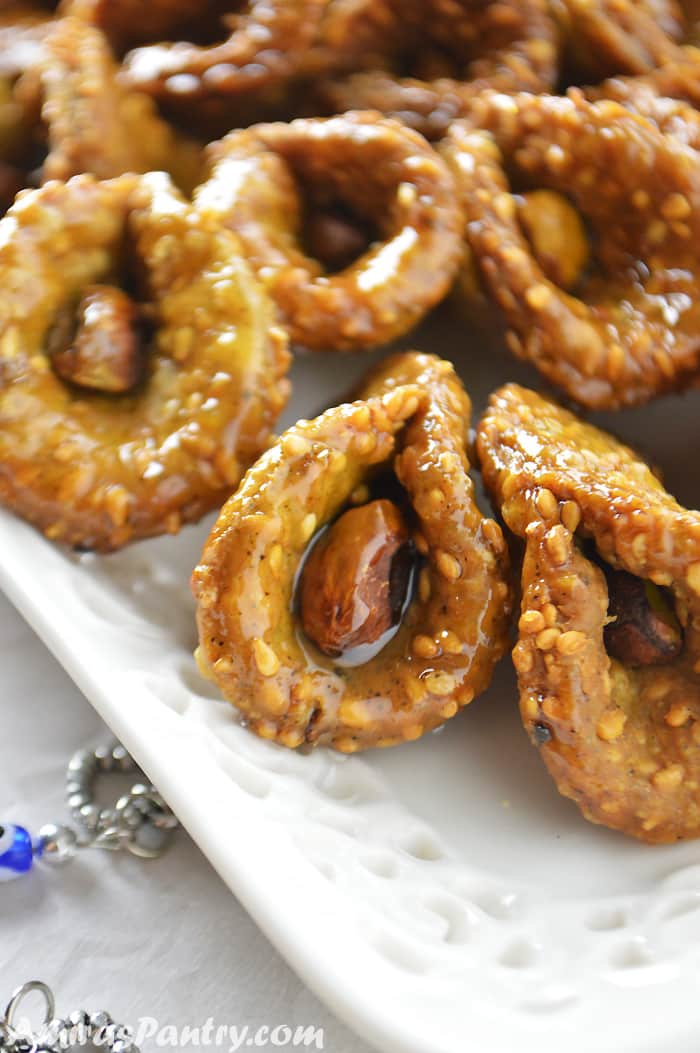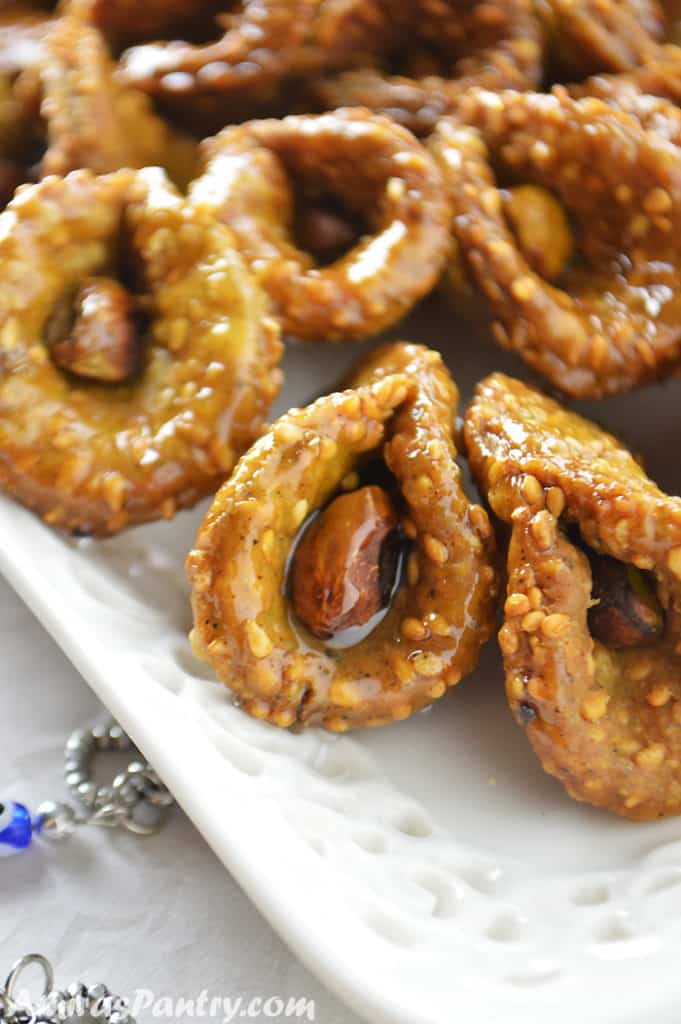 Matcha Babouches Cookies FAQs
What are babouches?
Babouche is a Moroccan pastry that means slippers, these are very popular during major holidays and celebration. You can find many recipes online. Here I present you with a simple recipe with a Japanese twist.
What is Matcha?
Is sort of green tea but not your ordinary green tea. Matcha powder is green teat powder that has been grown, harvest and ground in a a special way. Matcha powder is expensive but it has the most beautiful green color and an earthy smell you will not forget.
How to make matcha babouche cookies
Toast sesame seeds

In a dry pan over medium heat, toast sesame seeds for 3-5 minutes until lightly browned. You can also toast in the a 350F oven for 8 minutes. Stirring occasionally to avoid burns.

Mix dry ingredients

In a deep bowl, mix cooled toasted sesame seeds, pinch of salt, sifted flour and match powder together well.

Add the wet ingredients

Add the milk and melted butter and mix until you get a nice soft dough, if you felt your dough is hard add milk by a Tbs until it gets to the right consistency.

Roll

Now roll the dough to 2-3mm thick, using a cookie cutter or a cup, cut circles in the dough.

Pinch into a cone shape

Pinch edges of the circle to form a cone and stuff each one with one almond or a pistachio.

Fry

Deep fry the cones until browned and crunchy then drizzle with honey or thick simple syrup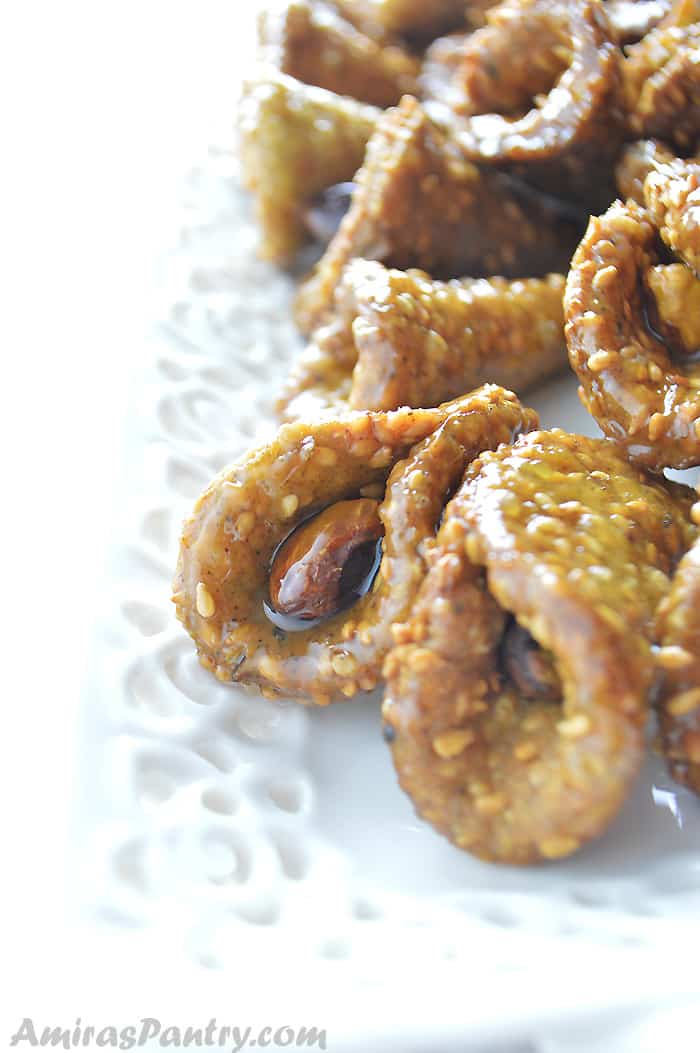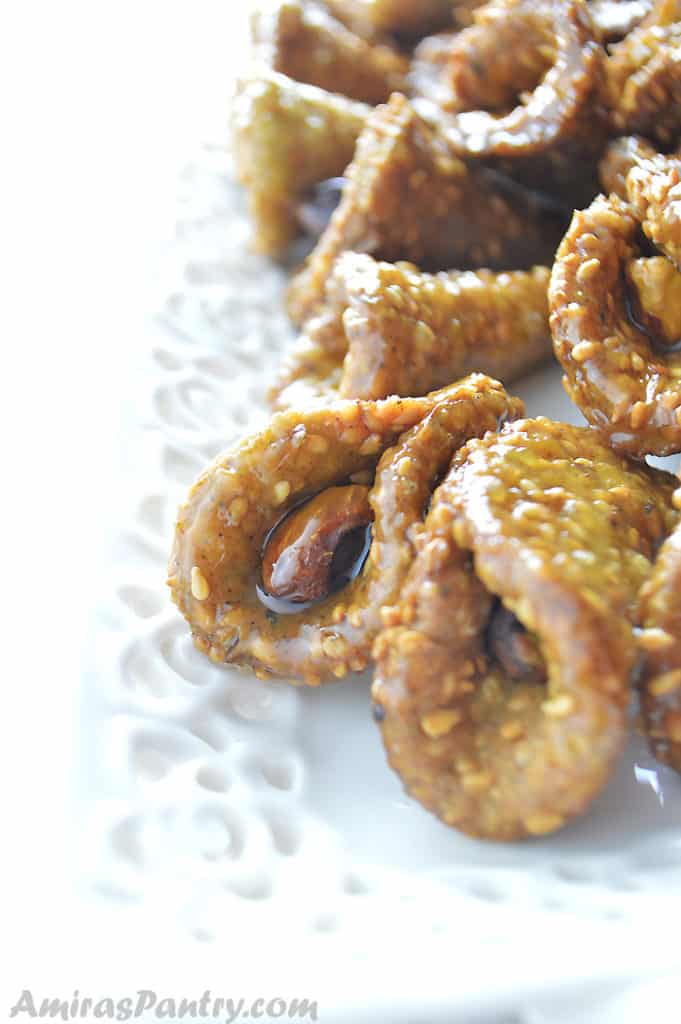 You may need
The following are affiliate links. We are a participant in the Amazon Services LLC Associates Program, an affiliate advertising program designed to provide a means for us to earn fees by linking to Amazon.com and affiliated sites. Thank you so much for being a part of Amira'sPantry!
Good quality matcha powder lends a terrific flavor to recipes. This maeda-En matcha was recommended by a Japanese friend here.
Other Moroccan inspired recipes we like
I love Moroccan cuisines and I'm keeping an eye on this Moroccan Spiced lentils, I love lentils and this recipe looks interesting.
I hope you'll like this recipe and please if you make this recipe, snap a pic and hashtag it #amiraspantry — I love to see your creations on Instagram, Facebook, Twitter!
Don't want to miss a recipe? Sign up for the FREE Amira's Pantry newsletter delivered to your inbox with lots of tips and surprises! And stay in touch with me on Facebook, Twitter, Pinterest, and Instagram for all the latest updates.
Matcha Babouche Cookies
Easy matcha babouche cookies is going to be one of your favorite cookies. It's just very simple and straight forward and the result is earthy, crispy and mildly sweet.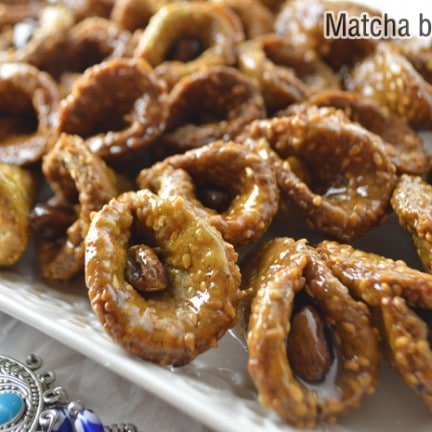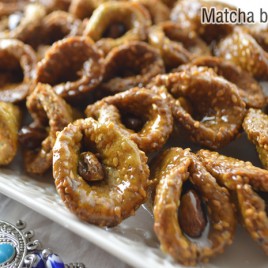 Matcha babouche
A Moroccan/Japanese inspired dessert.
Print
Pin
Rate
Ingredients
1

c

toasted sesame seeds.

2

c

all purpose flour.

200-250

ml

milk - this is from ⅘ to a whole cup.

a pinch of salt.

3

Tbs

butter- melted.

2

Tbs

green tea powder .

matcha

Honey/ simple syrup for drizzling.

Oil for frying.

Nuts for filling- traditionally almonds but I've used pistachios.
Instructions
Mix the dry ingredients in a bowl.

Add the milk and melted butter and mix until you get a nice soft dough, if you think your dough is hard add milk by a Tbs until it gets to the right consistency.

Roll the dough to a 2-3mm - about ⅛-1/10 in-, use a cookie cutter or a cup to cut uniform circles.

Pinch the circle from the edges to form a cone like shape.

Stuff a pistachio - or an almond- in the middle.

On medium-high, heat the oil and deep fry the babouches until golden brown.

Take the babouche out of the oil and drizzle with honey or thick simple syrup.

Enjoy..
Notes
The original recipe of a babouche does not include green tea powder.
In the original recipe you mix the dry ingredients with milk and orange blossom water. I've opted the orange blossom out as I did not wish to interrupt the matcha flavor.
I've tried baking the babouches in the oven but it did not turn out crispy as it should be.
Nutrition
Sign up and learn more about Mediterranean flavors
Nutrition Facts
Matcha babouche
Amount Per Serving
Calories 239
* Percent Daily Values are based on a 2000 calorie diet.