Sweet to your liking, soft and creamy or crunchy and textured, it is your call to make, easy on your wallet. Enjoy it chilled, warm or at room temperature, what's there not to like about this simple Fall dessert?!!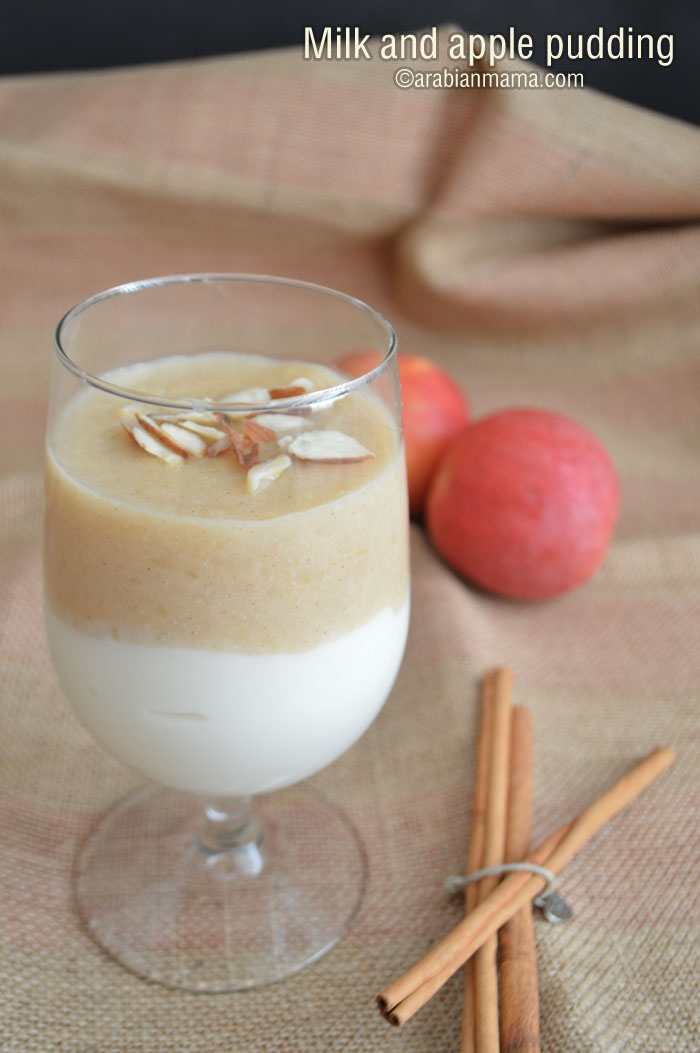 Have you missed me? I've missed you too... really , all of you, and I've missed blogging so much. I hope I am back for good this time i.e no more moving no more selling homes and buying others - which is frankly impossible with a hubby like mine 🙂 but just let's hope so.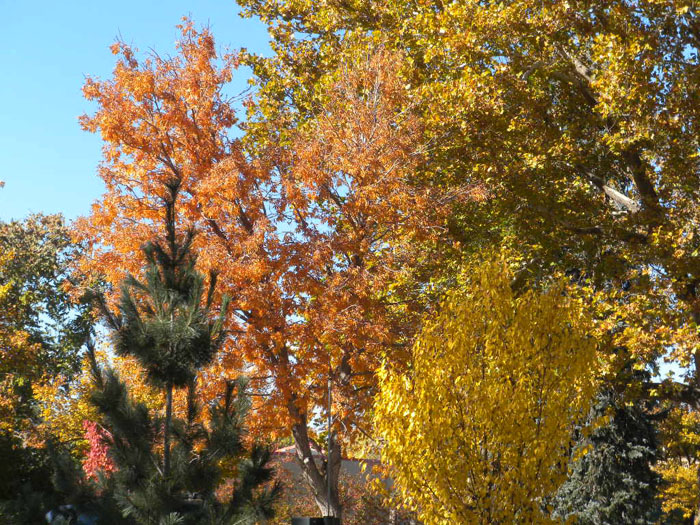 Fall is the most wonderful season in Colorado, colorful trees, crisp air and.. lots and lots of apples. In Egypt though, Fall meant school starting with the smell of guava and raw unripe dates- like the Barhi dates or those red crunchy sweet dates- fill the air, so it is no wonder I did not like Fall back then and I did not share mom her love for guava or red dates :).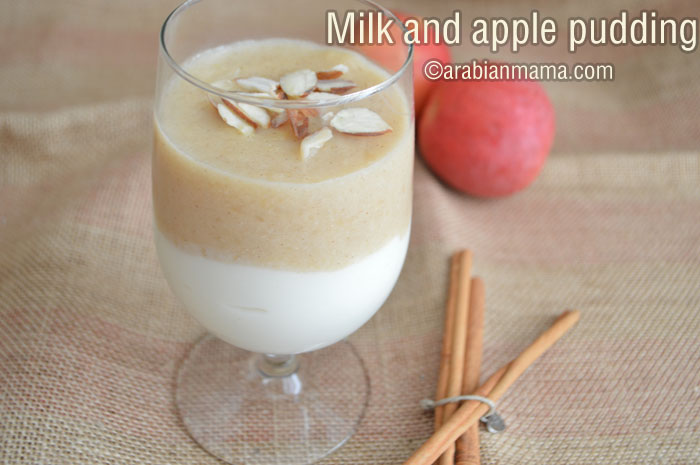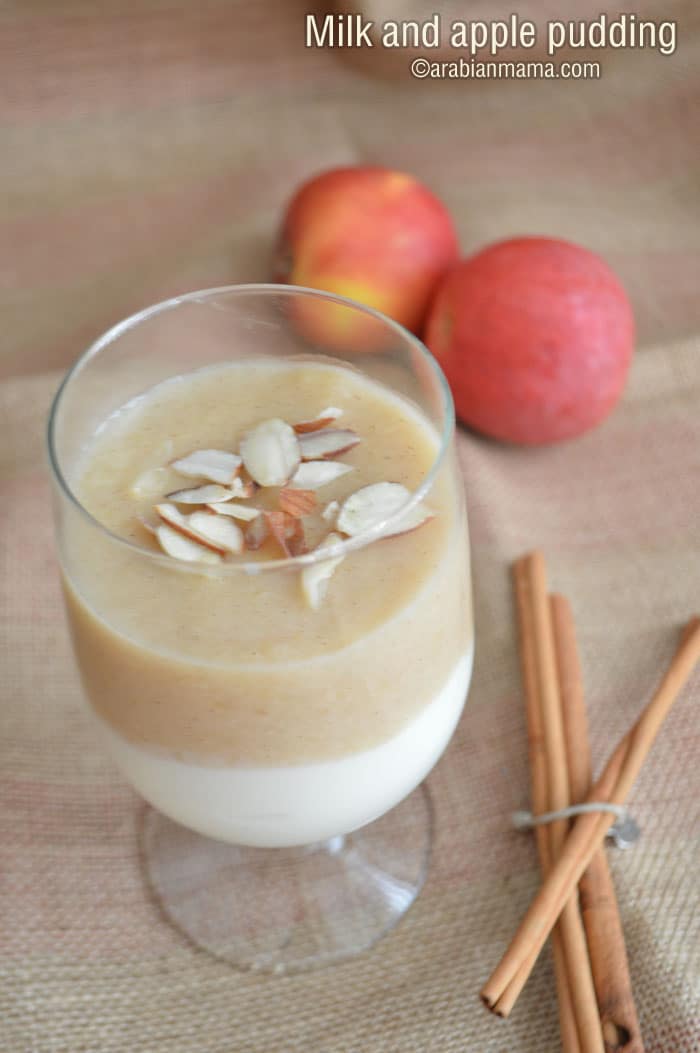 Apple is a summer fruit in Egypt not a Fall one so this dessert is usually eaten chilled from the fridge but for our convenience and due to the fact that temperatures started to drop- some days dramatically- here in Colorado, we've enjoyed it at room temperature, but between me and you I like it warm or even hot straight from the stove top but watch out for your tongue :).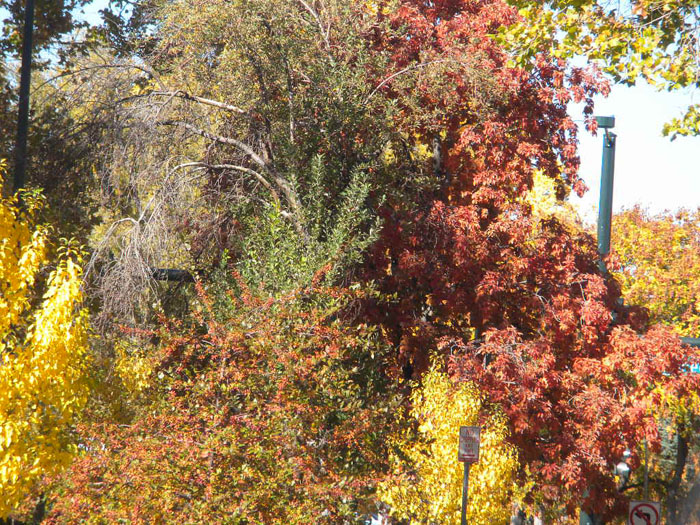 If you do not like apples you are welcome to substitute any other fruit, my guess is, pears would be the perfect one. In face you can make a multi-layered multi- fruit version of this.. just let your imagination go wild.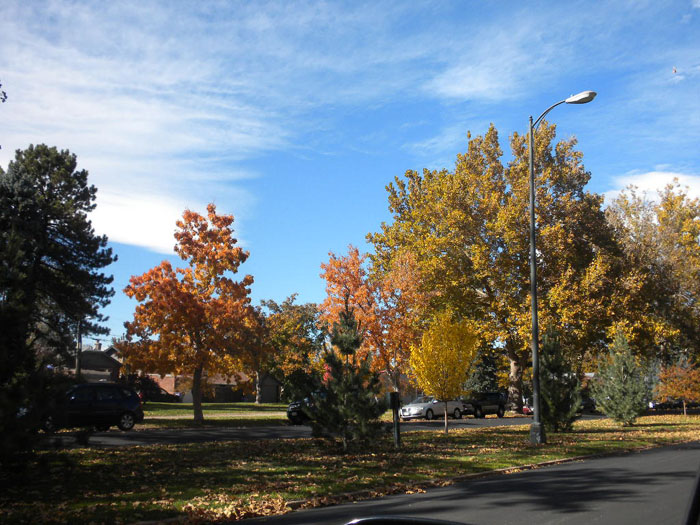 Here is a short video on how to make this easy pudding.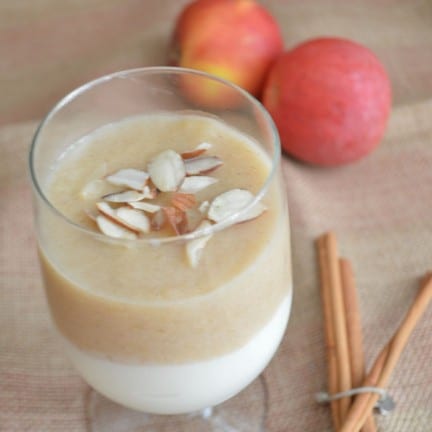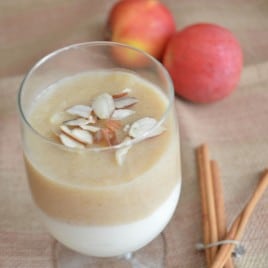 Ingredients
For the Apple pudding layer
2

apples - peeled and sliced.

2

Tbs

sugar - more or less depending on your taste.

1/2

teaspoon

cinnamon powder - optional.

1/4

c

of water - or less to cook the apples.

1

c

of milk

2 1/2

Tbs

cornstarch dissolved in a half c of cold milk.
For the Milk layer
2 1/2

c

milk.

4

Tbs

of sugar - more or less to your liking.

4

Tbs

of cornstarch dissolved in a half cup of cold milk.

a dash of vanilla powder - optional.
Instructions
To make the apple layer
In a heavy sauce pan, add the diced apples, cinnamon, sugar and water. Let it cook on medium heat.

While the apples are cooking, go make the milk pudding.

When apples are done, add 1 c of cold milk and heat, when it starts to bubble add the cornstarch dissolved in a half cup of cold milk, let it thicken for about 6 minutes.

When it is thick, remove from heat and let it cool down.
For the milk layer
In a heavy sauce pan over medium-low heat, heat 2 and half cup of milk and the sugar until it starts to bubble on the edges, watch out and keep stirring to prevent milk from burning.

Add the remaining half cup of milk with the cornstarch dissolved and keep stirring until thickened.

Remove from heat and let it cook down.
To assemble
In a cup or small plate add the milk and apple pudding in layers or just two layers whatever works for you.

Garnish with some nuts, raisins, coconut flakes or cinnamon powder.

Enjoy.
Notes
Chill in the fridge if you want it cold, eat warm in cold days or just enjoy it in room temperature.
Sign up and learn more about Mediterranean flavors