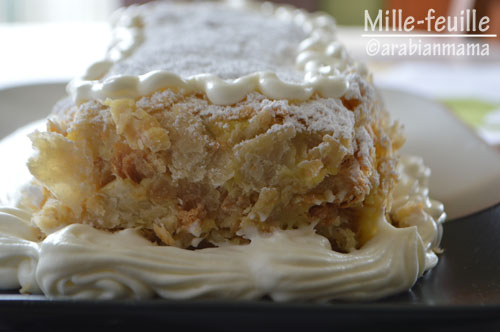 Me and my friend Bero started this little challenge and we decided to call it Cook N' Shoot because we love to cook and we love food photos :). Bero used to host a TV show in the Egyptian television but she quit recently to focus more on her studies.
March 21 is the mother's day in Egypt and we decided to make the theme of this month's challenge to be a virtual present for our mommies since we both live away from our moms.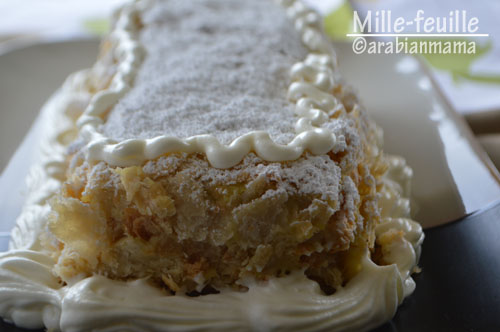 For me I have decided to go with the Mille-Feuille or the Napoleon. My mom loves Mille-feuille gateau so so much, so I have decided to go for it and make the challenge even harder by making the pastry myself from A-Z with an all organic ingredients to try to make it a healthier treat for my beloved mom.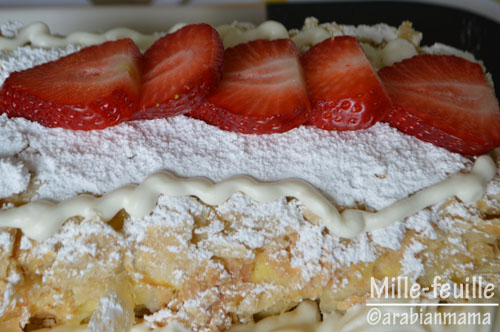 Usually Mille-Feuille gateau is served in Egypt dusted with confectioners sugar or topped with apricot jam. Mom loved the sugar one more so I've tried to make it the way she prefers. I've searched the net for an easy way to make the puff pastry but always end up with the old fashion, time consuming and tiring method.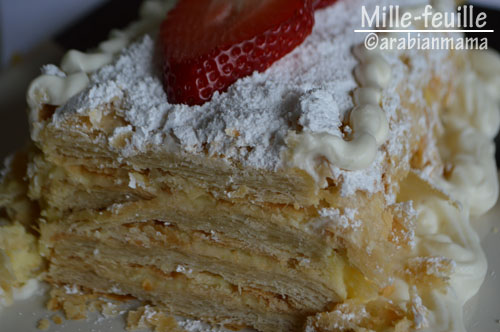 Heading to the public library here and searching through cook books – I love cook books- I've found this treasure a book by Nick Malgieri. The recipe required some work but it is way way easier and requires 1/3 of the time and effort the ordinary method requires. The output as you can see simply LOVELY. Very flaky very buttery Mille-feuille. I highly recommend dumping the old method and use this one.
Only two more things:
1- Make it with only 3 layers as 4 was too much needs a bigger mouth opening :).
2- Increase the cream patisserie a little as I felt it needed more.
♥♥ Happy mother's day and birthday mom – her birthday is on the March 22nd too. May you live a long ,happy and healthy life, may you live forever as I cannot imagine life without you ♥♥
♥♥ And happy mother's day to all the moms who celebrate mother's day in March and those who don't :). Life is lifeless without mothers.♥♥
To see the recipe in details check out the video.