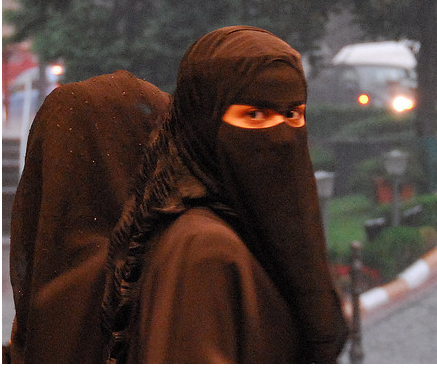 Photo by Tinou
We, Muslim women, might look different than other people. Some of us wear hijab – head scarf- others wear neqab or burqa – face cover- and also you can find Muslim women who do not wear hijab at all but then you will not see them as different.
One day, I was with my kids at the store, when one sweet little girl pointed at me in the middle of an aisle shouting " Hey, Mom look at her!!!". Her panic-stricken mother quickly pushed her cart away trying to disappear in the crowed . Another day I was at Target and was trying to locate a fragrance -that I had a coupon for- and there was a mom who parked her cart right in front of the fragrance shelves. In the cart was her almost 1 year old baby, and the poor little one bursted in tears looking at me, obviously he got scared of me. I did not mean to scare him and I wanted to calm him down, but his mom quickly took him out of sight. May be she was embarrassed, shocked or angry …. honestly I do not know. I've been in plenty of situations like this before, and will always be, I KNOW I LOOK DIFFERENT, a little :). All kiddos are curious when they see someone who is different and they just blurt out what's on their little , thirsty for knowledge, minds.
So- I suggest – instead of feeling embarrassed, trying to run and hide away with your kid, or even apologize , step up, approach me and teach your kid the differences in life. Let them learn that we are not all the same but we have to learn to accept others. Instead of dragging your child away, grab the little hands and come closer, introduce yourself and may be complement my style or the color of my head scarf. This way your kid will know that I am a " someone" not a "something" and may be he will ask and speak his mind. While I do not 100% guarantee the reaction on the other side, but I assure you we do not get offended by questions. I find it a great way to educate kids about other cultures, religions and countries in this world. All my friends are willing to give answers to such questions, sometimes we just do not know from where to start or how to say this or that but most of us WILL TRY, and so should you. We have to try to get closer, to understand each other better and above all teach our kids how to accept others in a desperate quest to make their future better than ours.