A Moroccan chewy bread cooked on stove top. Can be made as is or stuffed with whatever you like.
Batbout is a kind of flat bread that is really has a strange name because, you see, in Arabic language Battah is the duck so does this bread makes you look like a duck!! 🙂 which is in our culture a couch potato !!! I have no idea, but what I know for sure is that this bread turned out grrrrrreat. You can make this plain with only one layer of dough and this case it is called Batbout.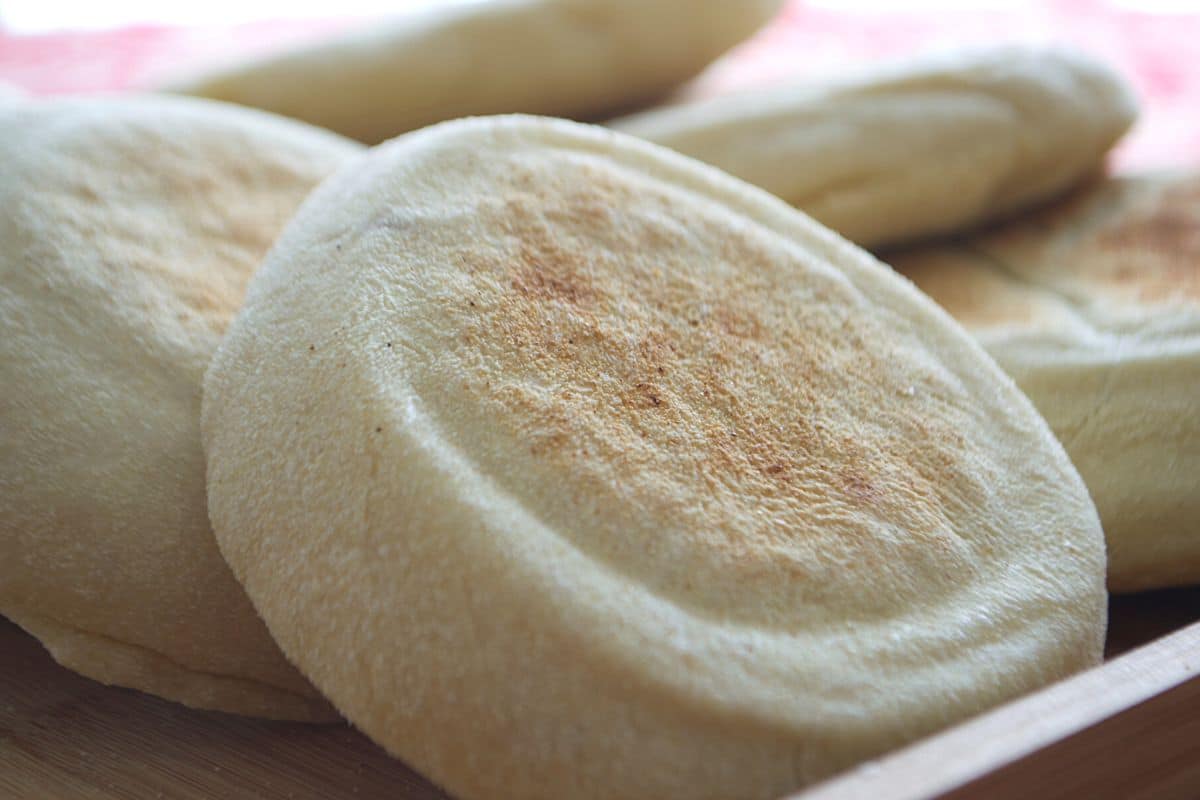 Or put some meat stuffing in the middle of two layers and in this case called Batbout Moamer.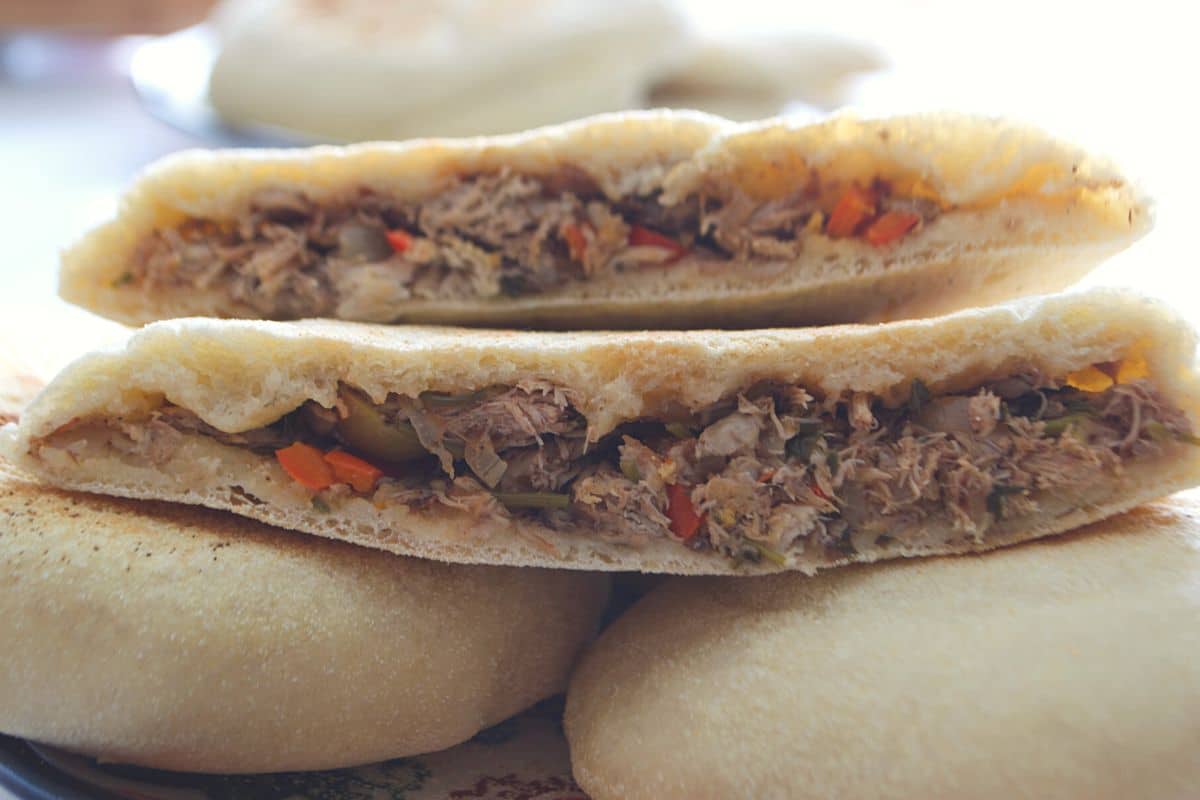 Batbout is also called Mekhmar and the stuffed one is called Mekhmar Moamer.
It is very soft and chewy from the inside. I really liked working with this dough as it should be very very sticky, which was fun for me as I've had some little hands helping along too :). I expected this to be more like the Pita bread but it has a totally different feeling in your mouth.
This bread is made by flattening an all purpose flour sticky dough in a bed of fine semolina... really cool. You can stuff this with almost anything, traditionally ground meat, but we did not mind stuffing it with left over chicken. I'm thinking of mixing the east with the west next time and go Mexican by stuffing it with some beans and chillies, I bet it is going to rock. You can eat it plain with honey,butter,jam , cheese and so on. So let your imagination go wild in this one, it is very forgiving and will trun out fantastic with almost anything in your mind.
Related Recipes
Unleavened bread is easy to make and does not require any special ingredients or equipment. All you need is flour, water, olive oil and salt.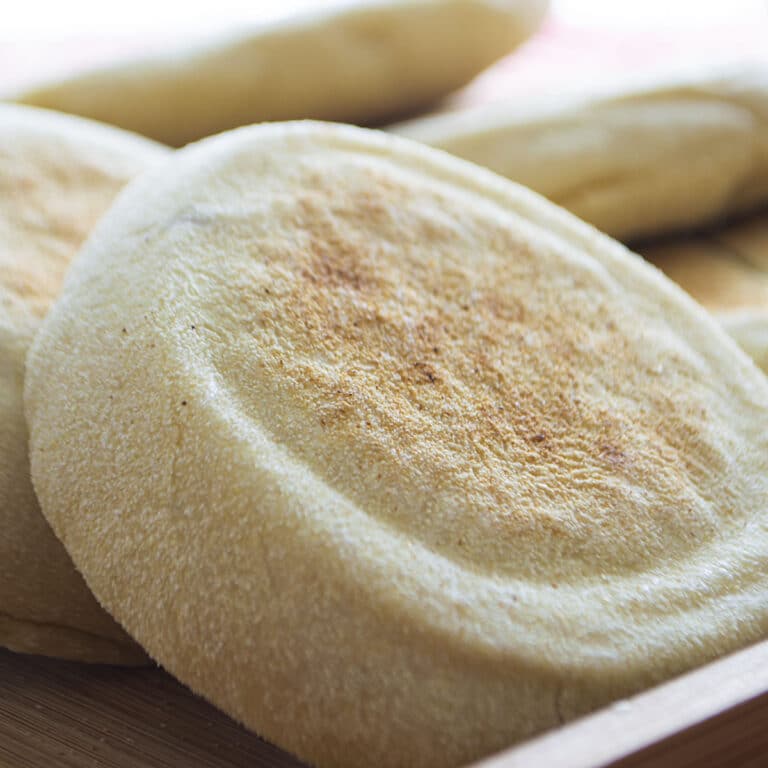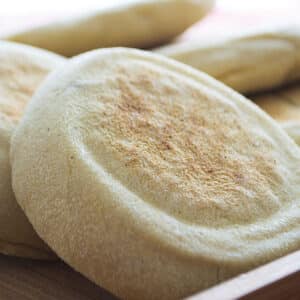 Batbout
A Moroccan chewy bread cooked on stove top. Can be made as is or stuffed with whatever you like.
Print
Pin
Rate
Servings:
5
stuffed batbout
Ingredients
2

cups

all purpose flour

½

cup

whole wheat flour

½

cup

semolina

plus more for dusting

1

Tablespoon

dry yeast

2

teaspoon

sugar

½

teaspoon

salt

1

Tablespoon

olive oil

1 ½

cups

warm water

more or less depending on the dough
Optional: for the filling
1

Tablespoons

olive oil

1

small onion

chopped

½

cup

diced bell pepper

½

pound

ground beef

¼

cup

parsley

chopped

Salt and pepper to taste
Instructions
In a large bowl, or the bowl of your mixer fitted with a dough hook, mix together first six ingredients.

Start your mixer pour in oil and gradually add warm water, start by only one cup and add more as you go until you get a consistent but sticky dough.

Place the dough on a clean counter and knead with hand for 2-3 minutes, it will be sticky so do not be tempted to dust with more flour.

Grease a bowl with some oil and place the dough in turning it in all directions to cover with oil.

Cover the bowl with plastic wrap and leave in a warm place to rise for an hour or so.
Meanwhile prepare the filling if using:
In a large skillet over medium heat, add chopped onion and saute for about 3 minutes or until translucent.

Add ground beef and break apart with a spoon to brown the beef all over.

Mix in parsley, pepper and the rest of the spices.

Roll the dough:

After the dough has doubled in size, take it out and divide into 10 equal balls.

Dust each ball with some semolina and place on a surface dusted with some semolina as well.

Cover and let the dough rest for another 10-15 minutes.

Now sprinkle a clean working surface with more semolina, grab the first ball and roll flat into a disc, about ⅛ inch thickness, using your hands or a rolling pin.

Place rolled disc on a baking sheet, cover and proceed with the rest of the dough balls.

If you are not going to fill them then let them rise for another 30 minutes.
If you are going to fill the batbout:
Add about 3 Tablespoons of the filling in the center of a rolled dough.

Moisten your fingers with water and wet the dough around the filling.

Place another rolled circle over the first one to make a sandwich. Using a bowl cut the sandwich into a circle.

Remove excess dough.

Press the edges firmly together to seal.

Poke top with a fork and place aside, cover and let it rise again for 30 minutes.
Cook the batbout:
Heat a non stick skillet, or griddle, over medium heat, place the first batbout on and cook for 3- 4 minutes.

Flip it over and cook on the other side.

Serve warm
Notes
I've used leftover chicken in place of ground beef and added green pickled olives.
You can fill the batbout with whatever you like. Serve this bread with or without filling it is delicious both ways.
Store leftover in a zip lock gab and refrigerate for up to 3 days or freeze for about 2 months
Nutritions are calculated for stuffed batbout.
Please check the nutrition disclaimer policy.
Nutrition
Calories:
474
kcal
|
Carbohydrates:
65
g
|
Protein:
18
g
|
Fat:
16
g
|
Saturated Fat:
4
g
|
Polyunsaturated Fat:
1
g
|
Monounsaturated Fat:
8
g
|
Trans Fat:
1
g
|
Cholesterol:
32
mg
|
Sodium:
272
mg
|
Potassium:
341
mg
|
Fiber:
4
g
|
Sugar:
3
g
|
Vitamin A:
731
IU
|
Vitamin C:
25
mg
|
Calcium:
36
mg
|
Iron:
5
mg
Sign up and learn more about Mediterranean flavors