Fluffy moist cake packed with thick creamy and silky whipping cream that you can never imagine it has far less calories and saturated fat. Topped and stuffed with your favorite fruits, I guarantee that you will come for seconds but without the guilt :).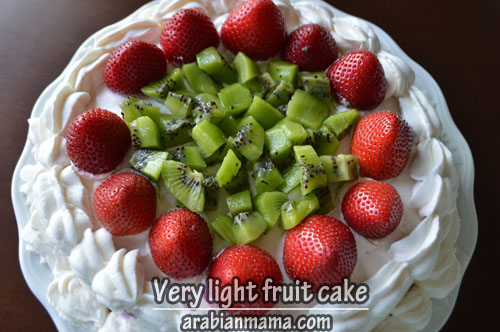 I've never been a fan of healthy food nor was I a fan of healthy-fying recipes, simply because deep frying, tons of sugar and butter almost always make anything BETTER. But several health issues and family deadly history of diseases, made me a fan, and between me and you it is better to start a healthy way of living as early as possible, and frankly it is not good to abuse your body and organs like this :).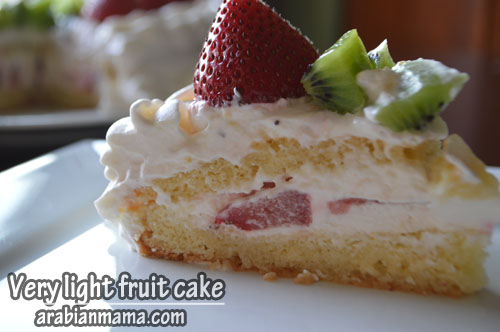 Do not get me wrong here, I am not against sugar or butter – we had a life long relationship – as it is good to indulge yourself in buttery creamy and sugary stuff once in a while but do not make it a life style.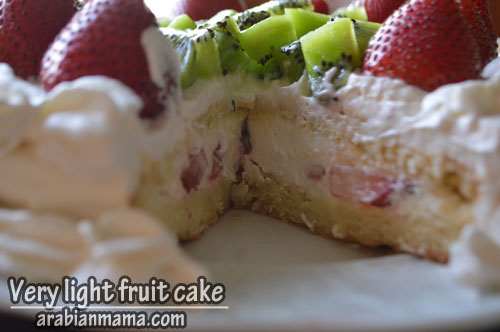 Now back to my cake I just did three things:
1- I baked the cake in a larger pan as I wanted less cake and more whipped cream and fruits in each slice. This did not affect the taste but it did affect the height of the cake ,as should be anticipated, but it was perfectly fine with me.
2- I omitted only one egg yolk and next time I will try to omit two and may be add a teaspoon or two of olive oil- to compensate the moistness ,but do not worry the olive oil will not affect the taste I've done this several times before. Egg yolks are good but have much much more cholesterol than needed.
3- Now for the whipping cream, this recipe calls for two cups of heavy cream so I substituted one cup with one cup reduced fat Greek yogurt, added a little extra vanilla extract and sugar to make it less tart. The result was very satisfying. If you are doubtful try it first with some strawberries to see if this is for you or not.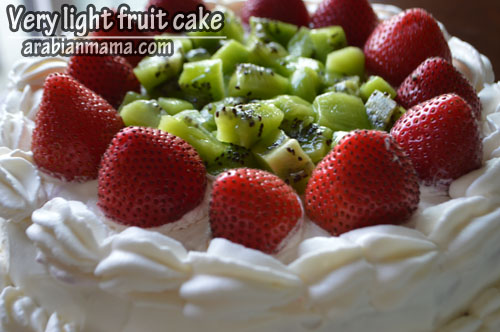 My husband did not even believe it had yogurt in it, he thought it was more tasty than the full heavy cream version, but again it is a matter of taste.
Here is a short video, you are welcome to use your favorite sponge cake recipe but make sure to give the new whipping cream a try. Have a great weekend.