Tangy and delicious for okra lovers... Enjoy
Tangy, tart okra torte flavored with coriander and fresh cilantro, top that with its catchy presentation, very mouth watering for okra lovers.
I've always enjoyed okra since I was in elementary school, back then we only had Friday as a weekend and back to school again on Saturday. So guess what?, Thursday was - and still- my favorite day of the week. I remember back then, when my mom wanted to surprise me, she used to make me an okra stew.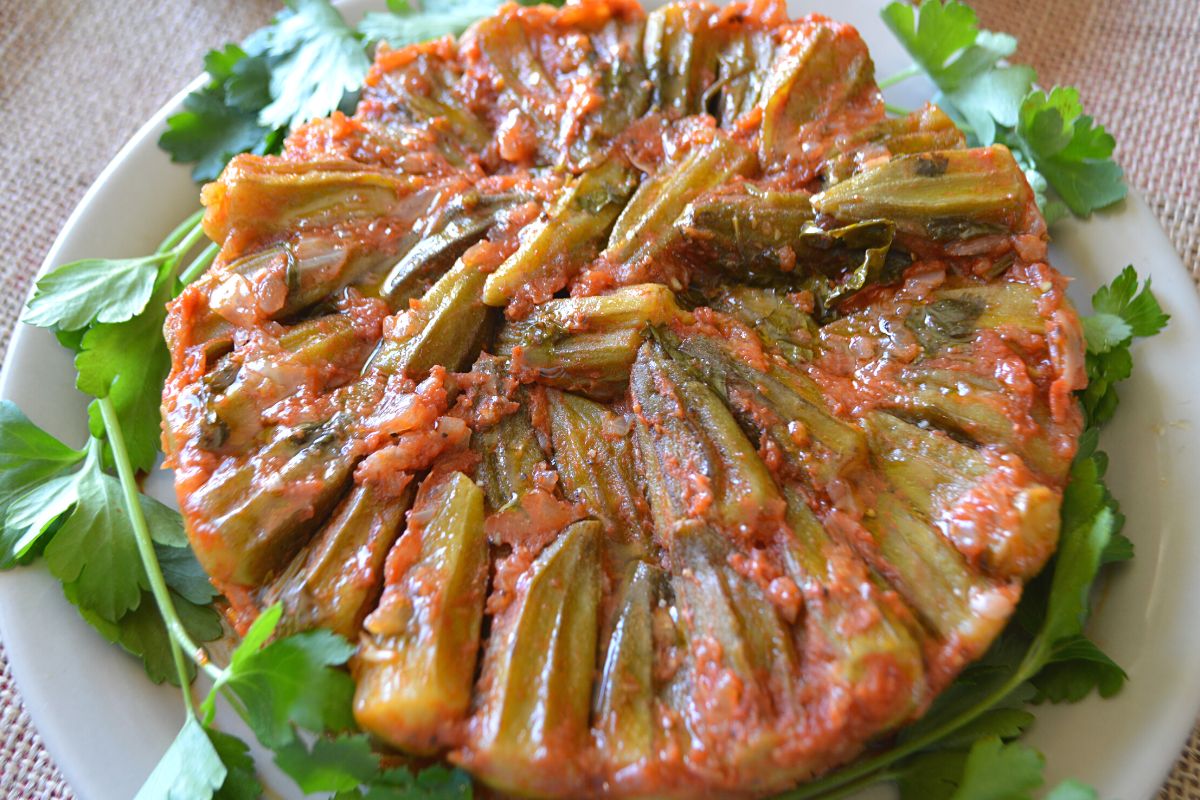 Since then, I'm always trying to savor this veggie with new recipes. When my mom was talking to me about this recipe, I knew immediately that I've to try it. Lemon and cilantro play a surprisingly delicious role in this dish.
You will hardly notice the slimness of okra in this dish as frying it first in olive oil then tossing it with lemon juice helps cut the slimy feeling you get with this seedy vegetable, also the acidity from the tomato sauce helps a great deal .

This dish is perfect for a meatless dinner or you can add ground beef to the sauce inbetween layers but honestly it is more deliciouse this way. Serve this flavorful okra with white rice or pita bread.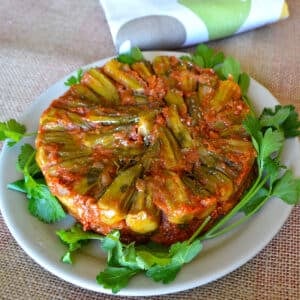 Ingredients
1

package

14Oz frozen/fresh whole small okra.

2

medium onion- diced.

1

cup

tomato sauce.

4

Tbs

olive oil.

½

cup

fresh cilantro - chopped.

1

Tbs

ground coriander.

1

lemon juice.

Salt.

1 to

mato and 1 green bell pepper.
Instructions
Heat 2 Tbs of olive oil on medium and fry the okra until no more sticky or slimy ( 12 - 15 minutes).

Add the cilantro and half the dry coriander and stir for a couple of minutes then take the okra out.



3- Return the pan to the stove top and heat the remaining oil,and saute the onions.

4- Add the tomato sauce and the rest of the coriander and salt. Let it boil on low until thick.

Meanwhile, add lemon juice to the okra and stir to combine.

7- In an oven dish arrange pepper and tomato slices and top with 3 Tbs of the sauce.

Arrange the okra in circles until you are done with the first layer and add 3 Tbs of the sauce between each layer.

Top the final layer with the remaining sauce and bake in a 350F oven 40-50 minutes.

let it cool down and turn over on the serving plate.

Serve with pita bread or white rice.... Enjoy.
Sign up and learn more about Mediterranean flavors