An easy recipe for pumpkin frangipane tart made of crispy sheets of phyllo dough surrounding sweet and nutty pumpkin almond filling, finished with a crown of sweetened pumpkin. A pumpkin dessert with few ingredients to celebrate season.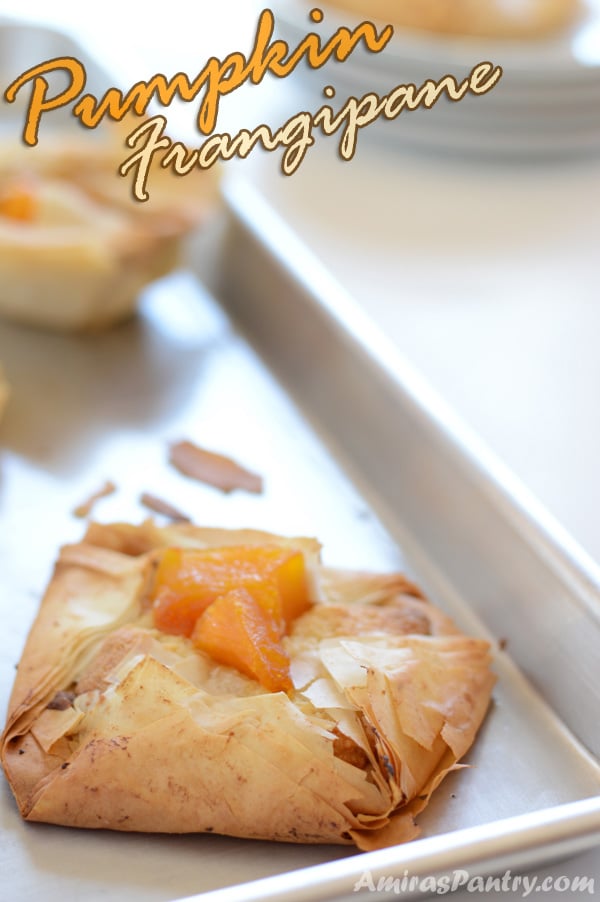 Do you notice anything different around here? 🙂 yes, NiletoRockiescuisine is having a facelift or to be precise it is having a complete face/off. A big thank you to all who contributed and helped me choose the new blog's name, I really appreciate it. Expect some more color and theme changes in the coming days and I really hope to hear your opinion as well.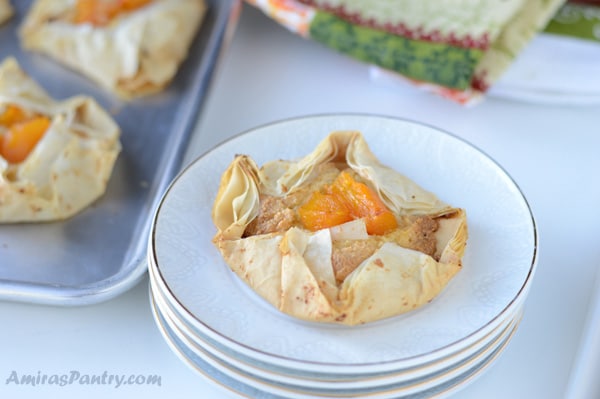 Now back to the recipe, this is a very easy to make recipe, with a stunning result, a delicious dessert with a real wow factor. I've never played with frangipane before and long wanted to try making almond paste as it is very popular in the Middle East, specially in Tunisian, Algerian and Moroccan cuisines.
I've made Tunisian Kaaber before and find it very easy and delicious. This recipe is no difference, it is easy to make with a very beautiful and appealing result. I resisted the urge to drizzle the end product with some simple syrup- a traditional way to finish almost all Middle Eastern desserts- but I figured out that it has enough sugar and does not need more.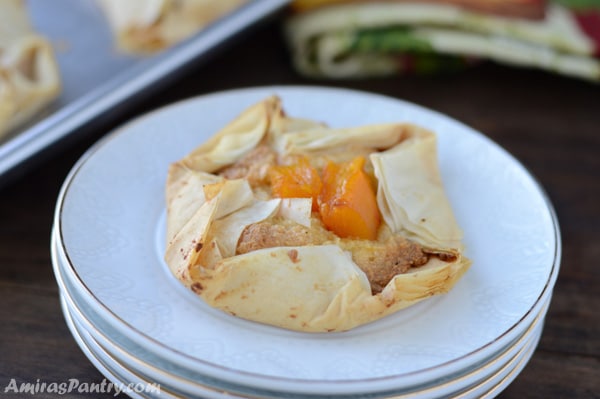 I am falling hard and fast for these almond paste, it is crunchy and not creamy as the almond butter, yet sweet and nutty, I love it and thinking of making so many desserts with it. I've to say that this is not your usual frangipane as I did not add egg or butter to the almonds, instead I just used sugar and cooked pumpkins as a binding ingredient.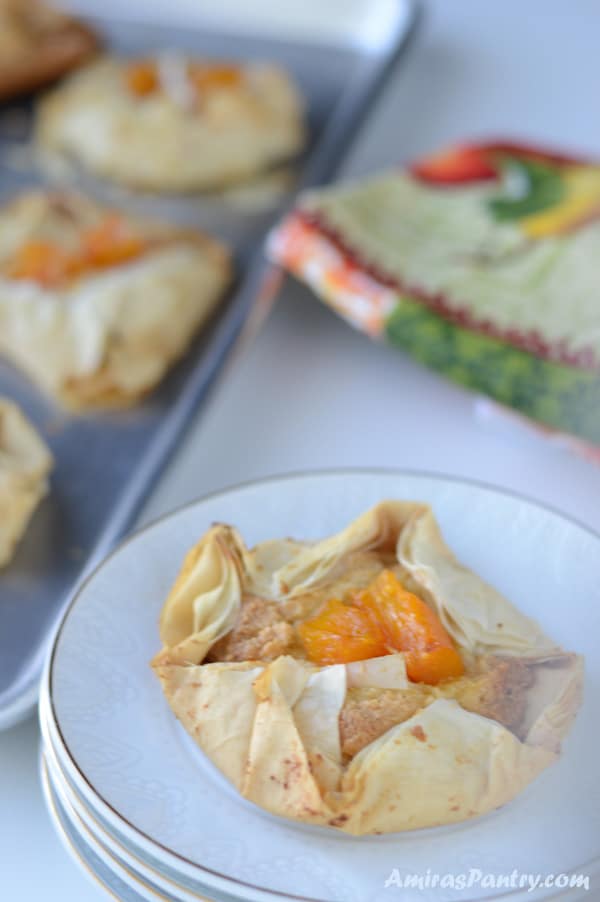 Let's rekindle your good old pumpkin puree can, or if you have some leftover pumpkin puree, give it a new life with this super delicious eggless frangipane tart recipe.
I hope you'll enjoy making this frangipane tarts…. See you on the next recipe…Enjoy!!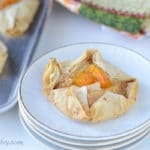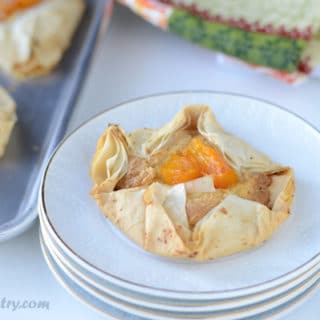 Easy pumpkin frangipane tarts
Crispy sheets of phyllo dough surrounding sweet and nutty pumpkin almond filling, finished with a crown of sweetened pumpkin. A delicious and easy treat to celebrate Fall.
Ingredients
2

cups

of uncooked pumpkin

diced.

3

Tablespoon

sugar.

1/4

cup

water.

1

cup

blanched almonds.

1/2

cup

granulated sugar.

2

teaspoon

butter

melted.

1/4

cup

of melted unsalted butter for brushing or you can use a spray.

6-8

sheets frozen phyllo dough

14 x 9-inch, thawed.
Instructions
On a sauce pan over medium heat, place the pumpkins, sugar and water, stirring together.

When it boils, reduce heat and keep simmering until the pumpkin is soft and tender.

Preheat oven to 350F.

In a food processor, add almonds,sugar and pulse until very finely ground. .

Add about 3/4 cup of the cooked pumpkins and the melted butter.

Process again until you get a paste, feel free to add more pumpkins if you feel you are not there yet.

Arrange the phyllo sheets on a cutting board, one at a time, brushing with melted butter in between. Then divide into 9 equal parts.

Take one part and spread about 2 tablespoons of the almond mixture, top with some cooked pumpkins.

Fold edges loosely to create a shell.

Bake in the oven for 20-25 minutes or until crispy and golden.

Serve and .... Enjoy!!
Need more desserts? check out the desserts section.
Meanwhile here are some recommendations 👇