Shawerma is a very well known Lebanese sandwich which is basically composed of thinly sliced meat,chicken or lamb stuffed in pita bread and served with hummus dip, tahini and/or greens like lettuce. It is made by placing marinated meat layers above each other in a cone or tower which is then heated from behind and the cone rotates to distribute heat and as the meat cooks the chief starts to cut off the cooked meat with a sharp long knife . In most cases these layers are topped with a beef/lamb fat chunk which gives it the desired flavor. It is very hard to get the same flavor at home but we try to as it is very hard to have that cone at home :). Below is a picture of one middle sized cone and believe me it is middle sized as I have seen much longer cones in Egypt.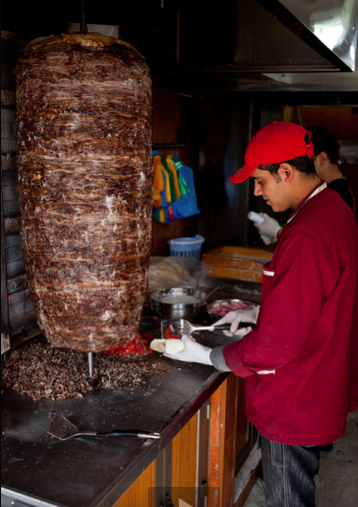 Our recipe today is the frugal and easy version of the shawerma as in this one you can use leftover chicken.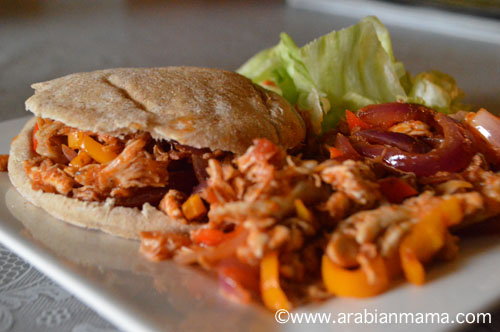 You will need:
3 cups of already cooked chicken meat, shredded.
3 Tbsp of white vinegar.
1 c of sliced onion – preferred white or yellow I used red but it gave the dish an undesirable color.
1/2 c of sliced bell pepper- green,yellow or red.
1 tsp of lemon juice.
salt and pepper to taste.
1 large cubed tomato- I used 1/2 c of pasta sauce instead.
4 Tbsp of olive oil.
Let's start:
Heat the oil in a large saucepan, saute the onion until it is a little bit tender, add the bell pepper and let it cook for 5 minutes.
Add the chicken pieces, mix well, then add the vinegar, lemon juice, salt and pepper, and the tomato sauce.
Cover and continue to cook for another 15-20 minutes.
This dish is better when you leave it at lease 4 hours before serving.
serve in pita bread, french fries, lettuce or with white rice.
Enjoy.