A traditional, authentic Egyptian rice dish, loaded with flavors and rich.
Baked rice in clay pots, loaded with butter, milk, and cream, can be savory or sweet. Today I am showing you the savory one. Incredible texture and heavenly taste. One of the easiest on pot meals like this chicken and yellow rice recipe.
Meammar rice in one of the authentic, traditional Egyptian rice recipes, as old as Egypt I guess :). Meammar means loaded, and as you can see authentically, this rice is loaded with full cream, ghee and full-fat milk. The slow cooking of rice in the oven gives it a lot of time to soak up all these flavors, to come up unique, fluffy, and tastes heavenly good.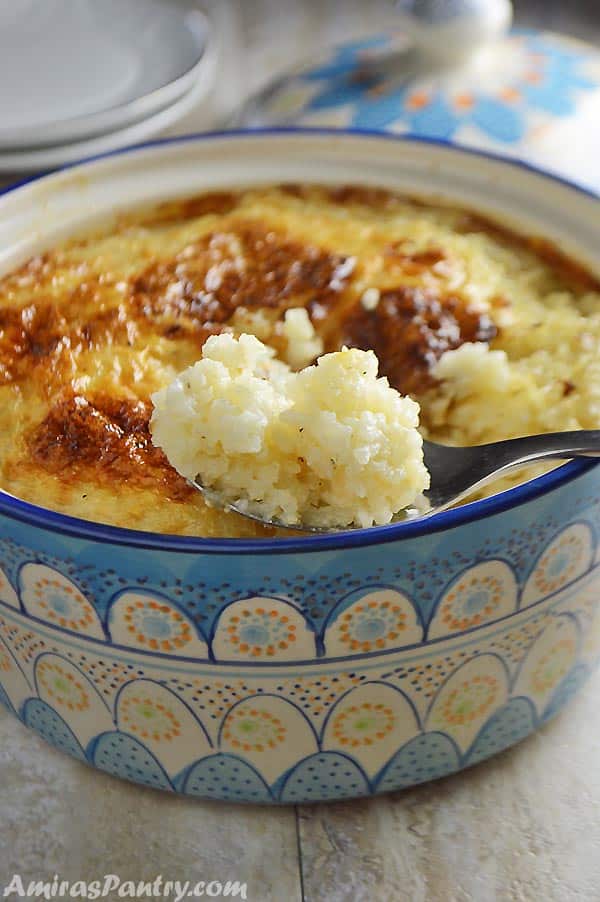 Of course, this is not your everyday rice but, we need some luxury every now and then, and if you have a special occasion, this is a one-pot meal that will impress your guests and leave you with fewer pots to clean.
This rice can be made meatless, with red meat, minced meat or chicken so you choose, I prefer to make it with chicken for a one-dish meal, throw it in the oven and forget about it for an hour until done.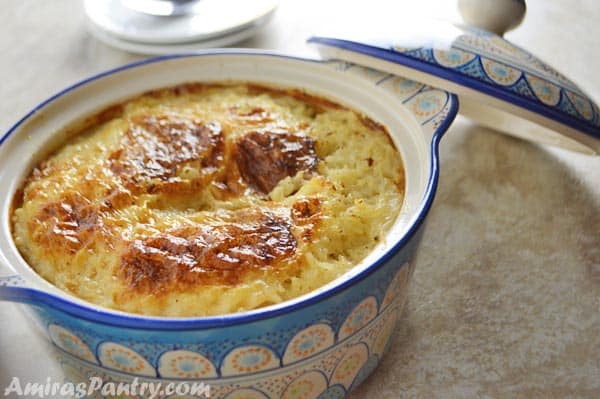 This is my Aunt Mona recipe and she probably got it from her mom - my sitto, we called my grandmother Sitto. I did not get to know my grandmother - father side, but I knew my Sitto - mother's side.
I wish I have her wedding picture, she was so young probably 16 years old. She looked so proud in her white wedding dress which was so simple yet elegant, with short hair and a tiara around her head, with a white round face and gray colored eyes, she was really beautiful until the very last day of her life. My Sitto was a great cook, she cooked everyday letting no one - even her daughters- cook for her, she was an authentic traditional cook.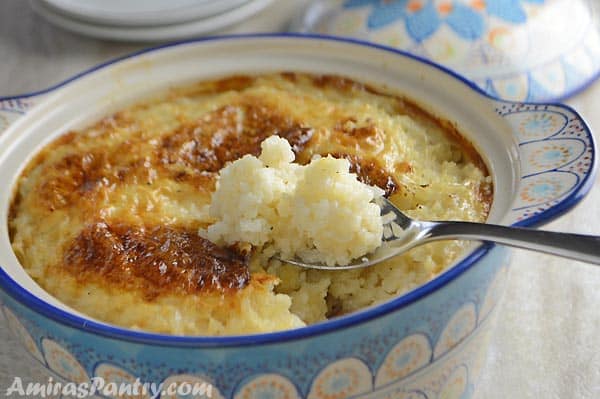 I really admire the way they lived back then, they did not have meat and chicken every day, which a challenge I am going through now 😁, they used to get on hands and knees to scrub floors, not dragging themselves to the gym and trying to find excuses not to 😀, they ate fresh produce of the season and they used to raise their own chicken, ducks, and pigeons never knew frozen vegetables or meals. All my grandparents die of age, just probably a week at most in the hospital in comma or some sort of sudden system failure and that's it.
I remember my Sitto, grabbing a chair and sitting so close to the television- back then it was probably 14 inch at most- so she can see and hear, she refused to wear glasses or hearing aids, the woman had pride and I cannot blame her, she was strong until the day she collapsed. She was funny a very funny woman, loved to laugh, and watched only Ismail Yasin who was a comedian Abbott and Costello style. She lived a simple calm life and died calmly without much fuss. May she rest peacefully in heaven.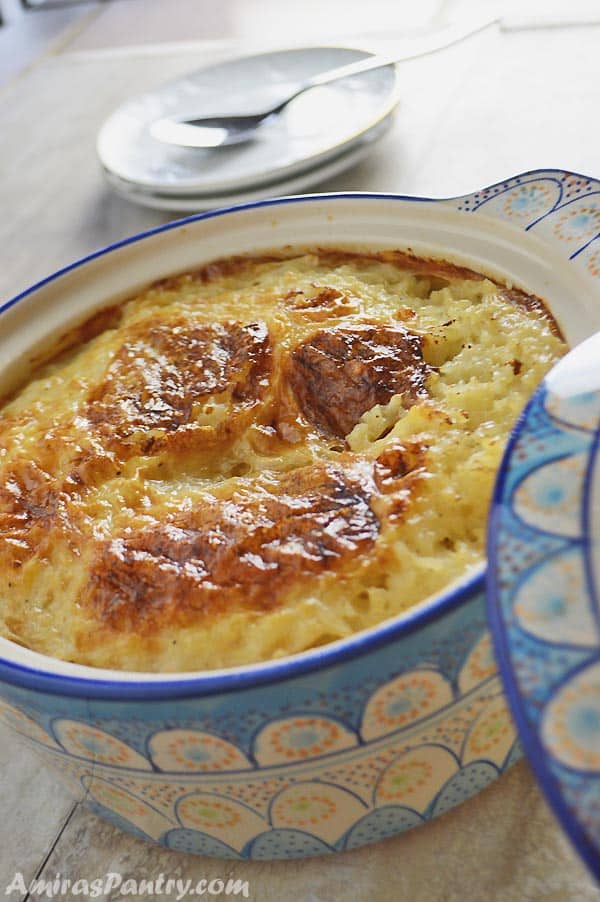 I tried to lessen the fat content in this recipe without jeopardizing the taste, and I think I did a pretty good job, first I used 1% milk not full cream milk, I used butter instead of ghee and I used only half the amount, I also used a combination of Mascarpone cheese and sour cream instead of using the usual milk cream we use in Egypt which is mainly milk fat.
This recipe is so popular in Egypt in banquets and especially during the holy month of Ramadan. I hope you'll give it a try and as usual Enjoy!!.
Related Recipes
These stuffed grape leaves are delicious and easy to prepare. They're perfect for parties or as an appetizer.
Try this delicious and easy to follow Lebanese rice recipe, perfect side dish for any Middle Eastern meal. Garnish with fresh herbs or toasted pine nuts to boost flavors.
There's nothing more comforting than a warm, richly flavored Middle Eastern rice with chicken. This recipe includes aromatic spices, vegetables and tender fall of the bone chicken.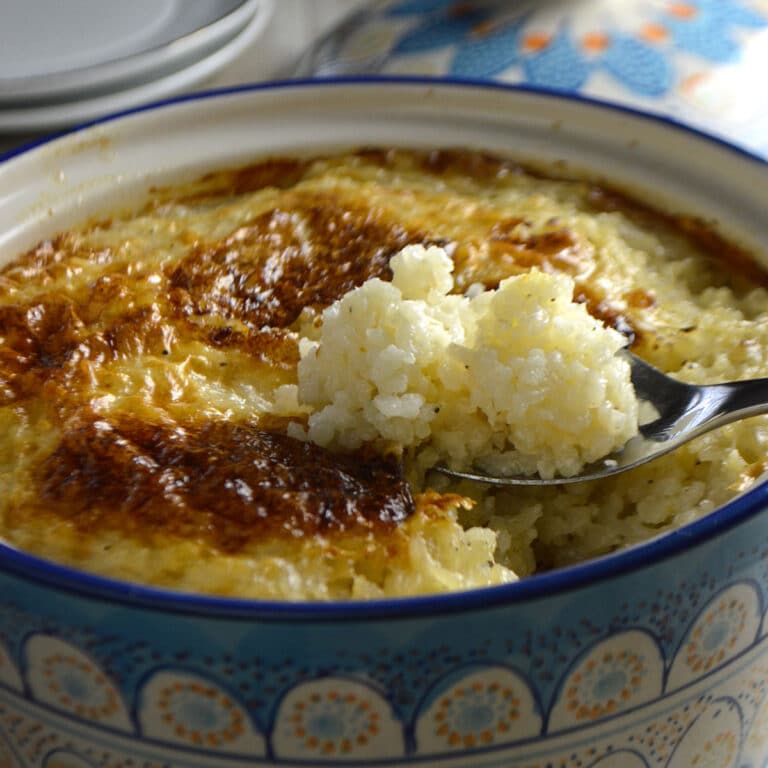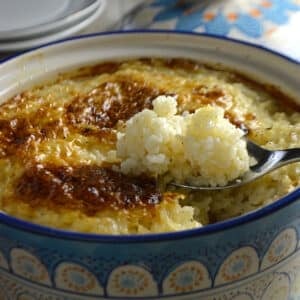 Savory Rice with cream (Egyptian Meammar Rice)
A traditional, authentic Egyptian rice dish, loaded with flavors and rich.
Print
Pin
Rate
Ingredients
1.5

cups

of short grain rice - like cal rose.

2

Tablespoon

unsalted butter

divided.

5

chicken tenders.

Note1.

½

teaspoon

salt

or to taste.

¼

teaspoon

freshly ground black pepper.

2

Tablespoon

sour cream.

1

Table spoon Mascarpone cheese.

1.5

cup

Chicken broth

any type.

1.5

cup

milk.
Instructions
Start by washing the rice and soak in water for 15 minutes.

Preheat the oven to 350F.

Meanwhile in a pan over medium heat, melt 1 Tablespoon of butter and brown the chicken tenders, 2-3 minutes each side, season with some salt and pepper, set aside.

Drain the rice, add salt, pepper, sour cream, Mascarpone cheese and the remaining 1 Tablespoon of butter, mixing all very well until all rice is covered well.

In a deep oven dish, authentically a clay one, add about 5 Tablespoons of the rice mixture to cover the bottom and spread evenly.

Add the chicken pieces if using, then cover with the remaining rice, level the surface.

In a pot over medium heat, add the milk along with the broth and bring to a boil, turn off the heat and season with a dash of black pepper.

Add the hot liquids to the rice , place the dish into a bigger oven dish or pan filled halfway with water.

Bake in the oven for almost an hour until the rice is fully cooked and the surface turns golden brown.

Let it cool down and serve.

Enjoy!!
Notes
*Note1: The addition of chicken is optional but recommended, you can make it meatless, or with any kind of meat you have.
Please check the nutrition disclaimer policy.
Nutrition
Calories:
234.8
kcal
|
Carbohydrates:
17.7
g
|
Protein:
17.4
g
|
Fat:
10.4
g
|
Saturated Fat:
5.8
g
|
Polyunsaturated Fat:
0.4
g
|
Monounsaturated Fat:
2
g
|
Cholesterol:
62.6
mg
|
Sodium:
402.9
mg
|
Potassium:
270.2
mg
|
Sugar:
4.4
g
|
Vitamin A:
8.6
IU
|
Vitamin C:
1.3
mg
|
Calcium:
11.5
mg
|
Iron:
5.1
mg
Sign up and learn more about Mediterranean flavors