A savory pumpkin dish with a hint of sweetness, only for pumpkin lovers who would eat pumpkin anyways.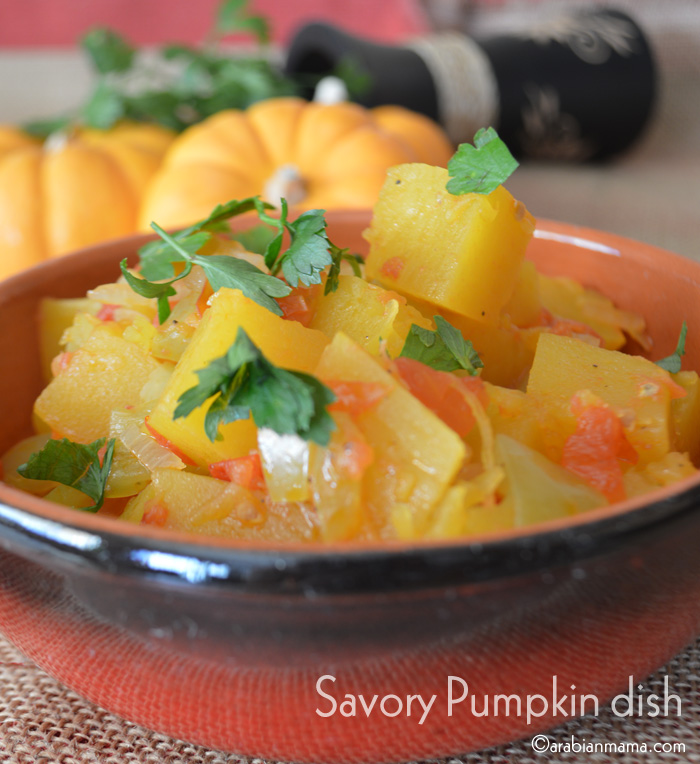 When I was little girl, I could not stand pumpkins although we only knew one pumpkin recipe, still I could not get along with it. After marriage, my husband tasted the pumpkin bechamel at my aunt's house and immediately fell in love – with the dish ;-).
This encouraged me to try my hands making AND EATING this dish, so after being married for almost 7 years I decided 'ok, the man likes going to my aunt's house specially to eat from the bechamel pumpkin thing, I should make it at home' and came my first attempt which was a total failure, but did I give up? of course no.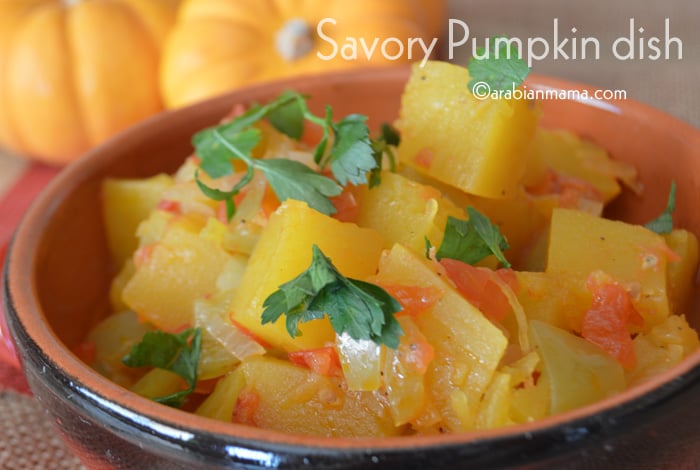 I've tried second, third and fourth time until I mastered the dish and actually liked it more than my hubby!! It is really amazing how our taste buds change over time, I remember when I first landed on the US, I could not even stand the smell of a teriyaki or orange chicken and now… guess what ?
So turning from a hater to a lover for the bechamel recipe, I've decided to go wild with pumpkins, first I've tried the jam which was super for me and a so so for my husband. Now I've made a savory, simple and easy dish with pumpkins.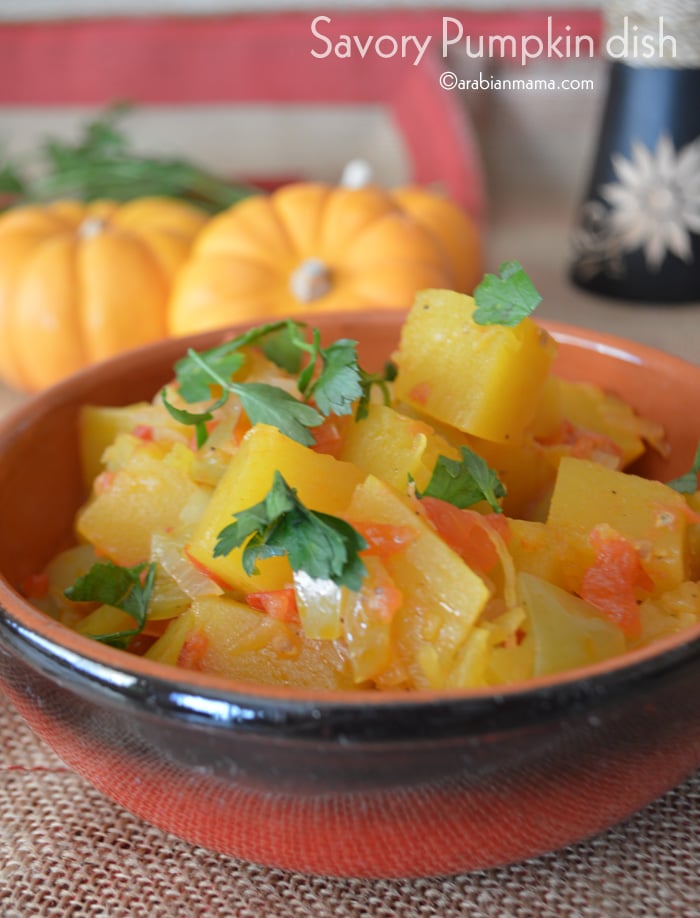 At first, I did not like it much but- because I already knew how things go with me – after a couple of times I got used to it and to my surprise, my husband really liked it from the first trial!!! strange.
So the bottom line is, try it.. why not? for a change, make this easy, less than 30 minutes, side dish and see if you'll like it.
Now let me show you how to prepare this savory pumpkin dish…. Have a safe Halloween.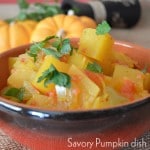 Savory pumpkin dish
A savory pumpkin side dish with a hint of sweetness that cooks in less than 30 minutes.
Print Recipe
Ingredients
2

c

diced pumpkin.

1

medium onion

diced.

1

large bell pepper any color

diced.

2

medium tomatoes

diced.

2

Tbs

olive oil.

Salt and pepper.

1/2

tsp

ground cardamom- optional.

Parsley for garnishing.
Instructions
In a non stick pan,add the oil, swirl to coat.

Saute onions for 4 minutes or until translucent.

Add the bell pepper and stir for another 4 minutes or until fragrant.

Add the tomato, stir for a couple of minutes then add the pumpkin cubes.

Season with salt,pepper and ground cardamom.

If the juices are not enough, you may want to add a 1/4 cup of water to help the pumpkin cook.

When it boils, reduce the hear and keep an eye on it until it is done.

Check the pumpkin with a fork for doneness.

Garnish with parsley and enjoy.