Tres leches cake, the three milk cake, is a moist cake soaked in a 3 milk syrup and topped with light and airy whipped cream. Tres leches is believed to be an authentic Mexican cake, today I am showing you how to make a caramel tres leches layer cake or what is also know as Trilece.
Caramel tres leches is the Turkish take on the Mexican Tres leches, sponge cake soaked in milk syrup topped with fluffy whipped cream and another layer of buttery caramel. This cake is a crowd pleaser and the first to fly off in parties much like flan cake and tiramisu.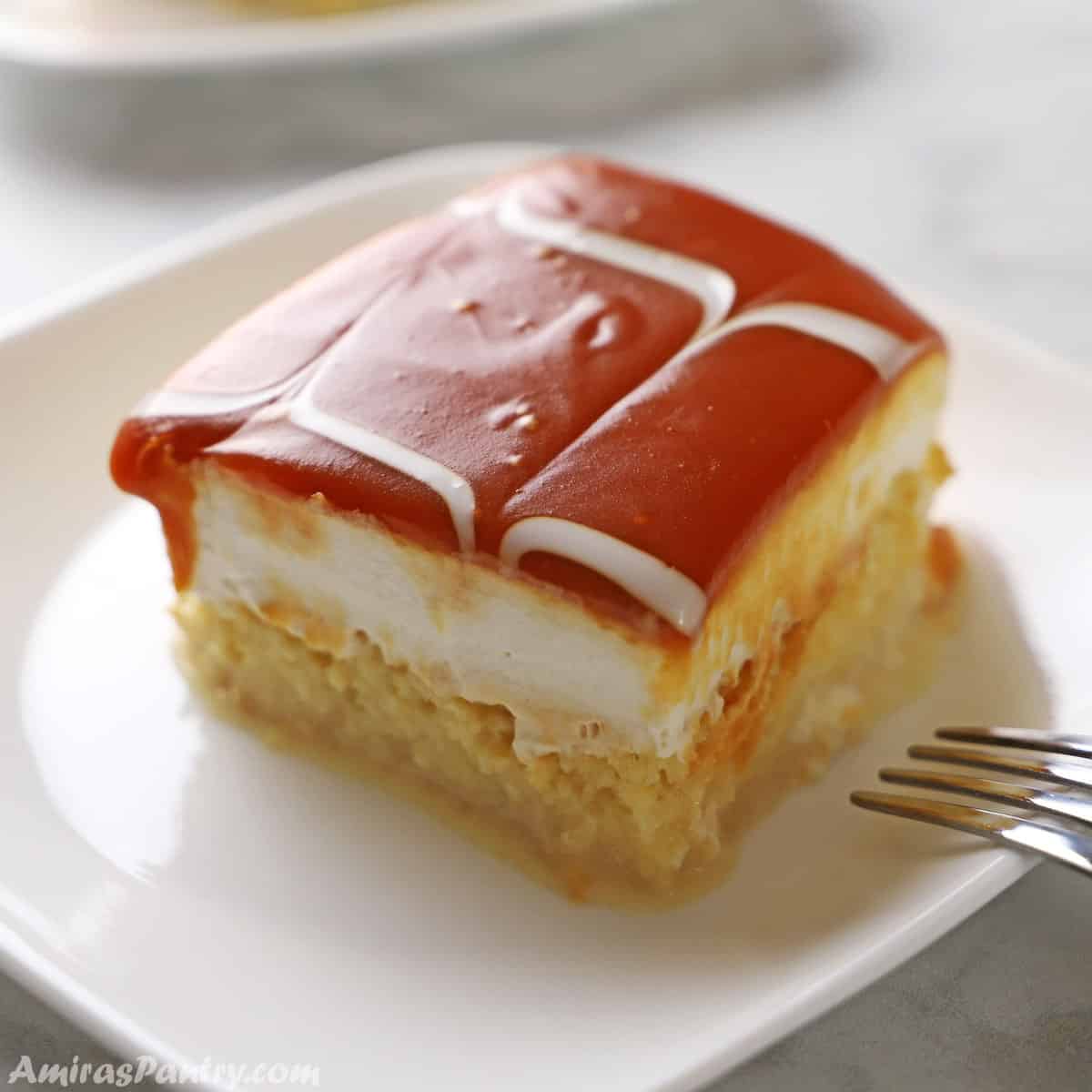 [mv_video key="mvhh1f8e6dbayhznlggk" title="Caramel tres leches (Trileçe); Turkish style" thumbnail="https://mediavine-res.cloudinary.com/v1598673389/k2wszqd5ezqmjausdjzs.jpg" volume="70" doNotOptimizePlacement="true" doNotAutoplayNorOptimizePlacement="false" ratio="" jsonLd=true]
Ingredients for tres leches cake: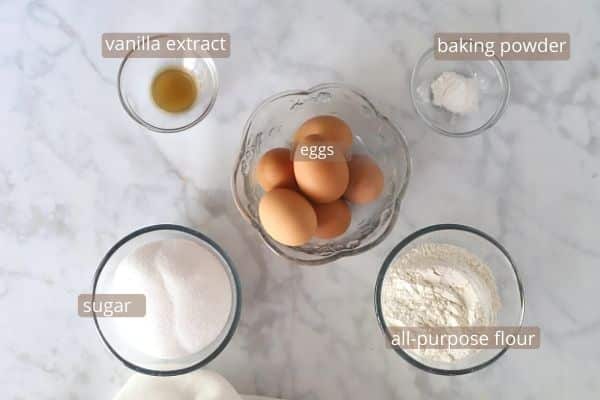 Here we have 4 sets of ingredients, first set is for making the sponge cake. Some people like making tres leches using a buttery pound cake, I like the spong cake more in tres leches.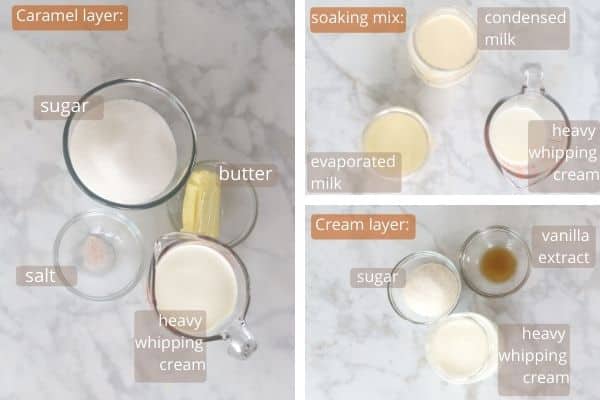 Second set is the milk syrup or the soaking liquids and this usually is a combination of evaporated milk, condensed milk and heavy cream. Third set is for the fluffy whipped cream layer and the last set of ingredients is for making the caramel.
Instructions: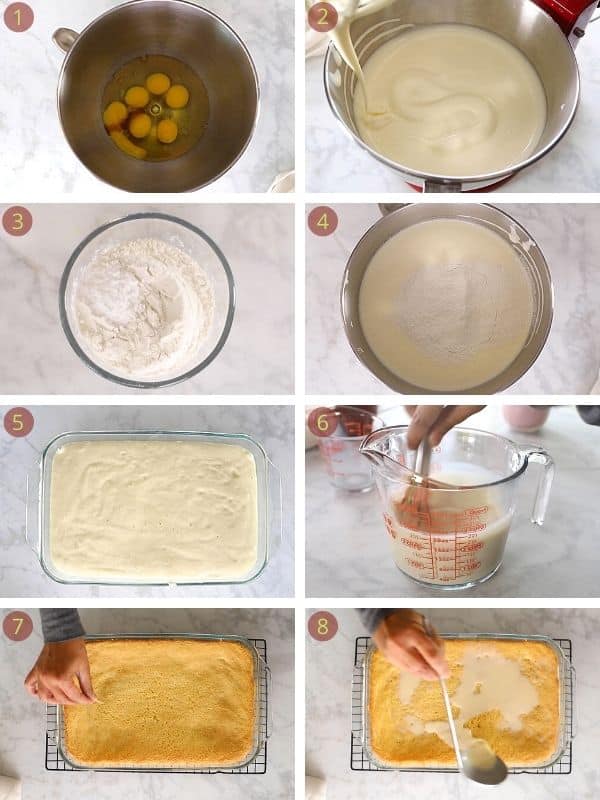 In the bowl of your mixer, add eggs and vanilla extract and beat until foamy.
Gradually add sugar while beating the mixture until it triples in size and becomes so airy and pale yellow. To make sure you've reached the right consistency, take out your whisk and draw an S shape on the surface. If it stayed for 10 seconds then you are good but if it sunk then you need to beat more.
In a small bowl mix together flour and baking powder.
Sift the flour mixture over the egg mixture in 3 batches mixing with a rubber spatula in between.
Pour the cake batter into the prepared pan and bake until golden brown.
Prepare the milk syrup by combining the three milk well together.
When the cake is done, take it out of the oven and poke with a toothpick or a fork creating several holes.
Pour the milk syrup over the warm cake and let it soak and cool down completely for almost an hour.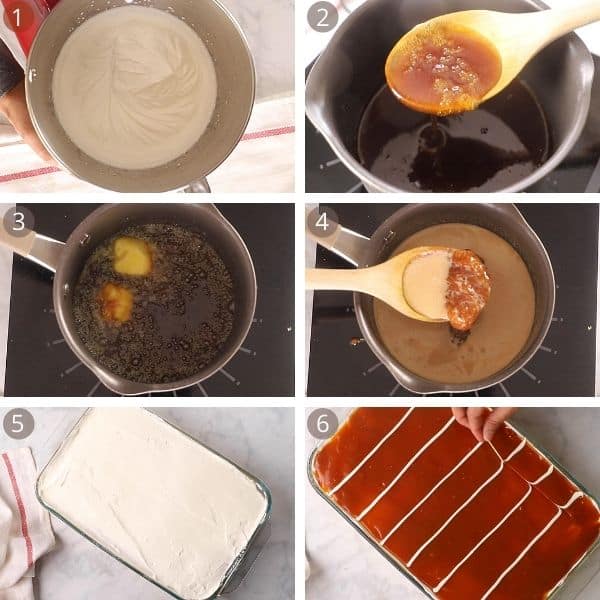 Make the whipped cream layer by combining the ingredients and beating until a stiff peak forms. Refrigerate until the cake has cooled completely.
Make the caramel by first melting the sugar over medium heat until it reach an amber color like shown above. Make sure not to burn it or it will taste bitter.
Reduce heat and add butter stirring quickly. You'll notice that the mixture will bubble as you mix in the butter.
Gradually pour the heavy cream over while stirring everything well. You'll notice that the mixture will bubble and rise in the pan, it might also forms clumps. Do not worry keep stirring and it will melt and be smooth again. Take it off heat and pour into a heat proof measuring cup to cool down. It will thicken as it cools down.
Spread the cold whipped cream over the cooled cake and level the surface. Refrigerate for 30 minutes.
Pour the caramel sauce over and tilt the pan to cover the cake evenly. Make sure that your caramel has completely cooled or else the layers will be mixed up. Make some lines with whipped cream and using a toothpick cross those lines to make this famous look.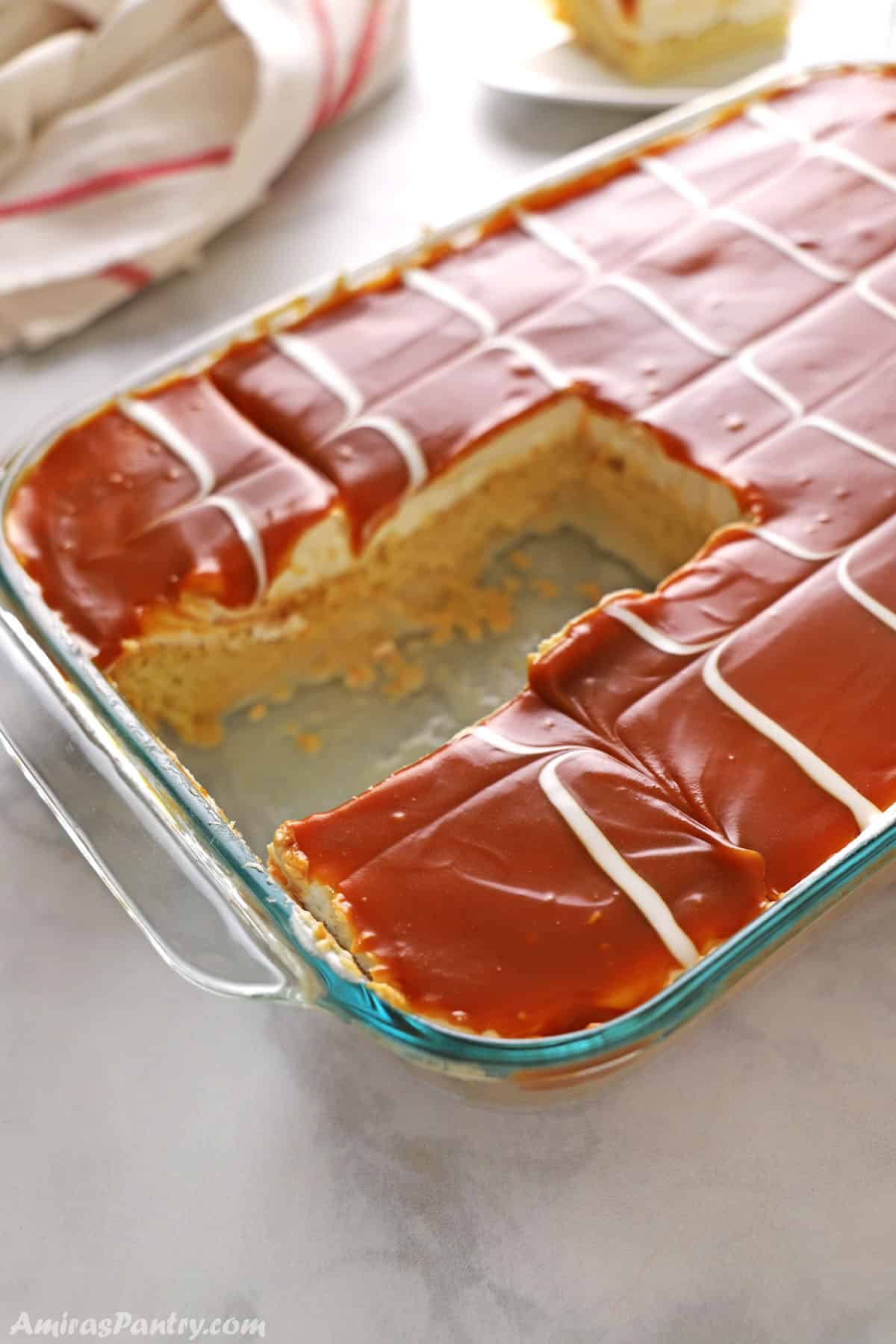 Important tips:
Some people like making Trilece with pound cake base rather than making it with sponge cake. If you like it more buttery then go ahead and make it with pound cake.
Make sure the eggs are room temperature before you start. If for any case you forgot them place your eggs in a bowl of warm water until they reach room temperature.
This sponge cake needs a lot of beating for eggs and sugar, we are talking in the range of 8 to 10 minutes with a strong stand mixer.When using egg beaters it is going to take longer.
If you are not sure that you've reached the right consistency for the egg and sugar mixture take the beaters off and make an "S" shape with the batter dripping from the beaters. If the shape sunk within 10 seconds then you need to beat more, otherwise you are good.
Add the flour in batches sifting it over the egg mixture. Mix with a spatula in a circular motion, making sure that there is no flour pockets at the bottom of the mixing bowl.
Because the topping is a sweet caramel sauce we make a less sugary milk syrup. Most people just use milk sweetened with a couple of tablespoons of sugar. In this recipe and to keep the theme of the three milk rolling, I used only 1/4 cup of sweetened condensed milk. If you think this is going to be too sugary for you feel free to scale back to two tablespoons.
When making the caramel sauce be very cautious and use a deep saucepan as caramel tends to splatter. Use room temperature butter to reduce the shock a bit. Caramel will bubble so do not worry and keep stirring even if clumps form, it will melt eventually.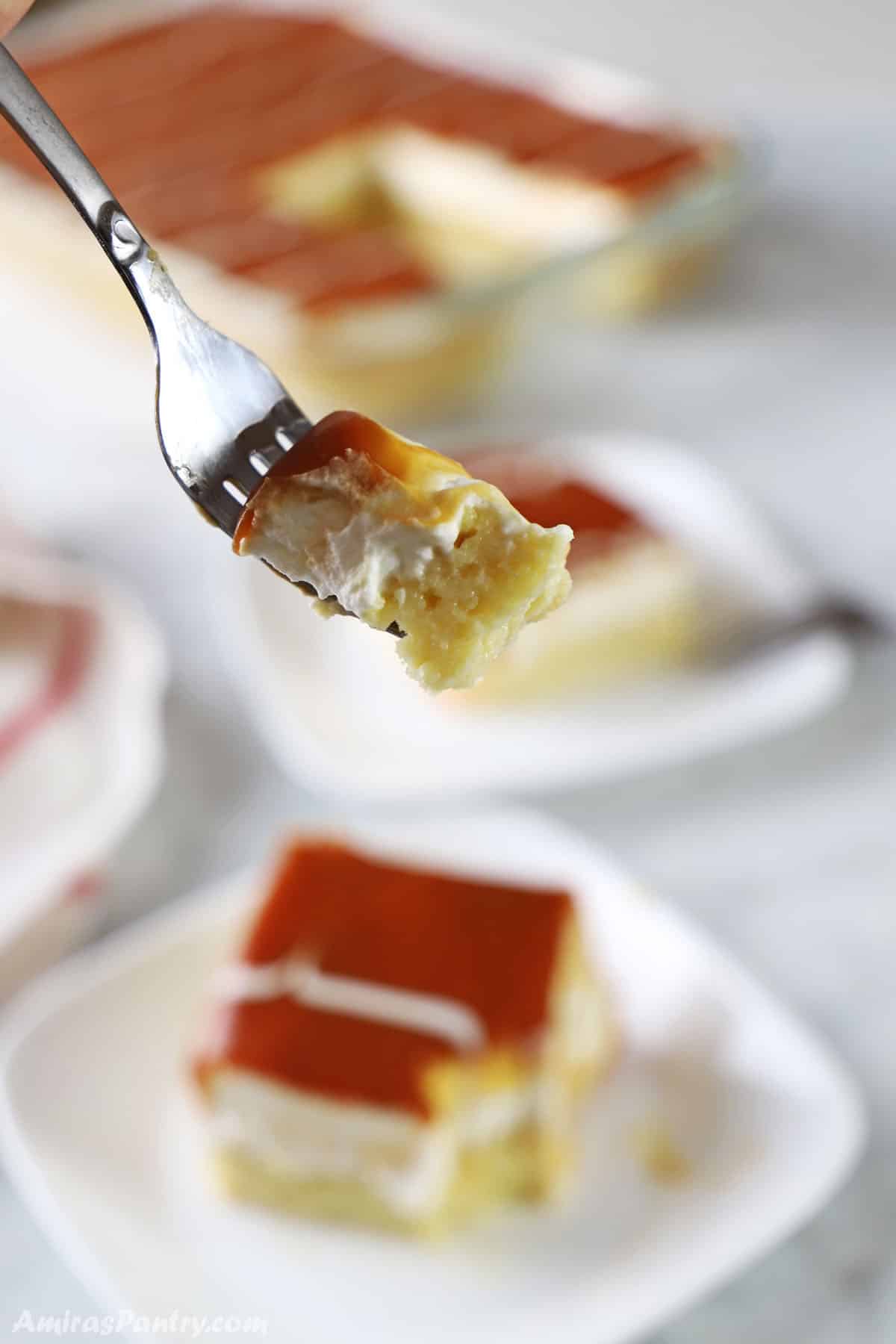 If you like this recipe do not forget to give it a ⭐⭐⭐⭐⭐ star rating and attach a photo of your finished dish. It is always a pleasure of mine to see your photos and check your own take of the recipe. Thank you.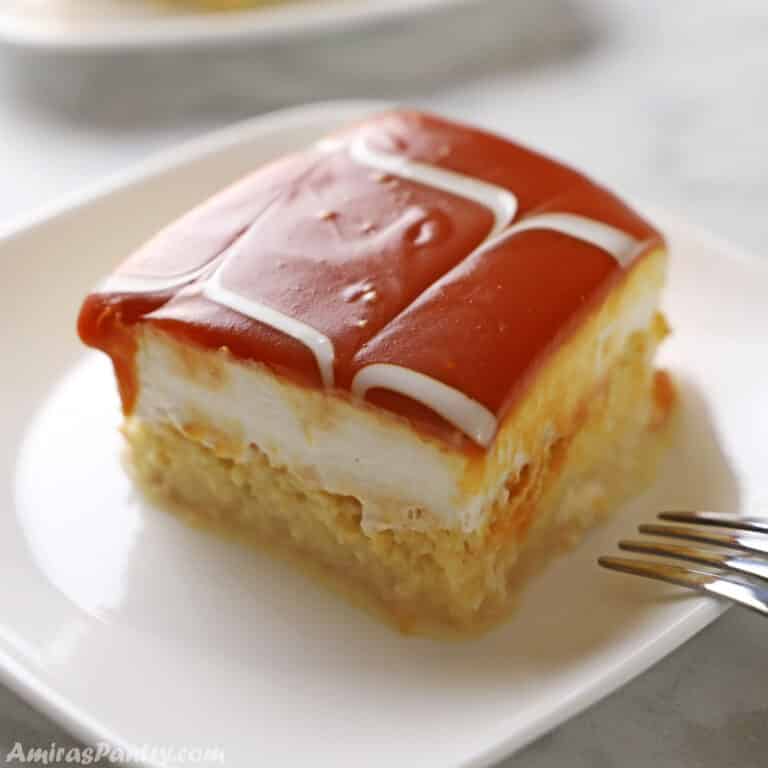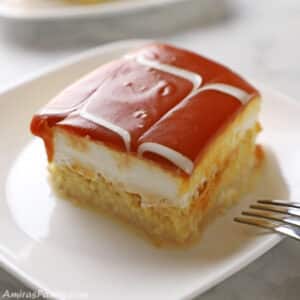 Caramel Tres Leches
Trilece is the Turkish take on the stunning tres leches layer cake. A sponge cake soaked with three milk syrup then topped with fluffy whipped cream and a thin layer of buttery caramel.
Print
Pin
Rate
Ingredients
The cake:
6

large eggs

room temperature.

1

teaspoon

vanilla extract.

1 1/3

cup

(275g) granulated sugar.

2

cup

(250g) all purpose flour.

1 1/4

teaspoon

baking powder.
Milk syrup:
1

can (12oz) evaporated milk.

1/4

cup

sweetened condensed milk.

1/2

cup

heavy whipping cream.
For the whipping cream:
2

cups

heavy whipping cream.

2

Tablespoons

granulated sugar.

1

teaspoon

vanilla extract
For the Caramel layer:
1 1/4

cup

(250g) sugar.

4

Tablespoons

butter

room temperature.

1

cup

heavy whipping cream.

1/8

teaspoon

salt.
Instructions
Preheat oven to 340F. Grease a 9x13 glass dish with butter or baking spray.
Make the cake:
In the bowl of your electric mixer, add eggs and vanilla extract. Beat on high for 1 minute or until foamy.

Gradually add sugar and keep mixing for like 5-8 minutes until mixture triples in size and has a pale yellow color. Note1

Combine flour and baking powder in a small bowl. Sift third of the flour mixture over the egg mixture and fold with a spatula moving from bottom to get any flour sinking at the bottom.

Keep folding flour in until done, make sure there are no flour pockets left unfolded.

Pour batter into the pan and bake for 30 minutes or until top is golden.
Make the three milk syrup:
In a deep bowl or large enough measuring cup, pour in evaporated milk, heavy cream and condensed milk.

Mix well to combine and set aside.
Soak the cake:
When the cake is done, take it out on a cooling wire rack.

Poke some holes using a toothpick to help it soak evenly.

Pour the 3 milk mixture over and let it cool down and soak for an hour. While we are done with the rest of the recipe.
Make the whipping cream:
In your mixer bowl, pour whipping cream and beat until it starts to thicken but still soft, this will take roughly 3 minutes.

With your mixer on add vanilla extract and sugar and continue beating until mixture thicken and reaches stiff peak, about 5-6 minutes.

Cover and refrigerate to firm up even more.
Make the caramel:
In a deep saucepan over medium heat melt sugar until amber brown. This will take about 5-6 minutes, stirring every now and then. Note2.

Reduce heat and carefully add butter, keep stirring as the mixture will bubble until all the butter is incorporated. Note3

Slowly add the heavy cream, stirring continuously. Mixture will bubble again and rise a bit in the pan. Do not worry this is normal just keep stirring even if it clumps. Bring the heat up again to medium and stir until everything is smooth again.

Remove from heat and pour into a heat proof glass cup. Let it cool down completely before using.
Assemble the Cake:
Take 2 tablespoon of the whipped cream out and place in a small piping bag or a small sandwich bag. Refrigerate.

Spread the remaining whipped cream on top and smooth top evenly.

Refrigerate for 30 minutes to firm up before adding the caramel layer.

Pour the cooled caramel over the whipped cream, title the pan to spread evenly over.

Snip the corner of the sandwich bag and make parallel lines on the caramel.

With a toothpick move in one direction across the lines then move again in the opposite direction an inch further to make the shape as shown.

Refrigerate for 30 minutes to an hour before serving for a firmer layers or serve immediately.
Notes
Note1: to know if you've reached the right consistency, stop your mixer , take your whisk off dip in the batter then make an "S" shape from the batter that will drip off your whisk. If the figure S remains on top of the batter for 10 seconds then u have the right consistency. If the shape sinks before that, then beat it longer.
Note2: Use deep enough pot as the caramel tends to splatter. Be cautious, stand back and wear kitchen gloves if desired. Do not let it smoke or it will be bitter. If this happens, start over again.
Note3: If you the butter separates or you feel versos, remove the pan from heat and keep stirring away from heat until everything is combined and smooth again.
Please check the nutrition disclaimer policy.
Vitamins are in percentage value. Percent Daily Values are based on a 2,000 calorie diet. Your daily values may be higher or lower depending on your calorie needs.
Nutrition
Calories:
466
kcal
|
Carbohydrates:
52.2
g
|
Protein:
7.2
g
|
Fat:
26.2
g
|
Saturated Fat:
16
g
|
Polyunsaturated Fat:
1.2
g
|
Monounsaturated Fat:
7.1
g
|
Cholesterol:
159.5
mg
|
Sodium:
134.6
mg
|
Potassium:
171.1
mg
|
Fiber:
0.5
g
|
Sugar:
41
g
|
Vitamin A:
20
IU
|
Vitamin C:
0.5
mg
|
Calcium:
15.1
mg
|
Iron:
4.8
mg
Sign up and learn more about Mediterranean flavors