After almost 16 hours of fasting in this summer heat, and when the Maghreb Azan – that is the sunset calling for prayer i.e. when we are permitted to break our fasting day- is there, every body rushes to water and refreshers one of the amazing drinks that is highly recommended in Ramadan is the sweet tamarind drink. It is sweet, tangy, tart and very very refreshing.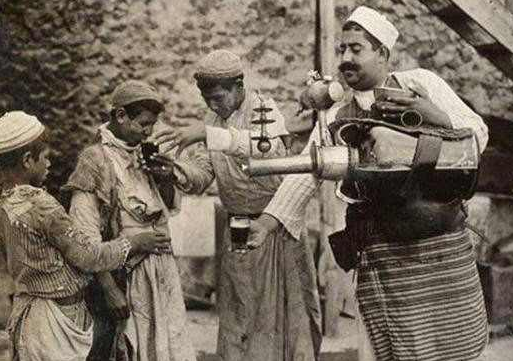 This is a very old picture in the 19th century showing the traditional tamarind and lecorice drink street seller. He puts the drink in a big pitcher that he carries on his side and if you look closely, you will recognize that he has two disc shaped copper things in his left hand above the pitcher. He clangs these copper discs to make noise in the streets indicating that he is there. I still remember the rhythm he used when I was a little girl. It is very hard to find these guys nowadays, but they still do exist 🙂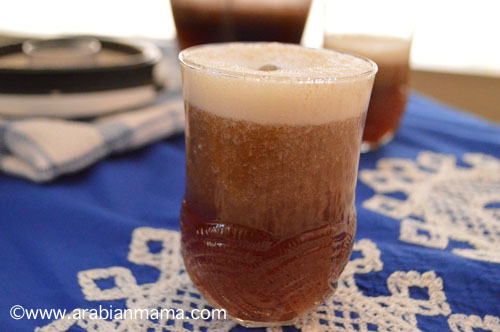 Now let's start by making our own drink without the clang – although I like it.
Tamarind is usually sold in the form of paste like the one in the picture below. You can grab a packet from the international or the Indian market in your area.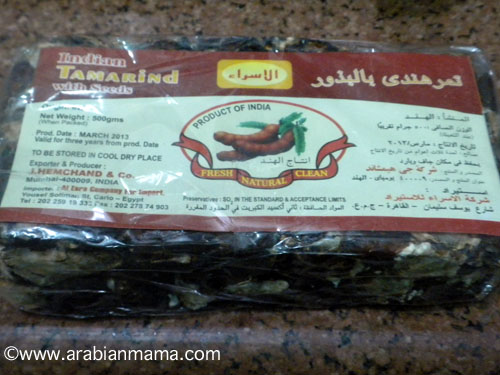 We will need:
1 pound of tamarind paste.
12 cups of tap water.
1 cup of sugar.
We will start by soaking the tamarind in the water over night. Some people like to boil the tamarind with water but personally I prefer the taste when it soaked and left alone over night. Try to stir once or twice during this period this is all you need to do.
The tamarind will kind of dissolve and the water will turn brown. With a slotted spoon discard the skin and the seeds.


Strain water through a fine sieve and discard this muddy like pulp. In the blender blend the water with the 1 cup of sugar that you have. You will have a white drink that clears by time as you can see below.


Now, you have a concentrated form of the drink. It will be sour and sweet, adjust to your liking by adding cold water or more sugar. For me I like my cup 1:1 that is water to drink.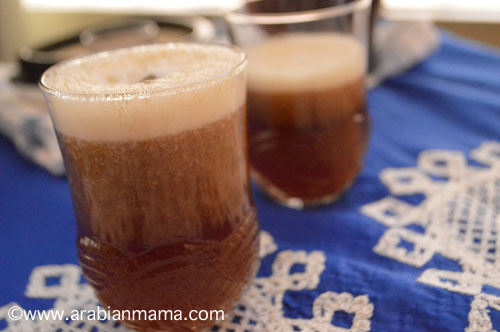 I cannot tell you how much I really like this drink specially on the end of a long hot fasting summer day.
Try and tell me how you like it.
Photo credit