I never really thought it through         What little leaves can do for you,
See me rushing to the store –               These accolades I can't ignore!
Humble, little, flat-leaved weed          You have some loyal friends indeed.
Author : I have no idea but I greatly admire 🙂
And I am indeed a loyal friend to this little green leaf. I am absolutely in love with it. It has this special aroma that makes you feel the spring although it is snowing outside. From salads, rice, salsa, fish, soup to even throwing some in an iced water and enjoy, I love it almost anyway. Here are two of my quick and easy recipes that uses this heavenly herb that you can use as a side dish. I hope you like it as I do.
Tomato Salad with Cilantro: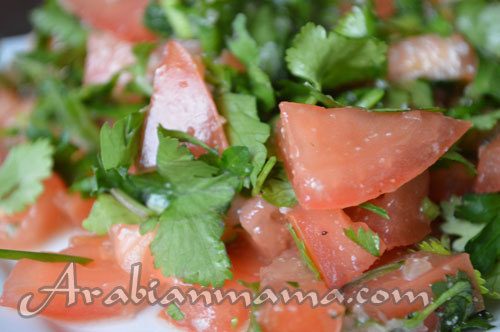 Look how gorgeous they are … yum yum
2-3 medium tomatoes diced.

salt to taste.

A dash of cumin.- optional.

2 garlic cloves, minced.

1 Tbs of EVOO.

1 tsp of lemon juice.
Just combine all the ingredients together let it rest for half an hour to mix well.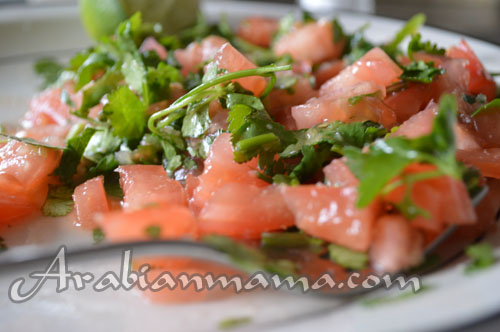 Serve over oven dried pita bread or salted cracker, or just enjoy it as is makes a very good side dish.
Potato wedges with cilantro: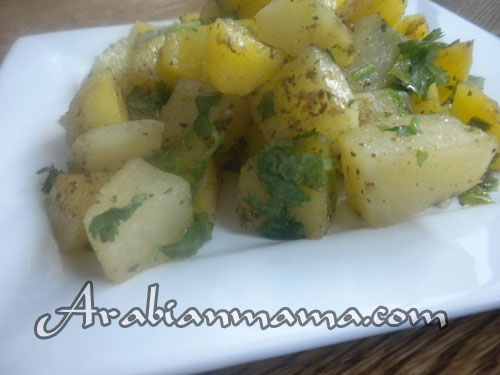 I know these are not wedges I just cut them that way but for the most days I do cut them in wedges.
3-4 medium potatoes cut in wedges and peeled if you like.

1 tsp of minced garlic.

2 Tbs of olive oil.

1 tsp of dried rosemary.

1 tsp of dried oregano.

1 tsp of fresh or dried thyme.

salt.

1/4 c of freshly cut cilantro.
So let's do it:
Preheat your oven to 350F, combine all the ingredients without the cilantro and mix well, spread in a baking sheet – you can add about half cup of water in the bottom so the potato will not get burnt and does not stick to your sheet but I did not need to do that.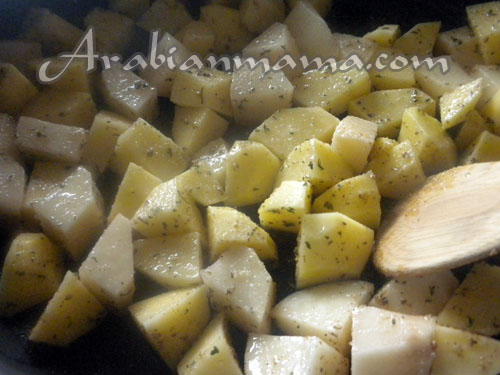 Place in your preheated oven for about 45 min or until they are done. let it cool a little then add the fresh cilantro and mix very well.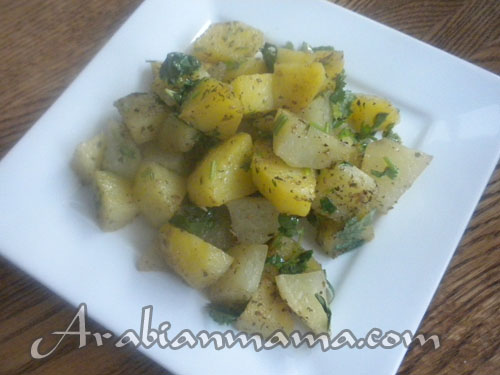 Serve warm or cold but make sure to enjoy either way.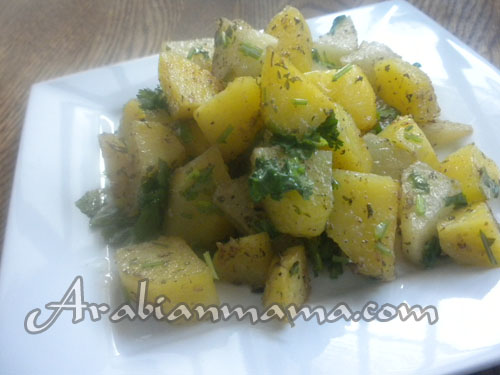 I've come to like the combination of fresh cilantro,garlic and lemon juice, I would try this as a dressing to many other kinds of vegetables.
As for those who buy a lot of cilantro and end up using only half of what you've bought, you can always chop it after washing really good and fill an ice cubes with them then cover with either water or lemon juice, freeze and use as needed in cooking. I use it in soup ,mahshi, chicken with cilantro …. etc but not in salads.