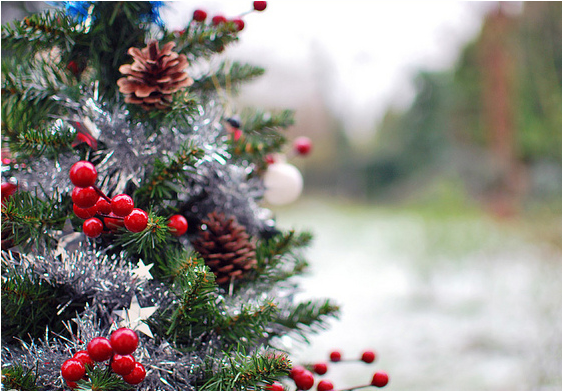 Muslims have two main and big celebrations per year, Eidul-Fitr and Eidul-Adha. Living in an non-Muslim country, makes it very hard for us to feel the spirit of each one of them. We try as hard as we can to resemble the celebrations in our countries, but for someone like me who has tons of memories among the family, no matter how hard I try, it is still far from what I had back in Egypt. Walking around the neighborhood these days, makes me feel so that spirit that I am missing … So joyful, colorful lights hanging everywhere from patios, tree to Christmas figures at the doorsteps , it is really very joyful.
In this world that has been filled with depression, hatred, grief and loneliness, I find it is very hard to find HOPE. Sometimes I think that hope has been hijacked by hard financial circumstances, greed and political pollution. While deeply in my sad thoughts – the Middle East is on fire and western countries are suffering from financial depression ,it seems that everybody is suffering , the whole world is a mess- I just look around and see lights, decorations and the colors of hope everywhere. And all of a sudden these songs keeps popping in my head like "IT's A BEAUTIFUL LIFE by Ace of Base", "Smile By Michael Jackson", "Live is life By Opus", Enya's music .. and the list goes on :). All of a sudden I see that I am, and have been, blessed all my life. I have a wonderful parents, caring husband, healthy kids, a roof on top of me, food in the fridge …. and also the list goes on and on. It is said that " "There is fragrance behind every flower, Happiness behind every smile, Raindrops behind every black cloud, and success behind every failure" not quite sure who said that but it is definitely true. In Islamic doctrine, anything happens in life has a wisdom, sometimes we realize it and other times we don't, every closed door has its key you just need to ask God for guidance and wait patiently for he will surely respond to your prayers. For sure there is a meaning to all what is happening around us, may be to teach us something that we do not see, may be to show us the right path.
Moral of the story: Dream high, believe in yourself and for sure you will get there. Do not ever lose HOPE for a better tomorrow, enjoy today with its bad and good things, always give in order to get, give hope you will find hope, give money and you will get money, spread love and for sure you will be loved, smile and everybody will smile back at you…. just give give give generously and be sure you will get even more.
A final thank you to all of you who spread joy by hanging lights and ornaments for the holidays, may your days be filled with joy. Happy Holidays to you all.
Photo By dgoomany