Kaber is the plural of kabora and kaboura in Tunisian is the ball so kaber are balls but not just any kind of balls they are balls made of almond. It is very delicious, nutty and easy.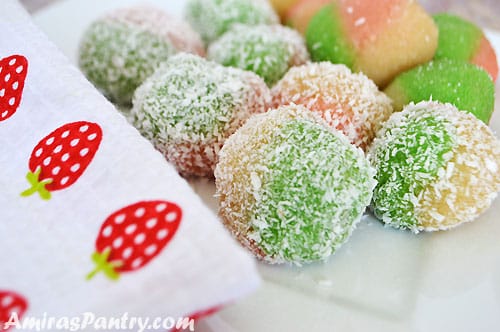 You will need:
1 c of almonds.
Green and red food coloring.
Rose water - from 4.5-6 Tbsp.
½ c sugar - more or less depends on your liking.
Hot water to cover the almonds- in case you are using whole like me


Start by soaking the almonds in hot water for 30 minutes so you can easily peel it. Pulse in your food processor. Mix in the sugar.

Divide the almonds in 3 equal parts. Mix each part with a 1 tablespoon of rose water and gradually add another ½ tablespoon and so on until you get a mixture that you can makes balls easily with - it took me 1 and half tablespoon for each of the three. Color one part red, the second part green and leave the third part uncolored.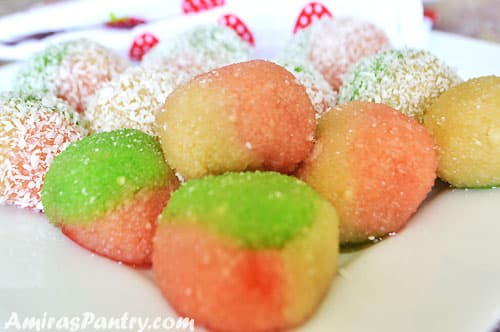 Make about 12 small ball - less than half inch- out of each color. Take a ball of each color and roll together to form a bigger one. Roll the ball in granulated sugar or powdered one.

I've gone wild with those 🙂 I've rolled them in coconut flakes and even stuffed them with small chocolate kisses but these are my versions, the traditional ones are not filled and only rolled in granulated or powdered sugar. I hope you will try these, they are very easy to assemble and delicious.
Related Recipes
Indulge in the ultimate chocolate-peanut butter treat with these rich and creamy buckeye balls. Made with a smooth peanut butter center coated in a layer of chocolate, these bite-sized treats are sure to be a hit.