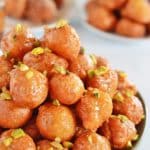 Luqaimat
Everyone's Ramadan favorite sweet fritters, one round ball that is, usually, dunked in simple syrup. Crunchy on the outside, soft and fluffy inside. A wildly popular golden nuggets street dessert.
Print Recipe
1 1/2

cup

all purpose flour.

1/2

Tablespoon

sugar.

1/2

Tablespoon

dry yeast.

1/2

cup

warm water

1/2

cup

plain full fat yogurt.
For the syrup:
2

cups

sugar.

1 1/4

cup

water.

1 1/2

teaspoon

lemon juice.

1/4

cup

honey.
Flavors for the syrup: Use any of the following
For the chocolate syrup
4

oz

semi sweet chocolate.

1 1/2

teaspoon

corn syrup.

2

Tablespoons

sugar.

1/2

cup

heavy cream.
In the bowl of a stand mixer, add flour, sugar, yeast and mix for 30 seconds to combine.

Add water until a hard dough forms, if you find it too hard and does not come together add another tablespoon of water and mix.

Cover and let it set for 30 minutes.
Make the syrup:
Combine syrup ingredients with the flavor of your choice in a medium sauce pan, stir to combine ingredients well.

Bring to a boil on medium-high heat then reduce heat and simmer for 10 minutes. Set aside to cool down completely.
Make the chocolate syrup:
In a medium bowl or measuring cup add chocolate and corn syrup.

In a small sauce pan , stir together sugar and heavy cream until sugar dissolve, heat until just about bubbling at the edges,

Pour the hot cream mixture over the chocolate and corn syrup and mix with a spatula until well combined.

Set aside
Finish the dough:
After the 30 minutes, add yogurt to the mixture and knead with the flat beater for almost 5 minutes or until dough comes together.

Cover and let it rise for 1 hour at least or place in your fridge for up to 24 hours.
Fry dough balls
Heat oil for frying on medium-high heat.

When oil is hot, reduce heat to medium and start frying the dough.

Using a small ice cream scoop, dipped in oil form small balls and drop into the oil to fry.*

Oil the ice cream scoop every now and then to ensure that the dough will glide easily from the scoop.

After the pan is full with dough balls, raise the heat up again to medium-hight.

Fry the balls until they are golden brown.**

Immediately take the dumplings out and dunk them in the simple syrup, stir to coat.

Get the dumplings out of the syrup after 5 minutes and place in a colander to drip excess syrup.

You can roll the balls in cinnamon sugar or make the chocolate syrup and pour it over. You can also dust the dumplings with powdered sugar.

Serve immediately as it is better when fresh.
* If you do not have an ice cream scoop, you can use the method I mentioned here.
** The more you fry your dumplings, the crispier it gets. So try for the first couple of balls until you find the color that satisfies you.
Adapted from Chef Manal's recipe.
Sign up and learn more about Mediterranean flavors