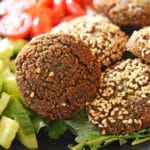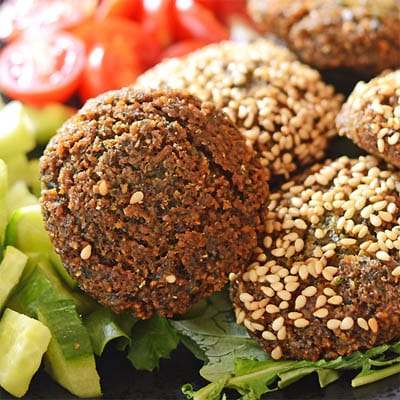 Falafel
Learn how to make airy and fluffy falafel with beans, this is the authentic green falafel recipe with its tips and tricks.
Print Recipe
1

cup

(180g) split dry fava beans.

1

(30g) green onion, chopped both green and white part.

1/2

cup

(15g) parsley, roughly chopped.

1/2

cup

(15g) cilantro, roughly chopped.

2

(10g) big garlic cloves.

1/2

teaspoon

baking soda.

Spices:

1

teaspoon

ground coriander.

1/2

teaspoon

ground cumin.

1

teaspoon

salt or to your taste.

1/4

teaspoon

ground black pepper.

1-2

Tablespoon

water.

Optional:

Sesame seeds for dipping.
Wash beans under running water then place in a deep bowl.

Cover with water and let it soak for 2-3 hours changing the water once in the middle.

Drain beans and place in the food processor.

Place all other ingredients except for water. Note1

Process until very fine. If you feel the dough texture is rough add 1 tablespoon of water at a time and mix until you get a fine dough.

Place the dough in a deep bowl and whisk it hard with an electric mixer or a hand held whisk for about 4 to 5 minutes until it gets foamy and super airy. Note2

Heat oil in a heavy bottom skillet or a cast iron skillet.

Scoop about 2 tablespoons of the falafel and form into a ball or a disk.

Dip the disks from one side into a flat plate of sesame seeds and fry for 2-3 minutes per side until it gets nicely browned all over.

Transfer to a paper lined plate.

Serve with tahini dip, tomato, pickles, cucumber, onions and green salad.
Note1: If you are going to freeze it then do not add the spices.
Note2: The falafel dough is Egypt that is sold by street vendors are super fluffy I would dare to say the texture is like whipping cream!! So this step is done to try to approach that texture as much as possible.
Please check the nutrition disclaimer policy.
Calories:
35.6
kcal
|
Carbohydrates:
6.1
g
|
Protein:
2.7
g
|
Fat:
0.2
g
|
Sodium:
199
mg
|
Potassium:
113.8
mg
|
Fiber:
2.6
g
|
Sugar:
0.6
g
|
Vitamin A:
2.5
IU
|
Vitamin C:
3.3
mg
|
Calcium:
1.3
mg
Sign up and learn more about Mediterranean flavors