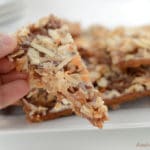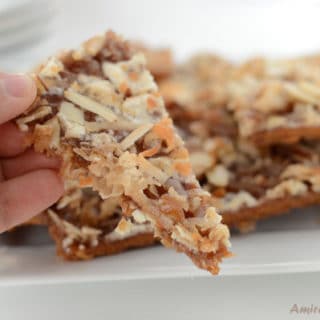 Very festive holiday treat/cookies. Tasty and sticky, crumbly and messy. family and friends went crazy over these
12

whole graham crackers.*

2 1/2

cups

miniature marshmallows.**

1

cup

butter.***

1

cup

packed light brown sugar.***

1 1/2

teaspoon

ground cinnamon.

A dash of vanilla powder or 1 teaspoon vanilla extract.

1

cup

coconut flakes.

1

cup

sliced almonds.
Preheat oven to 350F.

Line a 15X10 in baking sheet with foil, let it overhang on the short ends of the pan for easy removal.

Spray the foil with nonstick spray.

Arrange the crackers in the pan.*

Sprinkle the crackers with the marshmallows.

In a saucepan, melt the butter, add the sugar, cinnamon, vanilla and cook for only a minute.

Transfers the mixture to a pyrex measuring cup- or anything with a spout , heat proof of course. Pour the mixture carefully and evenly over the marshmallows.

Top with coconut flakes and nuts.

Bake for 12 minutes then check if it is golden brown all over. Try not to overcook it around the edges.

Remove pan from oven and let it cool down for 10 minutes then left the foil from the short ends and place on your counter and let it cool before cutting.

Cut with a sharp knife into triangles or small rectangles, you can even use your hand to cut them into pieces for a more original look.

Store leftover in an airtight container.

Enjoy!!
* You might need a couple of extra graham crackers to fill the small gap at the bottom of pan. Some people suggested filling the pan so the graham crackers don't shift around during baking.
** Later on, I've found it even more easier and tastier to use marshmallow cream.
*** You might find this treat too sweet for you if you are not a sweet tooth kind of person. The original recipe called for 3/4 cup of sugar and some people still found it too sweet. I increased the sugar and butter combination as my guests are all caramel lovers.