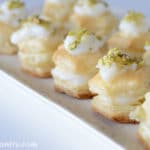 A delicate Lebanese dessert made easier with puff pastry
1

package of puff pastry cups/shells.*

ِA batch of ashta cream.

Optional : ground pistachios for garnishing.
Start by making the simple syrup by adding all the ingredients stirring well over medium heat until it thickens, let it cool to room temperature.

Prepare the ashta cream filling.

Bake your puff pastry according to package directions.

Drizzle with simple syrup while hot.

Now with a sharp knief cut each cup in half and fill in between with approximately a tablespoon of the ashta cream, then replace the top part again.

Top the whole thing with another tablespoon of the ashta and garnish with some crushed pistashios.

Serve and ... Enjoy!!
* I highly recommend using homemade puff pastry or of course you can use puff store bought sheets and cut them with a small cookie cutter.