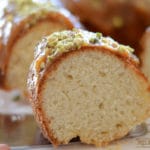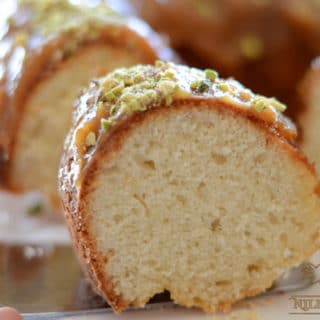 Moist and simple yogurt cake for all occasions.
In a bowl, add eggs, vanilla and powdered sugar, mix well with an electric/ hand mixer.

Add the yogurt and oil then mix well.

Sift the flour in a different bowl, add the baking powder and mix well.

Combine both the dry and the wet ingredients mixing very well until all the flour is incorporated.

Pour the mixture into a prepared bundt pan.

Pop in a preheated 325F oven for 35-45 minutes depending on your oven.
To prepare the toffee
In a sauce pan over medium heat, add 1 cup of sugar and watch it melt until it has a light brown color.

Heat the cream can in a water bath, this step is necessary to prevent splashing.

When the sugar has its nice golden color, remove from heat, add the cream and stir.

Bring your pan back on stove top on low heat and continue stirring until no lumps exist.

You may add a 1 tablespoon of butter for extra creamy toffee.

Let the toffee cool down to room temperature.

Take the cake out and let it cool down a but.

Pour the toffee sauce over the cake and sprinkle with some crushed nuts.

Slice and serve.

Enjoy!!
This cake - without the toffee glaze- is super easy and comes out handy when you have unexpected guests and it is done in an hour and you can leave it unglazed or make a simple sugar glaze on top.