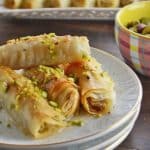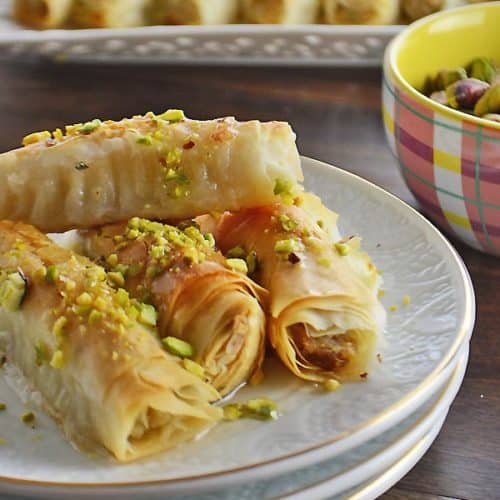 A Lebanese dessert that is creamy and delicious.
1/2

a packet of phyllo dough.

1/4

cup

butter for brushing.

Simple syrup for drizzling.
For the Ashta
1

Tablespoon

semolina.

1.5

Tablespoon

cornstarch.

1

cup

milk.

a dash of vanilla powder.

2

Tablespoon

Mascarpone cheese.

1/2

cup

of diced toast or any white buns- without the crust.
In a bowl combine semolina, cornstarch and 1/4 cup of the milk and stir very well.

On medium heat, combine the rest of the milk and the cornstarch mixture, keep stirring until thick and bubbly.

Add the Mascarpone cheese and stir well until combined, then add the bread, stirring well and let it cool down.

Cut a third to half of the phyllo dough roll, depending on the desired size of the rolls you want.

Return the rest of the roll to the package and refrigerate. Unroll the part that you've cut, take a sheet and brush with butter.

Take about 2 teaspoons of the mixture, put it on one end of the brushed phyllo sheet and roll.

Repeat until you are done with the whole thing.

Bake in a 350F preheated oven until top is golden brown, will take approximately 20 minutes.

When done, drizzle with cooled simple syrup while hot.

Sprinkle top with ground nuts.

Enjoy!!
According to an Iraqi reader, this recipe is also known as Zanood el sett.