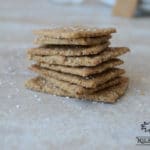 Print Recipe
Olive oil and herb crackers
So delicious and healthier than store bought ones, for your snack time.
1/2

cup

whole grain flour - or use whole wheat.

1/2

cup

AP flour.

1/2

teaspoon

salt.

* 1/2 teaspoon black pepper.

** 1/2 tablespoon Italian seasoning.

1/4

cup

olive oil.

1/4

cup

warm water.

Kosher salt for sprinkling
In a bowl, combine all first 3 ingredients.

Add olive oil and mix well until all the grains are coated, then gradually add water , mixing until you have a nice soft dough.

Cover in plastic wrap and let it rest for 15-20 minutes.

Roll the dough into a rectangle roughly 1/8-inch thick or thinner, on a parchment paper or a Silpat.

Using a sharp knife, cut into squares. Sprinkle with Kosher or sea salt.

Transfer the Silpat to your baking tray, bake in a 375 F pre-heated oven for 13-15 minutes until it reaches the desired crispness.

Let it cook down, serve with your favorite cheese, fruits for a happy hour snack.

Enjoy!!