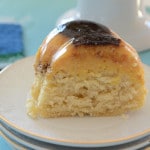 Magic flan cake
This cake in not only magical in the oven but it will spell its magic on you leaving you feeling happy and refreshed from the first bite.
Print Recipe
For the flan part
I've used store bought flan mix - you will need one packet- and you'll need half the amount of milk recommended on the package

or else use your favorite flan recipe.
For the cake
1 1/2

cup

A.P. flour.

3/4

cup

sugar.

2/3

cup

oil.

2/3

cup

milk.

2

eggs.

a dash of vanilla powder about 1/8th teaspoon - or equivalent in vanilla extract.

1

Tablespoon

Baking powder.

1/4

cup

unsweetened cocoa powder - optional if you want a chocolate cake.
In a bundt pan pour the caramel sauce evenly.

In the blender add the flan mix packet - if using store bought one- with half of the milk indicated on the packet itself and blend very well. Or else make your own favorite flan recipe.

Now we'll start making the cake, in your blender add the eggs, vanilla powder, milk, sugar and oil and mix well.

Sift the flour with the baking powder- and add cocoa powder if using- in a bowl, add the liquid mixture gradually and mix.

Pour the cake batter slowly and evenly over the flan.

Place the cake pan in a large roasting pan and fill the roasting pan halfway with hot water..

Place in a 350F pre heated oven and bake for 60-75 minutes.

Take the bundt pan out and let it cool completely then refrigerate overnight or at least for 4 hours - the more the better.

To release the cake, place the pan in a large bowl of hot water, turn it out onto a serving platter.

Cut and.. Enjoy!!
Sign up and learn more about Mediterranean flavors