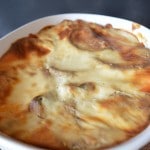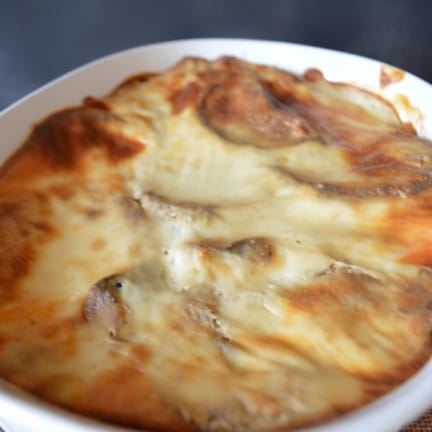 A delicious twist to the traditional musakaa dish... Enjoy.
2

small eggplant

1.5 lb. total

1/2

cup

flour.

1/2

tsp

garlic powder.

1

tsp

salt.

1

large egg.

2

Tbsp

milk.

3/4

cup

plain breadcrumbs.

1

can chickpeas - drained.

15.5 oz.

1

bell pepper- any color.

1

can tomato sauce.

16oz.
For the bechamel sauce
4

Tbs

unsalted butter- or 2Tbs butter+ 2 Tbs olive oil.

4

Tbs

flour.

2

c

of milk.

salt and pepper to taste.
Slice the eggplant into 1/2 inch thick slices.

Preheat the oven to 425 F.

Beats egg with milk to make egg wash.

Add garlic powder and salt to flour and mix well.

Dip the eggplant slices in the flour, then the egg wash then into the breadcrumbs. Arrange in a baking dish and bake for 25 minutes until golden brown and crispy.* please see notes.

Make the bechamel sauce while the eggplant is in the oven by melting the butter in a sauce pan, then add the flour and cook. Slowly pour milk and stir vigorously until all are well combined, season and let it cook until bubbly, it should be smooth and creamy.

Pour 1/4 c of the bechamel sauce in an oven dish, then arrange the eggplant slices, top with sliced bell pepper, then add the chickpeas.** please see notes.

Add the tomato sauce then top with another layer of eggplant slices.

Finally pour the rest of the bechamel sauce over and smooth the surface.

Bake in a 350F oven until golden brown.

Let it cool down for 30 minutes, slice and enjoy.
* The breaded eggplant slices gives this dish extra crispiness but I was not very thrilled about it, so next time I will just stick them in the oven drizzled in some olive oil. This is totally a personal taste, so choose whatever suits you more.
** I recommend sauteing a small diced onion in 2 Tbs olive oil then add the chickpeas, season with salt and pepper then stir for a couple of minutes before adding to the dish. This step kicks the flavors and you can season with your favorite seasonings as well.