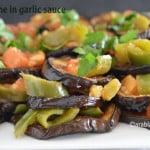 Aubergine in garlic sauce
A healthier twist to the traditional aubergine appetizer.
Print Recipe
1

lb

aubergine.

1

Tbs

minced garlic- about 3 large cloves.

1

medium green bell pepper- diced.

2

medium tomatoes- diced.

2-3

Tbs

white vinegar.

1/2

tsp

cumin powder.

Salt to taste.

Olive oil for brushing.

2

Tbs

olive oil.

Optional : Hot peppers for more flavor.
Slice the aubergine and do not peel.

Heat a pan over medium heat and place the aubergine slices 2-3 minutes each side without any oil yet until it is light brown.

Brush the sides with olive oil and cook for one more minute or until it reaches the desired color.

Set aside and sprinkle lightly with salt.

In the same pan add 2Tbs of olive oil, then saute the garlic until fragrant.

Add the diced peppers and tomato and stir for couple of minutes.

Add the vinegar, salt and cumin, reduce heat and simmer for 4-5 minutes.
To assemble
Layer the aubergine with the sauce in between and top with more sauce.

Wait at least for 3 hours before serving so the flavors are well absorbed.

Enjoy hot, cold or at room temperature over a toasted bread is recommended.
Sign up and learn more about Mediterranean flavors