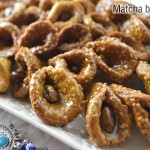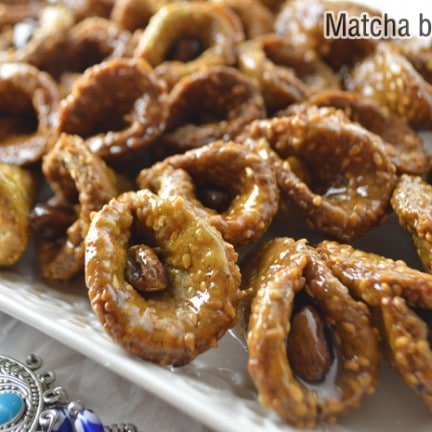 A Moroccan/Japanese inspired dessert.
1

c

toasted sesame seeds.

2

c

all purpose flour.

200-250

ml

milk - this is from 4/5 to a whole cup.

a pinch of salt.

3

Tbs

butter- melted.

2

Tbs

green tea powder .

matcha

Honey/ simple syrup for drizzling.

Oil for frying.

Nuts for filling- traditionally almonds but I've used pistachios.
Mix the dry ingredients in a bowl.

Add the milk and melted butter and mix until you get a nice soft dough, if you think your dough is hard add milk by a Tbs until it gets to the right consistency.

Roll the dough to a 2-3mm - about 1/8-1/10 in-, use a cookie cutter or a cup to cut uniform circles.

Pinch the circle from the edges to form a cone like shape.

Stuff a pistachio - or an almond- in the middle.

On medium-high, heat the oil and deep fry the babouches until golden brown.

Take the babouche out of the oil and drizzle with honey or thick simple syrup.

Enjoy..
The original recipe of a babouche does not include green tea powder.
In the original recipe you mix the dry ingredients with milk and orange blossom water. I've opted the orange blossom out as I did not wish to interrupt the matcha flavor.
I've tried baking the babouches in the oven but it did not turn out crispy as it should be.