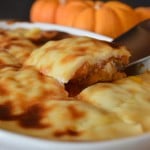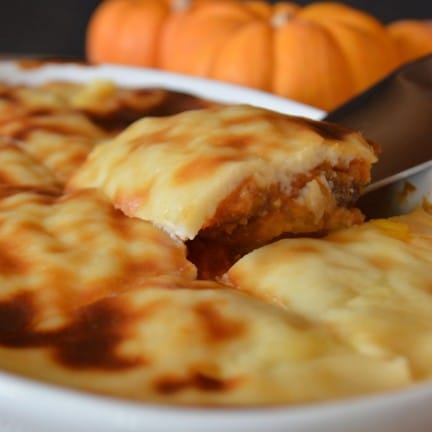 Print Recipe
Pumpkin bechamel pie
A crust-less Pumpkin pie with bechamel from the Egyptian cuisine.
2

lbs

fresh pumpkin

peeled and diced.

2

cups

of granulated sugar- more or less to your taste.

A pinch of both cinnamon and vanilla.

Raisins and nuts for filling.
For the bَechamel you will need
4

Tbs

of flour.

4

Tbs

of unsalted butter.

1

cup

of milk
In a large pot over medium heat, add the pumpkins along with the 1 1/2 cups of sugar and a pinch of vanilla, bring to a boil stirring occasionally.

When the pumpkin pieces are soft, you'll notice the juices of the pumpkin at the bottom of your pot. Strain the pumpkins keeping the juices as we'll need it to make the bechamel sauce.

In a sauce pan over medium heat, melt the butter then add the flour stir until golden, add pumpkin juice and milk stirring vigorously, add the remaining half cup of sugar and a pinch of cinnamon,. Stir to combine, bring to a boil and reduce heat until thickened.

In an oven dish cover the bottom with two spoonfuls of bَechamel then add half of the pumpkin cubes – you can mash them a bit, I like it as is – cover with a layer of nuts and raisins then the other half of pumpkin cubes and finally add the rest of the bَechamel on top.

Place the dish in a 350F preheated oven for almost 40 minutes or until top is golden brown.

Let it cool, serve and Enjoy !!.